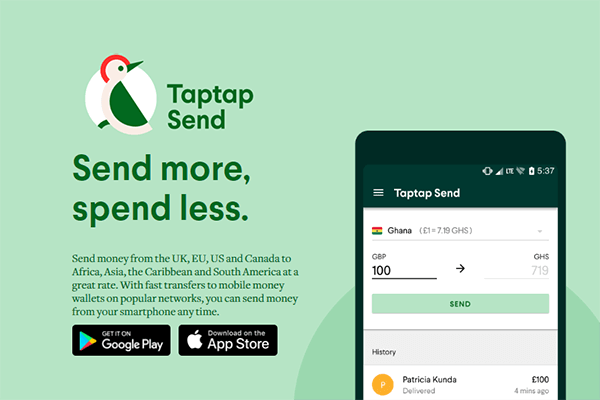 Taptap Send Promo Code Bonus UK [2023]: £5 Referral Coupon
Are you looking for the Taptap Send promo code to get a referral bonus? This post covers everything you need on its referral program.
Taptap Send referral promo code is SOLOMON1252: Use the coupon code to get a £5 signup bonus when you send at least 1 GBP to any supported country. Such as if you live in the UK and want to send money to Nigeria, Bangladesh, Ghana, Pakistan, Vietnam or Sri Lanka. And the bonus is converted to the recipient currency.
So, in this post, I will walk you through how to get your referral bonus and answer related questions.
Let's start.
---
What is Taptap Send All About?
Taptap is an app for sending money to Africa, Asia, and the Caribbean at a competitive rate. You can send money from the UK, USA, EU and Canada to over 25 countries including Nigeria, Senegal, Mali, Ghana, Pakistan, Bangladesh and Haiti. Interestingly, the recipient receives the money within a few minutes of the transfer.
Launched in 2018, Taptap Send is a better alternative app to traditional money transfers that charge a high fee. The company's position is to assist individuals in sending money instantly and securely at zero cost. And with millions of customers using the mobile app, Taptap is set to make life financially easy for its customers.
Like Lemonade finance, Taptap Send does not charge a fee for money transfers. It is free when you send money to your home countries or countries supported by the app. This is one of the benefits of using this finance app.
---
How to get Taptap Send Promo Code Bonus
Follow these steps to use this Taptap Send promo code SOLOMON1252 and get your £5 referral bonus:
Download the Taptap Send app on Google Play Store or App Store.
Create an account.
Add your Bank account
Add your card details
Next, enter the promo code SOLOMON1252.
Then, send at least 1 GBP to the bank account
Taptap will credit the bank account with 5 GBP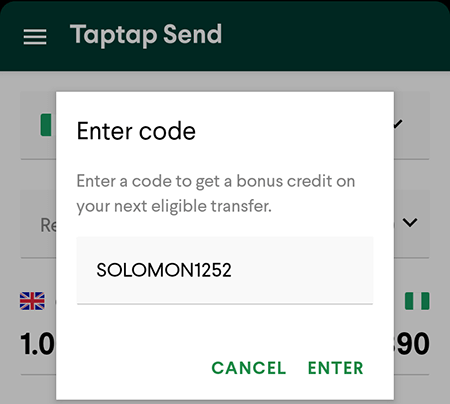 Note: Taptap Send will send the referral bonus to the receiving account. For instance, if you want to send £10 to someone, send £5 instead and the person will receive the £5 plus £5 referral bonus.
Read on How to Send Money on Taptap Send to learn more.
---
Taptap Referral Promo Code Bonus Terms and Conditions
The requirement to get a Taptap referral sign-up bonus are as follows:
Download Taptap App
Enter the referral promo code SOLOMON1252.
Send at least 1 GBP to any supported country
---
Taptap Send Referral Code Program
The Taptap Send referral program is available for both new and existing customers.
As a new customer, if you follow the steps on how to get a referral bonus on the Taptap app stated above, you will receive a 5 GBP sign-up bonus instantly. This sign-up bonus is only for new customers who register and meet the abovementioned condition.
Invite Friends and Earn
Taptap Refer friends and earn program gives existing users the opportunity to invite their friends and make bonus money.
So as an existing customer, your friends could sign up on the Taptap app and use your referral promo code. And when they fulfil the above requirements, both you and your friends will get the 5 GBP bonus.
Read: How to get Lemonade Finance £10 Referral Bonus
---
Taptap Send Supported Countries
Presently, Taptap is available in the UK, US, Canada and many countries in the EU, Africa, Asia and the Caribbean. The supported countries are Nigeria, Senegal, Mali, Guinea, Ghana, Cameroon, the Ivory Coast, Kenya, Madagascar, Zambia, Bangladesh, Vietnam, DR Congo, Morocco, Sri Lanka, Rep. Congo, Pakistan, Nepal, Ethiopia, Mozambique, Cambodia, Haiti, Tunisia, Uganda, Lebanon, Colombia, Guatemala, Philippines and Zimbabwe.
---
Is Taptap Send Legit and Safe?
Taptap Send is a legit platform for sending money; registered and licensed in the UK, USA, EU, Canada and other countries. So, using the app to send money abroad is fast and easy.
In addition, the Taptap Send app is safe as it is PCI compliant. This industry-standard security is put in place to secure your transactions on the platform. Also, your data is encrypted.
---
FAQs
How much is the Taptap Send promo code bonus?
The Taptap Send promo referral bonus is £5 or the equivalent in your country: You get your sign-up bonus instantly when you use this promo code SOLOMON1252 and send at least 1 GBP to any of the supported countries
Can I withdraw my Taptap referral bonus?
You do not need to withdraw your referral bonus as Taptap will send it to your bank account instantly.
---
Final Thoughts
Overall, the Taptap app is one of the best apps for sending remittances to your home country. Its exchange rate is quite competitive among other platforms for sending money across borders. In short, sending money on the app is fast, secure and easy.
Therefore, try it and let me know your experience by dropping a comment below.