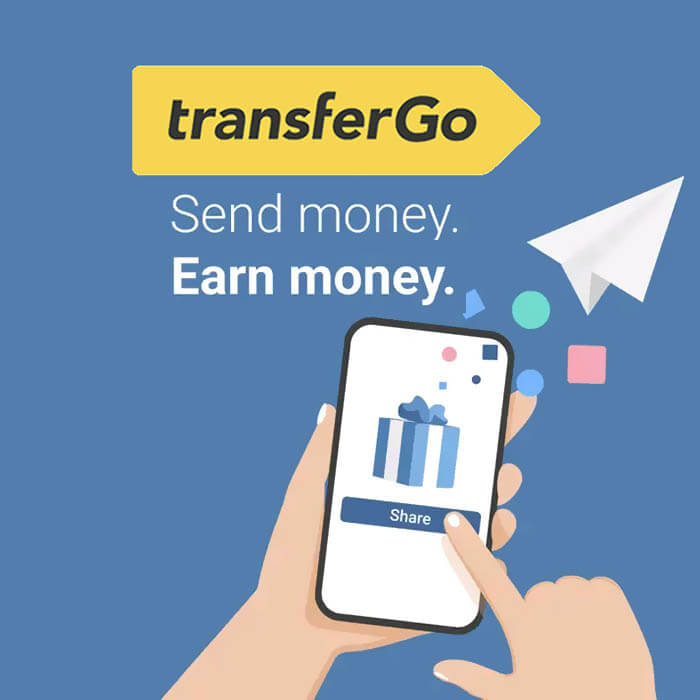 TransferGo Referral Code UK: £20 Promo Bonus (2023)
This post covers the TransferGo referral code and how to get the promo bonus including the Invite a Friend program in the UK (United Kingdom).
The TransferGo referral code is tX9o2Y. Use this TransferGo referral link or promo code (tX9o2Y) and get £20 bonus (€20) when you sign up. To get this bonus, transfer £100 or more to someone else in another currency. TransferGo bonus was formerly £30 and but now £20.
Find out the steps to get the bonus, requirements and other related topics.
Let's start.
Read: How to get Sendwave Referral Promo Bonus
---

TransferGo Promo Bonus All About?
TransferGo is an international payment provider in the UK. Currently, the FinTech company supports money transfers to over 160 countries across Europe, Africa, America and Asia. From the UK, you can send money to the USA, Nigeria, Canada, Poland, Sweden, Nepal, Ghana, Kenya, India, Bangladesh and lots more.
Launched in 2012, TransferGo's mission is to make international transfer easy and cheap. It offers low transfer fees of money to several countries while some countries like Nigeria are zero fees. With over 5 million customers using the mobile app and website, TransferGo is one of the popular platforms to send money to friends, families and for business purposes globally.
Also, there are alternative money transfer platforms like TransferGo. Lemonade Finance and Taptap Send are among the few that offer competitive rates and zero fees.
Read: Best apps to send money from the UK to Nigeria
---
How to get TransferGo £20 Referral Promo Bonus
As a new customer, TransferGo will give you £20 for opening an account and using the platform for international transfers.
Here is how to get TransferGo referral promo code £30 bonus:
Sign up on TransferGo using this referral link.
Alternatively, use the referral code (tX9o2Y) when prompted.

Create an account
Verify your account: email address and document ID.
Transfer £100 or more to someone else outside the country
Claim your £20 in your Earnings account.
Lastly, TransferGo will credit your UK bank account.
Note that the Earnings section is located in the TransferGo's Menu. Next, check the Earned tab to claim the referral bonus ready for withdrawal.
Read:
---
TransferGo Promo Code Bonus Terms and Conditions
TransferGo has some requirements that must be met in order to get your sign-up bonus.
Here are the terms and conditions to get the TransferGo £20 coupon bonus:
Sign up with this TransferGo referral link or promo code tX9o2Y.
Transfer at least £100 to another country within 6 months.
This amount must be sent to someone else account and not to yourself.
Then, claim the reward in the app's Earning section within 30 days.
On TransferGo, transferring money to your own account in another country does not count towards receiving the £20 bonus. Instead, you must send the money to someone else's account.
Of course, the £100 is cumulative. You do not need to send it all at once but all your money transfers count towards this amount.
When you meet these criteria, your £30 bonus will be available to withdraw in the Earnings section. Go to the section to claim it and TransferGo will send the money to your bank account.
---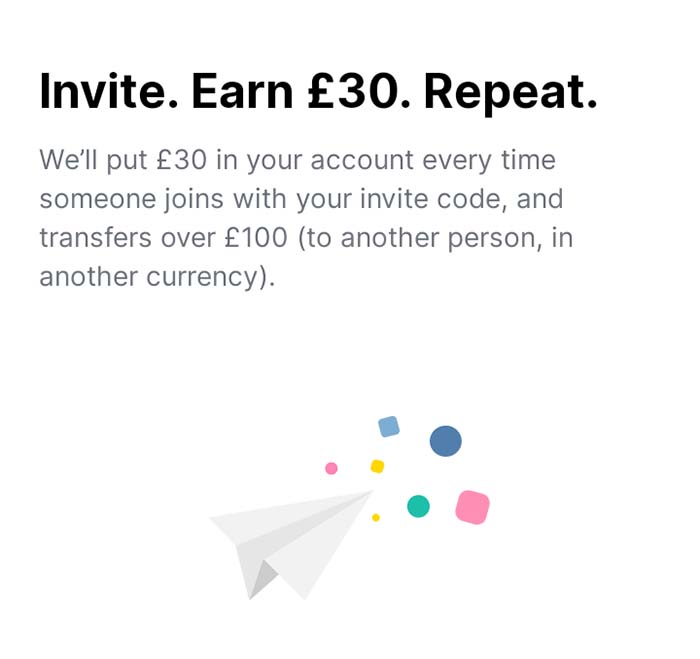 TransferGo Referral Bonus Program
The TransferGo referral program is available to both new and existing customers.
As a new customer, if you follow the steps on how to get the referral bonus on the TransferGo app stated above, you will receive a £20 sign-up bonus. This welcome bonus is only for new customers who register and meet the conditions stated above. 
TransferGo Refer A Friend
You can earn money with TransferGo through the Invite and Earn program. Simply refer new users to the platform and make money.
As an existing customer, you can refer your friends to sign up on TransferGo through your referral link. When they join and fulfil the above requirements, both you and your friends will get the bonus. And TransferGo will send the £20 referral bonus to your account after claiming it.
---
How to Refer A Friend and Get TransferGo £20 Promo Bonus 
Every TransferGo customer has the opportunity to earn this £20 referral bonus
Here is how to copy your TransferGo referral link/code and share it:
Open your TransferGo app
Tap on the gift box icon at the top right corner
Tap Invite to copy the referral link.
Or, copy the invite code.
Share the referral link/code people.
Get rewarded when they register and meet the conditions.
Interestingly, The TransferGo £20 referral bonus is unlimited. There is no limit to how many people you can invite and earn the sign-up bonus.
---
Is TransferGo Legit and Safe?
TransferGo is a legitimate payment provider licensed to operate in the UK and several countries. The company is regulated by the UK Financial Conduct Authority (FCA) as an authorised payment institution 600886. Likewise, supervised by HM Revenue & Customs (HMRC) under Money Laundering Regulations.
In addition, the TransferGo platform is safe. Your money is insured as industry-standard security is put in place to secure your transactions on the platform. TransferGo also uses SSL technology to keep your information safe.
---
FAQs (Frequently Asked Questions)
What is the TransferGo promo code
TransferGo promo code is tX9o2Y. It gives you £20 promo bonus when you sign-up and transfer £100 or more on the TransferGo platform – app or website.
How much is the Transfer Referral sign-up bonus
TransferGo gives £20 referral bonus when you sign up and transfer at least £100 to someone else's account in another country. 
Can I withdraw my TransferGo referral bonus?
Yes, you can withdraw your TransferGo referral bonus. Claim it in the Earning section and will be sent to your bank account.  
---
Final Thoughts
Overall, the TransferGo referral program really compensates both new and existing customers. Using the referral link or code (tX9o2Y) gives you £20 sign-up bonus. Likewise, you can share your TransferGo referral link with your friends and family and get £30 bonus per person.
I hope you find this information helpful.
Therefore, try it and let me know your experience by dropping comments below.