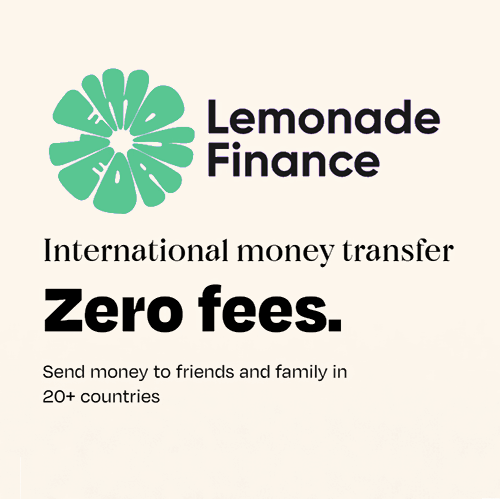 How to Send Money from UK to Nigeria Bank Account with Lemonade Finance
One of the best apps to send money from the UK to a Nigeria bank account is Lemonade Finance and this post explains how to do it easily.
To send money from the UK to a Nigeria bank account, sign up on Lemonade Finance. So, when you send pounds, the person will receive the Naira amount equivalent to the current Pounds to Naira exchange rate on the Lemonade app. Interestingly, you get a 10 GBP bonus when you sign-up with this referral code SOLO7K5E.
Therefore, find out how to use this money transfer app to send pounds to Naira.
---
How Does Lemonade Finance Work
Lemonade Finance is an app for sending money abroad and converting currency. You can send money from the UK, USA and Canada to African countries (e.g., Nigeria, Ghana, Senegal, Cameroon) and vice versa. You could also use this fintech app to convert money from one currency to another; for example, pounds (GBP) to Naira (NGN).
How to Sign Up on Lemonade Finance App
Creating and verifying your Lemonade Finance account only takes a few minutes.
Follow these steps to sign up on Lemonade finance:
Download the Lemonade Finance app on Google Play Store or App Store.
Create your Account.
Tap Referral and enter the code SOLO7K5E.
Verify your account. Email and Identity document
Lastly, fund your account with Bank transfer or Card
This Lemonade Finance referral code SOLO7K5E gives you a bonus of £10 after sending up to 100 GBP. To understand better, read on Lemonade Finance Referral Bonus. I will also explain further later in this post.
---
How to Send Money From UK to Nigeria Bank Account with Lemonade Finance
With the Lemonade app, you can transfer money to over 20 countries instantly at zero fees such as pounds to Naira.
Here is how to send money from the UK to a Nigerian account bank account with Lemonade Finance:
Open your Lemonade Finance app.
Tap Send money.

Enter the GBP currency amount to send.

Alternatively, enter the NGN currency the receiver should get.
Tap continue and choose Send to a bank account.
Enter the beneficiary account details.
Tap Send Money and enter your transaction PIN.
If you linked your bank debit card to Lemonade Finance app, you would need to approve the transfer of funds from your bank app. Therefore, your UK bank account will be debited and the Nigeria bank account will be credited with the amount in Naira within some minutes.
---
How Much Does Lemonade Finance Charge
Interestingly, Lemonade Finance does not charge fees for money transfers abroad. This means it is free when you send pounds from the UK to any Nigerian bank account as Naira.
But how does Lemonade Finance makes money? Lemonade makes money from the difference in exchange rates used on its platform. So the company makes money whenever you send or convert money on the app.
Despite this model of making money, Lemonade Finance offers competitive exchanges rate. The exchange rate such as Pound to Naira is always better than what other apps offer or the same.
---
How Long does Lemonade Finance take to Send Money?
When you send the money on the LEmonade Finance app, it takes a few minutes to transfer the money to the receiver's bank account – less than 10 minutes. It is as fast as sending money from one bank account to another one in Nigeria.
However, if the receiver is yet to get the money after many minutes or a maximum of 1 hour, contact Lemonade customer care support to find out the cause of the delay.
---
How Legit is Lemonade Finance
Lemonade is a legit finance app for sending money and converting currencies. The company is registered and licensed in the UK, Canada and other countries. So, Lemonade is not a scam money transfer app and be sure that when you send pounds from the UK, the receiver will get the Naira in his/her bank account quickly.
In addition, the Lemonade app is safe as it is PCI DSS level 1 certified. This industry-standard security secures your transactions on the platform.
---
Lemonade Finance Limit on UK Pounds
On the Lemonade app, there is a limit to how much you can send per transaction, per day, per week and per month. Of course, you may not exceed this limit when sending money in UK pounds to Nigeria Naira but it is crucial to be aware of it.
Here are the Lemonade Finance transfer limits in GBP:
2,000 GBP sending per transaction
5000 GBP daily transaction limit.
8,000 GBP weekly transaction limit.
15,000 GBP monthly transaction limit.
Unlimited deposit per transaction.
---
Lemonade Finance Customer Service Number UK
The Lemonade Finance customer service number to contact is +442045795921. You can call this UK number from 8 am – 8 pm and from Monday to Sunday.
Alternatively, you can use chat with Lemonade contact support on your app. Open the Lemonade app, go to the Help and Support section and tap Contact Support.
Another way of contacting Lemonade customer service is through social media pages which include Twitter, Instagram, LinkedIn and Facebook. Warning: make sure you are chatting with the right Lemonade social page and not a scam. To be sure, go to the Help section on your app and click the link to the social media page.
To understand better, read How to Contact Lemonade Finance Customer Care Service
---
Lemonade Finance Pounds to Naira Exchange Rate
Exchange rates change frequently so also Lemonade changes its rates. This page on the current Lemonade Exchange GBP rate will give up-to-date rates on UK pound rates to Naira and other rates in Africa.
Additionally, you can check your Lemonade app to know the current exchange rate anytime.
---
Conclusion
In summary, if you looking for how to send money from the UK to a Nigeria bank account, use Lemonade Finance app. It offers a competitive exchange rate. And you could also add and convert pounds or Naira on the Lemonade app, making it one of the best money transfer apps.
I hope you find this information helpful.
Therefore, try it and let me know your experience by leaving a message in the comment section below.