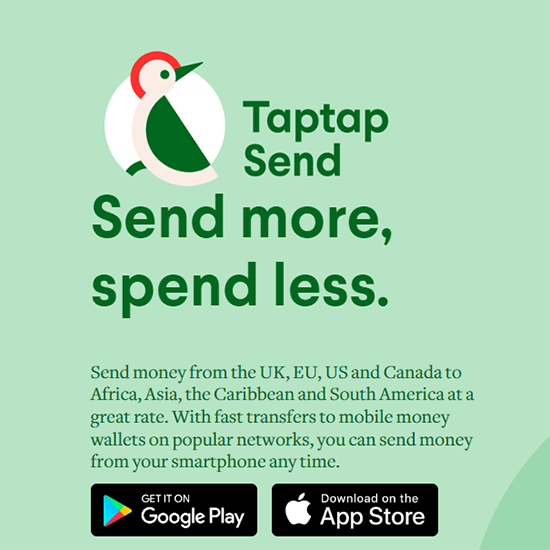 How to Send Money through Taptap Send to Africa & Asia Fast
If you are in the UK, USA, Canada and Europe and looking for how to send money to Africa, Asia and other countries, Taptap Send is one of the apps to use.
To start sending money on Taptap, simply create an account, verify it and initiate the transfer. And as a new customer, use this promo code SOLOMON1252 when sending the money and you will get a 5 GBP bonus or its equivalent in your country.
Therefore, find out in this post how to successfully transfer money on the app, limit and other related topics.
---
What is Taptap Send
Taptap is an app for sending money to Africa, Asia, and the Caribbean at a competitive rate. You can send money from the UK, USA, EU and Canada to over 25 countries including Nigeria, Senegal, Mali, Ghana, Pakistan, Bangladesh and Haiti. Interestingly, the recipient receives the money within a few minutes of the transfer.
Launched in 2018, Taptap is a better alternative app to traditional money transfers that charge a high fee. The company's position is to assist individuals in sending money instantly and securely at zero cost. And with millions of customers using the mobile app, Taptap is set to make life financially easy for its customers.
Taptap Send does not charge fees, the same way Lemonade Finance does not. This means that Taptap Send makes money from the differences in exchange rates you get when sending money.
---
How to sign up for Taptap Send
Creating and verifying an account on Taptap send can be done in a few minutes.
Here is how to sign up on Taptap:
Download Taptap Send app on the Google Play store or App Store.
Create an account and enter your information.
Verify your account with a photo ID.
To verify your Taptap Send account, upload a photo ID that shows your name and date of birth. An example includes an international passport, driving license or resident permit.
Read: How to Upload & Verify ID on Taptap Send
---
How to Send Money on Taptap Send
You can use Taptap Send to transfer money to over 25 countries in the world from UK, USA and Canada.
Below is how to send money on Taptap Send:
Open Taptap Send app.

Choose the recipient country. e.g. Nigeria
Enter the currency amount to send.
Alternatively, enter the currency amount to receive.
Enter promo code: SOLOMON1252.

Tap Next and enter the recipient's account number.

Lastly, press Send.
This promo code gives you a 5 GBP bonus when you transfer money the first time. To understand better, read on Taptap Promo Code.
---
Is Taptap Send Safe to Send Money?
It is safe to send money on Taptap Send as the company is registered and licensed in the UK, USA, EU, Canada and other countries. So, it is a trusted money transfer app for sending cash abroad.
In addition, the Taptap Send app is safe as it is PCI compliant. This industry-standard security is put in place to secure your transactions on the platform. Also, your data is encrypted.
---
How to Withdraw Money from Taptap
To withdraw money on Taptap Send, you have to send it to other supported countries. Note that Taptap Send transfers money directly from your card and it does not keep your money in a wallet. Therefore, it is only a bonus balance you can withdraw from your account by sending it out in another currency.
For instance, to withdraw your 5 GBP bonus, you must enter at least 1 GBP and send to another country such as Nigeria. And the person will receive 6 GBP equivalent of the current Pounds to Naira on Taptap. This means you cannot withdraw the money in pounds but use it as international money transfer on the app.
---
How long does it take to receive money from Taptap Send?
Sending money through Taptap is quite fast. In less than 10 minutes, the recipient should receive the money you send from Taptap Send. Of course, there are times a delay can occur because of network issues, however, the recipient should get the money within 1 hour.
---
Taptap Send Supported Countries
On Taptap Send, you can transfer money from the UK, US, Canada and EU countries to Africa, Asia and the Caribbean. Here are the Taptap supported countries: Nigeria, Senegal, Mali, Guinea, Ghana, Cameroon, the Ivory Coast, Kenya, Madagascar, Zambia, Bangladesh, Vietnam, DR Congo, Morocco, Sri Lanka, Rep. Congo, Pakistan, Nepal, Ethiopia, Mozambique, Cambodia, Haiti, Tunisia, Uganda, Lebanon, Colombia, Guatemala, Philippines and Zimbabwe.
---
Taptap Send Limit
How much you can send on Taptap Send depend on the country you reside. For instance, the limit in the UK is 3000 GBP while it is 2000 USD in the USA.
Here are the Taptap Send limit in the following countries:
UK: 3000 GBP
USA: 2000 USD per transfer, 2999 daily transfer limit and 24000 USD per 14-day transfer limit.
Canada: 999 CAD, 9500 CAD daily transfer limit and 30000 CAD per 14-day transfer limit.
Europe: 3300 EUR
Germany: 2000 EUR
---
Does Taptap Send work in UK?
Taptap Send works in the UK and is one of the best apps for sending money from the UK to other countries in Africa and Asia such as Nigeria, Ghana, Bangladesh etc.
---
How do I put money on Taptap Send?
You only need to add your debit or credit card to add money to your Tatap Send account. After adding your card details, go and send money on the app. And the money will be deducted directly from your card. So, there is no need to first put money into your Taptap Send account before you transfer the money.
---
How to Add Debit Card on Taptap Send
Taptap Send accepts Debit cards: Visa, Visa Electron, Mastercard, Maestro and PostePay.
To add a debit card on Taptap Send, try to transfer money and it will prompt you to enter your card details.
However, if you wanted to delete an existing card on your account before adding a new one, do the following: tap the menu on Taptap Send App, tap Payment and delete the card. After that, you can add a new card trying to transfer money and you will be able to enter your new card details.
---
Taptap Exchange Rate
Taptap Send uses a competitive exchange rate which means there won't be a huge difference from what you get from other money transfer apps. You can know the current exchange rate before sending money on the app. Also, you can check the Taptap website for the rate.
---
Taptap Customer Service
You can contact Taptap customer care through Email, Phone, Facebook or Whatsapp during working hours of 9 am – 6 pm in Europe and UK, and 8 am – 5 pm in USA and Canada.
You could contact Taptap through this email address support@taptapsend.com by using the email address linked to your Taptap account.
Likewise, only with your phone number should you call Taptap Send customer care number or message on Whatsapp. Check the Taptap Send support to know the particular number to call in your own country.
Lastly, when you message Taptap on the Facebook page, make sure you supply your name, email address and phone to get answers quickly.
Check: Taptap Send Customer Service Contact
---
Conclusion
In summary, with Taptap Send, you can send money to over 25+ countries in Africa, Asia and the Caribbean. And definitely one of the best money transfer apps available in the UK, USA, Canada and other parts of Europe.
I hope you find this information helpful.
Therefore, try it and let me know your experience by leaving a message in the comment section below.