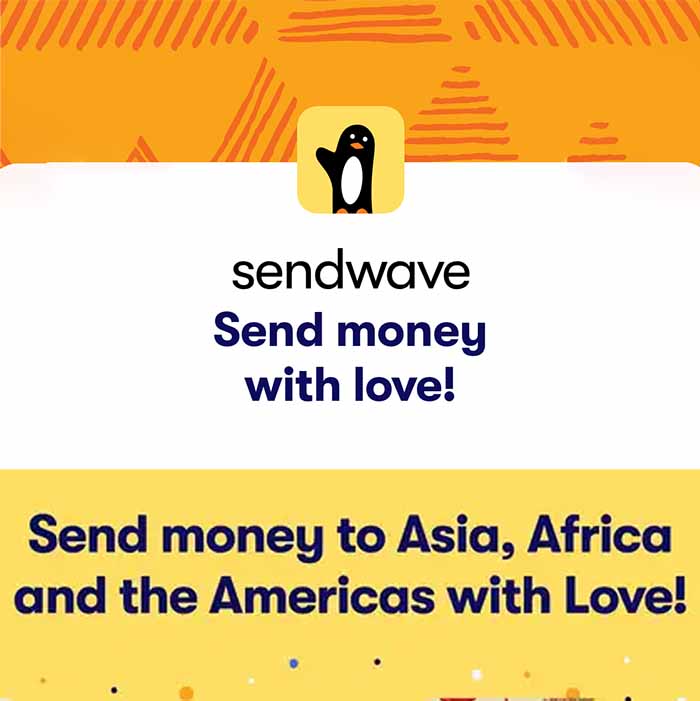 Sendwave Promo Code Bonus UK (2023): £10 Referral
Are you looking for the Sendwave app promo code to get a referral bonus? This post covers everything you need on its referral program and coupon codes.
Sendwave promo code is 5ZZVO: Use this first time referral code or link to get a £10 signup bonus when you transfer money to any supported country. Such as from the UK/USA to Nigeria, Bangladesh, Ghana, Pakistan, Philippines, Kenya etc.
Learn about the steps to get your Sendwave promo code bonus, requirements and related topics.
---
What is Sendwave All About?
Sendwave is a fintech app for sending money abroad and converting currency. With the Sendwave money transfer app, you can send money to Africa, Asia and America. For instance transfer money from the UK, USA to Nigeria, India, Ghana, Philippines, Senegal, Cameroon, and Kenya.
Founded in 2014, Sendwave is truly an international money transfer to over 120 countries. With over 1 million customers using the mobile app, Sendwave is providing fast, fair, reliable international payments to migrants.
With the Sendwave app, you get one of the best currency exchange rates for sending money to other countries and other benefits.
Apart from the Sendwave app, there are other money transfer apps offering similar competitive currency rates. These include Taptap Send App, Lemonade Finance (Lemfi) app TransferGo, and ACE money transfer. These fintech apps offer good exchange rates for sending money abroad at no charge.
Read: Best apps to send money from the UK to Nigeria
---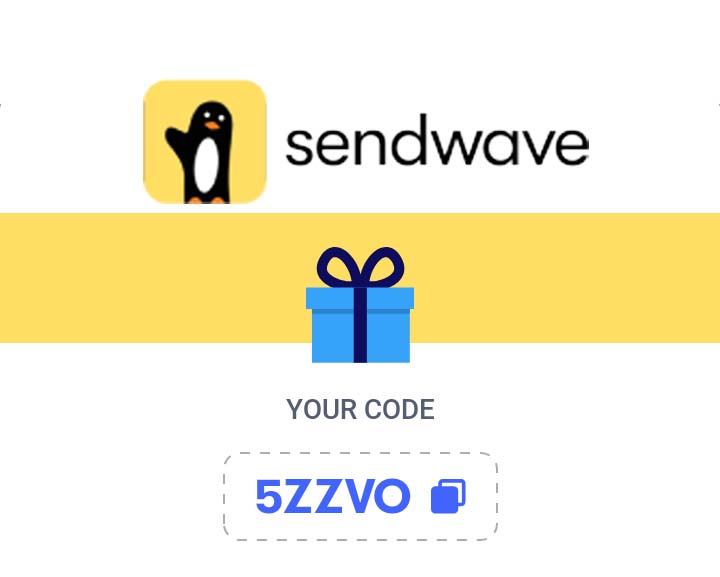 How to get Sendwave Promo Code Bonus 2023
With this promo code 5ZZVO, Sendwave gives a first time £10 bonus to every new customers.
Here is how to get Sendwave £10 referral promo bonus:
Download the Sendwave app on Google Play Store or App Store.
Create an account.
Next, enter the promo code 5ZZVO and receive the £10.
Then, send money to the bank account
Note that if you sign up with this Sendwave referral link, your £10 bonus will be applied automatically. However, if it is not, manually enter the promo code. This step is explained in the next section.
Read: How to get TransferGo Referral sign-up Bonus
---
How to use Promo Code on Sendwave
If you missed the Sendwave promo code, don't fret. You can still enter the Sendwave referral promo code (5ZZVO) to get £10 before your first transfer.
Here is how to use Sendwave promo code to get £10:
Open Sendwave app
Click on the Profile icon at the bottom
Then, tap Enter Promo Code and enter 5ZZVO
Then, It will show £10 credit will be added to next next transfer
Lastly, send money and receive your Sendwave £10 promo bonus.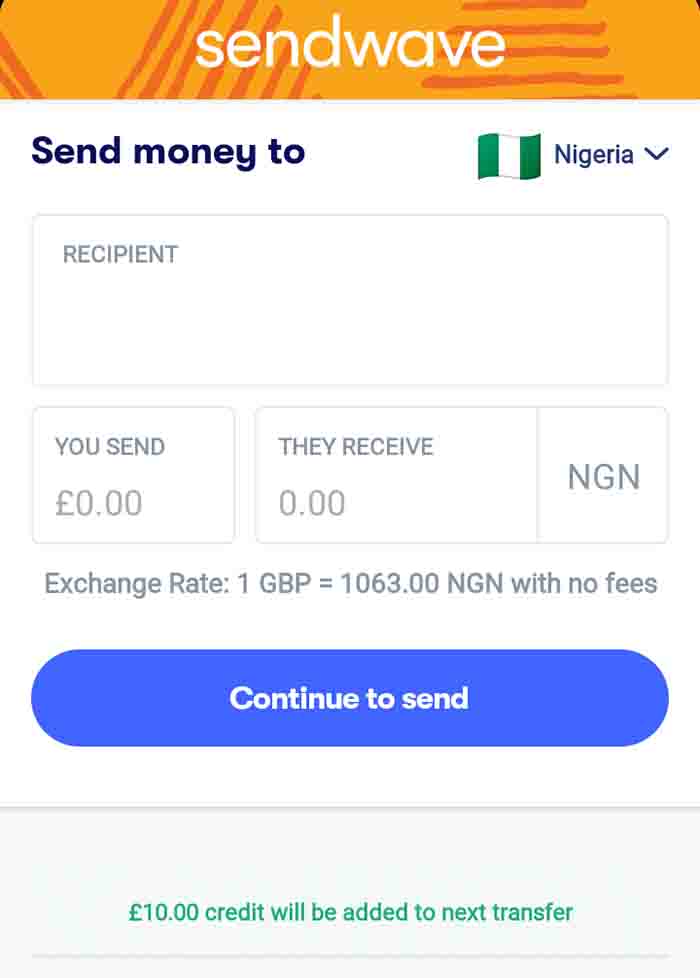 By following these steps, you will get your Sendwave £10 referral bonus.
Sendwave Terms and Conditions
Not that as a new customer, there are conditions to get the Sendwave sign-up bonus
Here is the Sendwave app promo bonus requirements:
Sign up with this Sendwave app referral link.
Alternatively, enter 5ZZVO in the promo code box.
Transfer any amount to recipient country
Hence, when you use the Sendwave promo code, £10 will be added to your next transfer.
---
Sendwave Referral Code Program
The Sendwave money transfer referral program is available for new and existing customers.
As a new customer, if you follow the steps on how to get a referral bonus on the Sendwave app stated above, you will receive a £10 ($,€) sign-up bonus depending on your country of residence.
This sign-up bonus is only for new customers who register and meet the condition
---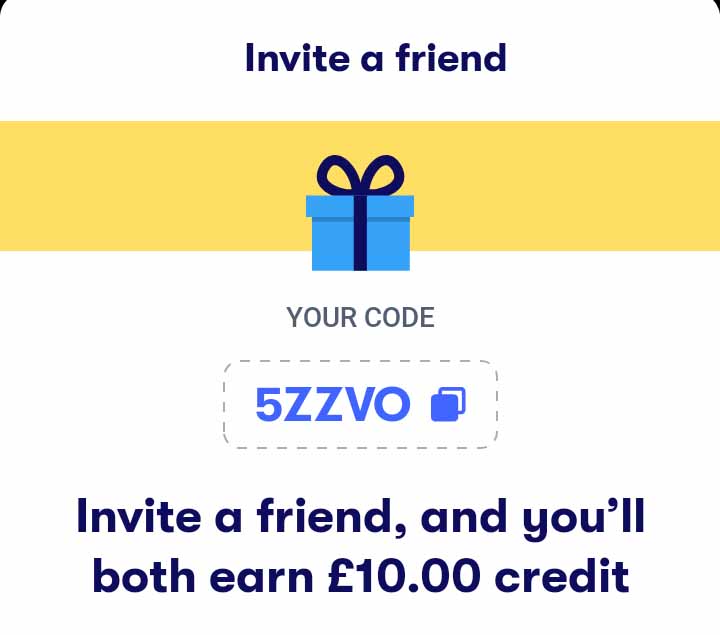 Sendwave Invite A Friend and Earn £10
The Sendwave Invite Friends referral program is for all Sendwave customers. Every customer can invite friends and earn a referral bonus of £10. To get this bonus, your friends must sign up with your Sendwave referral link or code and then transfer money. Then, both of you will get £10 each from Sendwave.
---
Is Sendwave Money Transfer Legit and Safe?
Sendwave is a legit app for International money transfer platform. The company is regulated by the Financial Conduct Authority (FCA) in the UK. Also, Sendwave is a reliable app trusted by millions customers for sending money abroad or home. Such as from the UK, USA and EU to other countries.
In addition, the Sendwave money transfer app is safe to use and your money. Industry-standard security is put in place to secure your transactions on the platform.
---
How to Withdraw Sendwave Referral Promo Bonus
Indeed, you can withdraw your Sendwave £10 promo bonus to a bank account. But not to your residing country's bank account. When Sendwave credit your account with the bonus, you use it on your next transfer. This means, you can withdraw the Sendwave bonus money to your bank account in your home country directly.
However, to withdraw the Sendwave promo bonus to a UK bank account, use this method: Find someone willing to send money to another country such as your friend. Send the money on behalf of the person by using the Sendwave bonus and get your in your UK bank account.
---
Final Thoughts
Overall, Sendwave app is one of the best international money transfer app. Its exchange rate is quite competitive with other money transfer platforms. In addition, Sendwave gives £10 sign-up bonus.
Therefore, try it and let me know your experience.
Lastly, let me know your opinion by dropping comments below.