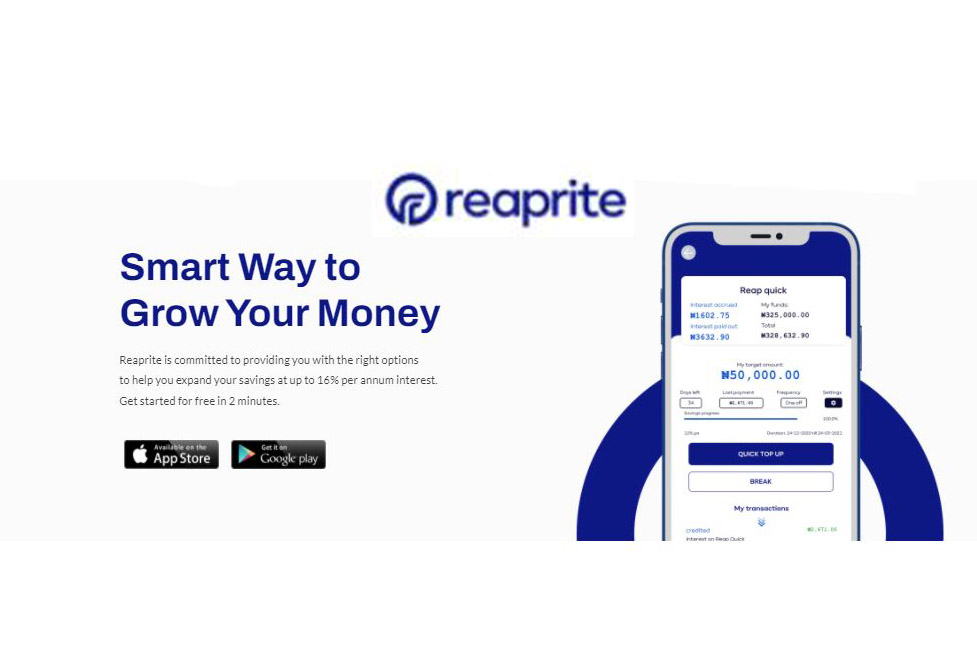 Reaprite Review: Is the Savings and Finance App Legit?
Reaprite Review
Summary
Reaprite is a legit, safe and secured platform for saving and investing, approved by CBN. A user-friendly app that helps improve savings habits while you earn up to 13% interest. Also, withdrawal is quick and free whenever you need your money.
Overall, Reaprite is a trusted app committed to improving individual's finance through its effective products and features
If you are in need to know all about Reaprite and its services, this post review on Reaprite helps you understand better.
Reaprite is a legit and safe platform for saving and investing, approved by CBN. A user-friendly app that helps improve savings habits while you earn up to 13% interest. Also, withdrawal is quick and free whenever you need your money.
Therefore, this post is a review of Reaprite products and services, and whether it is the right saving and investing platform for you.
Also, how to get the 1000 naira sign-up bonus on Reaprite with this referral link.
Enjoy.
---
What is Reaprite?
Reaprite is a fintech app that provides savings, fixed deposits and investment services to its users, and is committed to improving their personal finance
To achieve this financial growth, Reaprite lets you save your money in a smart way and with ease. By this, you gain highly competitive interest rates through the company savings option.
Although Reaprite, on its website, claimed to offer both savings and investment opportunities to customers. That is not so for now as only savings options are available. Based on this, one can expect they will roll out investment opportunities in the nearest future.
Reaprite Products and services include:
Reapquick
Reapplus
Reapmax
Reapgoal
Wallet
---
Is Reaprite Legit and Safe?
Reaprite is a legit company licensed in Nigeria and operates under the Cooperative License of Reaprite Multipurpose Cooperative Society, LSCS 17493. Also, supported by Investment One Financial Services Limited, as trustee.
Furthermore, the Reaprite platform is safe. All transaction on the platform is encrypted with industry-standard security measures. And by enabling Transaction PIN, your account is more secured rather than relying only on passwords.
In summary, a review of Reaprite shows it is a legit and safe savings platform. However, keep your personal details such as password and PIN secret.
---
How to Download Reaprite App and get 1000 naira Sign-up Bonus
These steps show how to download Reaprite, create an account and get your 1000 Naira referral bonus:
1. Register on Reaprite Website or Download the App
To sign up, go to the Reaprite website with this link.
Alternatively, go to Google Playstore or Apple Store and search for Reaprite. Then download and install it.
2. Enter your Personal Details
Thereafter, open the Reaprite app and fill in the form with your personal details:
Firstname
Lastname
Phone Number
Email Address
Password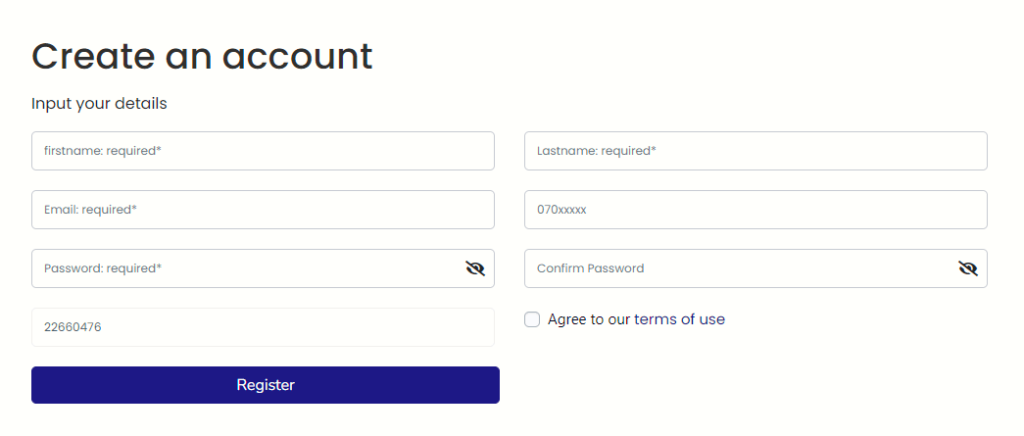 3. Use Referral Code 22660476 and Tap Register
In the referral section, enter 22660476 as the referral code. Next, check the Reaprite terms and tap Register
4. Verify your Email Address
An email to verify your account will be sent to you. Open and click the link to verify your email address.
5. Add your BVN and Bank Details
The next step verification stage on Reaprite is to enter your BVN. Then, enter your bank details and link a debit card to your Reaprite account.
You can always fund your account with this linked debit card, while you withdraw your money to the bank account number you provided.
6. Save at least 3000 Naira in any Reaprite Savings
The last step to receive your 1000 Naira referral bonus is to save at least 3000 Naira in any Reaprite savings. You can choose Reapquick since it has the shortest savings duration of 3 months.
After saving it, Reaprite will automatically credit your wallet with the 1000 naira bonus to your wallet.
---
Reaprite Savings Plan
The Reaprite review shows it has 4 types of savings plans suitable for every type of individual based on their financial muscle. These Savings are:
1. Reapquick
Reaprite Reapquick is a type of saving for those interested in short-term savings with a 12% interest per annum.
For as little as 500 Naira, you can start Reapquick savings with a minimum duration of 3 months.
Peradventure you need your money before maturity, you can cash out your money after 1 month. However, it comes with a penalty. If you break it, you will pay a 2% fee.
2. Reapplus
Let's say Reapquick is beneath you, try Reapplus if you have the financial muscle of at least 100,000 Naira.
Reapplus lets you save for at least 6 months with an interest rate of 14% per annum in return.
Another exclusive feature of Reapplus is that you can't withdraw your fund until maturity. This is to curtail the urge to withdraw before maturity.
3. Reapmax
In addition to the earlier ones is Reapmax. Reapmax is the high-level savings type of Reaprite and is for those who can save 1 million naira minimum for at least 9 months.
For saving this huge money, you enjoy 16% interest rate on Reapmax savings. In addition, like Reapplus, you can not withdraw before the maturity date even if you need the money urgently.
4. Reapgoal
Lastly, we have Reapgoal. This is for those who want to save towards a goal. For instance, I can save towards a house, car, school fees, vacation and so on. You can achieve this goal personally or in the company of a group of people. The personal type of Reapgoal is called Personal Target while the group type is called Village. Additionally, The interest rate on Reapgoal is 12% p.a.
Personal Target: The personal target of Reapgoal is when you prefer to create your own savings plan towards a goal of up to a year.
Reap Village: Here, you can create a public savings plan towards a goal where interested people(kinsmen) can join. For instance, you can save towards a vacation of 500k and make it public. An individual who likes such an idea can join instead of creating a personal one. The benefit of Reap Village is the motivation.
Alternatively, you can join an existing village in the explore section if you see one that suits your goal.
---
Reaprite Wallet
Reaprite Wallet is like a bank's savings account but with a better interest rate of 10% p.a. You can put your money and withdraw anytime without being charged. However, you forfeit the interest rate if you withdraw more than 3 times per month.
---
Reaprite Campus Ambassador Program
Are you currently pursuing an undergraduate or postgraduate degree in any Nigerian Tertiary Institution? Then this program is for you.
Reaprite ambassador program enables you to earn money and other benefits while still studying.
As a Reaprite campus ambassador, some of your duties are:
Encourage your friends and fellow students to sign up on Reaprite and save.
Organise activities promoting Reaprite in your university
Get feedback on Reaprite products and services and so on
What are the Benefits of Reaprite Ambassador?
In return, a reaprite campus ambassador enjoys the following benefits:
Referral bonus and monthly stipends from Reaprite
Internship opportunities
Attend Reaprite special events and training
Certificate of Recognition
What are the Criteria to Join Reaprite Ambassador?
To join Reaprite ambassador program, you must meet these requirements:
Be a student in a Nigeria tertiary institution
Have a minimum of 2.5 CGPA for a 5-point grading
Be active in the school community
Have a good relationship with the school authority
You can register for Reaprite Campus Ambassador here.
---
How to Withdraw Money from Reaprite Wallet
To withdraw money from Reaprite wallet, tap your wallet. Then, tap Withdraw to credit your default bank account. Or tap Send Money to credit another Reaprite user or bank account.
It is free when you withdraw to your linked bank account. However, when you send money to other bank accounts, Reaprite will charge you a 50 naira fee.
Importantly, to withdraw to your default bank account, you must have at least a 2000 naira balance but there is no such limit with sending to other banks.
---
Reaprite Review Alternatives
From the review so far, Reaprite is a really good platform for savings. However, you may still want to consider some of the best savings and investments platforms in Nigeria.
1. Branch App vs Reaprite
The Branch app is a fintech app that offers financial services such as loans, free bank transfers, investments and payments of bills, airtime and data to its millions of users.
Branch app gives 20% interest per annum when you invest on the platform.
This show that Branch app offers more services than Reaprite and interest rate. However, Reaprite allows you to save automatically which Branch App does not have.
Related Posts:
2. Piggyvest vs Reaprite
Formerly called piggybank, Piggyvest is a fintech app that offers easy savings and investment services to its users.
Piggyvest also offers more services than Reaprite. However, Reaprite allows you to send money to other bank accounts which is not possible on Piggyvest.
Related Posts:
---
Reaprite Customer care
Website: https://www.reaprite.com
Email: hello@reaprite.com
Phone numbers: +234 904 400 4000 or +234 809 410 7777
---
Final Thoughts on Reaprite Review
Reaprite is a trusted savings app by many Nigerians. The ease, high interests, referral bonus, and security are reasons why Reaprite is one of the best savings and investment apps in Nigeria.
However, this fintech app offers limited services compared to its competitors. As such, Reaprite is suitable for those who want to save only.
Give it a try and let me know your experience.
You can check my post on how to save money fast and easy to learn how to exceed your savings target.
Do you have questions or comments? Please drop it in the comment section below.