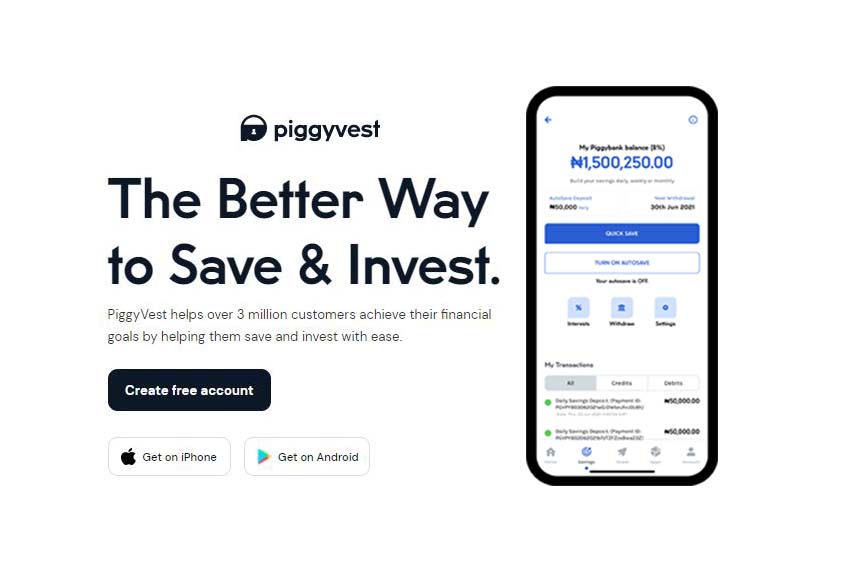 How to make money with the Piggyvest App
Nowadays, there are many ways of making money online, one of such ways is through the Piggyvest app.
Piggyvest is an app that offers high-interest rates on savings accounts and investments for customers. It is a finance platform that helps individuals achieve financial freedom on time.
When you sign up on Piggyvest through this link, you get a 1,000 naira welcome bonus instantly
So, in this post, I discuss how you can make money with the Piggyvest app and how Piggyvest makes money. Let's start.
---
What is Piggyvest
Formerly called piggybank, Piggyvest was launched in 2016 as the first online savings and investment platform across West Africa. Their mission is 'to give everyone the power to better manage and grow their finances.
Piggyvest first started as a savings company before adding investment opportunities to the customers. Hence, with Piggyvest, individuals can make money by saving in any of these savings accounts rather than the usual bank account.
You can read my full review of the Piggyvest app here
Piggyvest App Products and Features
Piggyvest products and services include:
Piggybank: Piggybank lets you save either daily, weekly or monthly a certain amount of money which can be withdrawn 3 times a year.
Flex Naira: This is like a savings account where you can deposit and withdraw anytime.
Safelock: A fixed deposit type of account.
Investify: Invest in different investment opportunities
Flex Dollar: A Savings account in Dollars with interest every month
Targets: This account is useful for saving towards a goal. Such as rent, education or vacation.
---
How to Sign up and get Piggyvest Referral Bonus
To sign up and get your Piggyvest referral bonus of 1000 Naira, follow these steps:
Follow this referral link to the Piggyvest website to sign up.
Then, click Create A Free Account and fill in the details to register.
After creating the account, if you wish, you can download the app to continue with the next stage.
Next, Add your BVN to verify your account. Also, set up your bank account details and Debit card.
Thereafter, fund your Flex account with at least 100 Naira.
Also, fund 2 other savings accounts with at least 1000 Naira each. Piggybank, Target or Safelock.
After all these, you will receive the Piggyvest 1000 naira bonus instantly in your Safelock account and matures into your Flex wallet in 10 days.
To understand better, read my post on the Piggyvest referral bonus.
---
How to Make Money with Piggyvest App
Some of the ways to make money with the Piggyvest app are through the following
1. Make Money with the Piggyvest Flex Dollar
The Flex dollar account is an easy way to make money with the Piggyvest app. Flex dollar account lets you save money in dollars and earn 7% interest per annum.
What makes this type of savings account more profit-oriented is when the value of Naira falls. For example, If have you bought a dollar at 420 Naira last year, now that is 565 naira+, you would have made a profit in both ways.
To save on Piggyvest Flex Dollar,
Firstly, open the app and tap on the Savings tab.
Next, tap Flex Dollar.
Thereafter, follow the procedure to fund your Flex dollar account.
Read more about how to save and make profits on Piggvest Flex Dollar here
2. Investify: Piggyvest Investment
Another way to make money with the Piggyvest app is through Investify. Investify is the investment side of Piggyvest which can give up to 36% interest depending on the investment you choose.
Although investify is one of the cool ways of making money on Piggyvest, most of the investments here are always sold out, However, if you are lucky to see one, grab the offer fast become it is taken.
To invest with the Piggyvest app,
Open the app and tap the Invest tab.
Then, tap Explore and browse through available investment opportunities.
Lastly, make your choice and pay.
3. Piggyvest Referral Program
Piggyvest Referral program gives 1,000 Naira to you and your referral.
When you refer people to sign up on the Piggyvest app through your unique link, you earn 1,000 naira which is one of the easiest ways to make money with the Piggyvest.
To get your Piggyvest referral link,
Firstly, open the app and tap the Account tab.
Then, scroll down and tap Refer & Earn N1000.
Next, copy your link.
So, start sharing your Piggyvest referral link and both you and your referral will get a referral bonus.
Read more about the Piggyvest app referral bonus here including the requirements.
4. Make Money with the Piggyvest Savings
You can also make money with Piggybank savings. For instance, Piggybank gives 10% interest, Flex Naira interest is 8% per annum, and money on Safelock can yield up to 36% interest.
Hence, by saving in any one of these, you can grow and make money with Piggyvest.
To save in any of these Piggyvest savings accounts,
Open the app and tap the Savings tab.
Choose any of the savings options.
Fund the account.
---
How does Piggyvest Make Money?
Piggyvest makes money by investing funds deposited by customers. All funds are managed by AIICO Capital, a top asset management company in Nigeria and licensed by the Securities and Exchange Commission.
---
Final Thoughts: How to Make Money with the Piggyvest App
Finally, you have seen some ways to make money online passively with the Piggyvest app.
There are also some other platforms like the Piggyvest. Such as Branch app, Reaprite, Bundle Africa, and Swagbucks can fetch you money monthly with little effort.
Therefore, try it and let me know your experience.
Lastly, let me know your opinion by dropping comments below.
Some of the posts you may find helpful