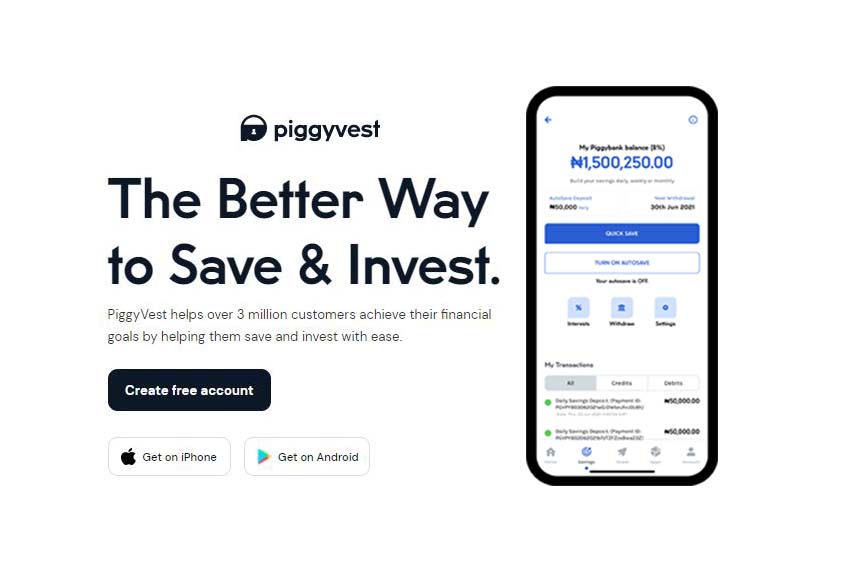 Piggyvest Review 2023: Is Save and Invest App Legit and Safe?
Piggyvest Review
Summary
Piggyvest is a legit and secure saving and investment platform, approved by CBN. The app is easy to use and conveniently save while you earn up to 13% interest. Also, withdrawal is quick.
Overall, Piggyvest helps improve an individual's finances through its exciting products and features.
If you are in need to know all about Piggyvest and its services, this post review on Piggyvest helps you understand better.
Piggyvest is a legit and secure saving and investment platform, approved by CBN. The app is easy to use and save conveniently while you earn up to 13% interest. Also, withdrawal is quick whenever you need your money.
Therefore, this review post on the Piggyvest app covers its services, benefits, and drawbacks.
Hopefully, you will be able to decide if this app is all you need or an alternative.
---
What is Piggyvest all about?
Formerly called piggybank, Piggyvest is a fintech app that offers easy savings and investment services to its users.
Launched in 2016, Piggyvest is the first online savings and investment platform across West Africa with a mission 'to give everyone the power to better manage and grow their finances'
Savings was the first service the company started with and still remains the core. Piggybank savings account is the most popular among them.
Piggyvest App Products and Services
Piggyvest products and services include:
Piggybank: Piggybank lets you save either daily, weekly or monthly a certain amount of money which can be withdrawn 3 times a year.
Flex Naira: This is like a savings account where you can deposit and withdraw anytime.
Safelock: A fixed deposit type of account.
Investify: Invest in different investment opportunities
Flex Dollar: A Savings account in Dollars with interest every month
Targets: This account is useful for saving towards a goal. Such as rent, education or vacation.
---
Is Pigggyvest Legit and approved by CBN?
Piggyvest is legit, licenced and approved by CBN. The company partners with 2 Microfinance banks and used their licenses. Also, Piggyvest is registered as Piggytech Cooperative Multipurpose Society Limited. The registration number is 16555.
---
Is Piggyvest Safe?
Piggyvest app is safe as all funds saved are managed by AIICO Capital, a top asset management company in Nigeria.
Furthermore, Piggyvest put in place adequate security measures when using the app. Your data is encrypted with PCI DSS Level 1 compliant standards including your debit card.
Also, there is also OTP and 2FA which prevent anybody from completing any transaction behind you.
In short, Piggyvest is a safe app for saving and investing your money. And whenever you fill out a form to withdraw your money on the app, Piggyvest will credit your bank account in some minutes.
---
How to Sign up and get Piggyvest Referral Bonus
To sign up and get your Piggyvest referral bonus of 1000 Naira, follow these steps:
Follow this referral link to the Piggyvest website to sign up.
Then, click Create A Free Account and fill in the details to register.
After creating the account, if you wish, you can download the app to continue with the next stage.
Next, Add your BVN to verify your account. Also, set up your bank account details and Debit card.
Thereafter, fund your Flex account with at least 100 Naira.
Also, fund 2 other savings accounts with at least 1000 Naira each. Piggybank, Target or Safelock.
After all these, you will receive the Piggyvest 1000 naira bonus instantly in your Safelock account and matures into your Flex wallet in 10 days.
To understand better, read my post on the Piggyvest referral bonus.
---
Piggyvest Savings Plan
Piggyvest app offers 5 kinds of savings. Hence, one or more of these savings accounts will suit your need.
1. Piggybank
Interest rate: 10% p.a.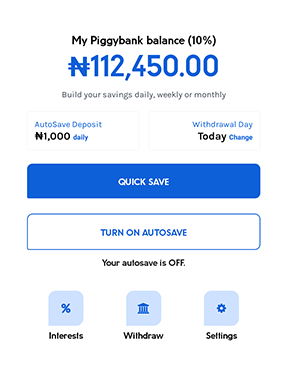 Piggybank is a type of savings account on the Piggyvest app that allows you to build your savings gradually either automatically or manually.
For automatic, you specify a certain amount to be deducted from your account whether daily, weekly or monthly. For this to work, you need to set up your bank debit card and authorized Piggyvest to deduct the money at a certain time you chose. This is a standing order feature and it is useful for monthly income earners.
However, you can choose the manual option by turning off the autosave button. So, whenever you want to save to your Piggybank account, tap on the Quick Save, enter the amount and choose My piggybank as the saving destination.
Another benefit of the Quick Save is that even you can use it at any time with the autosave.
With Piggybank is that you are allowed 4 free withdrawal dates in a year. These dates are default but you can change them.
Any attempt to withdraw outside these dates will attract a fee.
Piggybank gives 10% interest per annum. At the beginning of the next month, you can claim your interest to your Flex Naira account.
The drawback to this approach is that you have to claim your interest yourself, unlike the Branch app which credits your account with interest. On my part, I would love to get my interest every month on Piggyvest without tapping the claim interest button.
In summary, Piggybank helps you to be financially disciplined and helps you to save more.
2. Flex Naira
Interest rate: 8% p.a.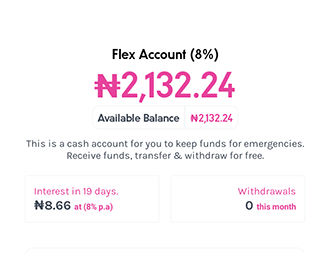 Flex Naira account is just like a bank saving account, the benefit is that you get 8% interest p.a. if you don't withdraw more than 4 times in a month.
However, if you don't care about the interest, Flex Naira gives you the freedom to withdraw your money at any time, unlike Piggybank.
Flex Naira is the only account on Piggyvest that has a bank account number(WEMA BANK) which you can use to send and receive money.
According to Piggyvest, the Flex Naira account should be your cash account where you keep an emergency fund. This will help you to get an interest monthly due to limited withdrawals.
3. Piggyvest Safelock Review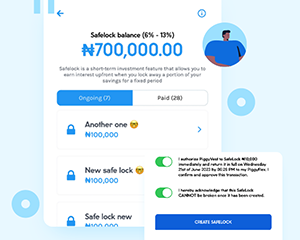 In simple terms, Piggyvest Safelock is a fixed deposit type of account. Here, you lock your funds for a fixed period of time to avoid spending.
The duration to save on Safelock is from 10 days to over 2 years, with an interest rate of 6% to 36% p.a depending on how long you want to lock your funds.
| Safelock Duration | Interest Rate |
| --- | --- |
| 10 – 30 days | 6% per annum |
| 31 – 60 days | 7% per annum |
| 61 – 90 days | 9% per annum |
| 91- 365 days | 10% per annum |
| 1 – 2 years | 12.5% per annum |
| Over 2 years | 26% – 36% per annum |
4. Target Savings
Interest rate = 9% p.a.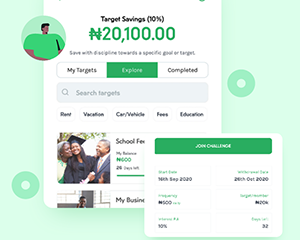 The Piggyvest target involves saving towards a goal. For instance, you can save to buy a car, phone, go on vacation, rent accommodation, and so on.
Under Target savings, there are still 3 sub-accounts you can choose which are:
Personal Target
Public Savings Challenge
Private Group target
To start a target saving, simply give the goal a title, set the reason, enter an overall target amount and choose the saving frequency.
Lastly, Piggyvest's Target interest rate is 9% p.a and you get your money with interest after you reach the goal.
5. Piggyvest Flex Dollar Review
Interest rate = 7% p.a.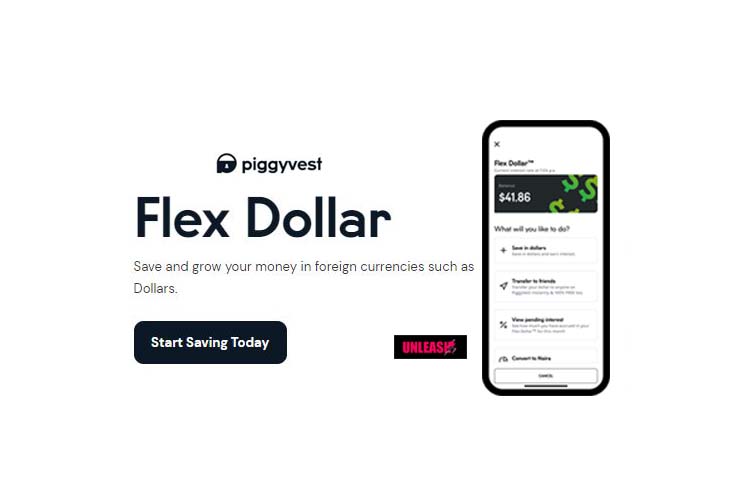 Flex Dollar allows you to save your money in dollars which is a strong currency to protect you from devaluation issues associated with Naira. As a result, you can make more money when the value of Naira falls.
To save Piggyvest Flex Dollar, you have to convert the naira to dollars using the app's current exchange rate. On top of that, you get 7%p.a. interest.
Also, you can transfer dollars to other Piggyvest users for free and to a domiciliary account.
Furthermore, when you are ready to withdraw the fund, convert it to naira and transfer it to your Flex Naira account which is free. However, you will pay a fee if you choose to transfer directly to a dollar bank account.
In summary, Flex Dollar gives better security and greater interest to your funds.
You can read my post on:
---
Piggyvest Investment Review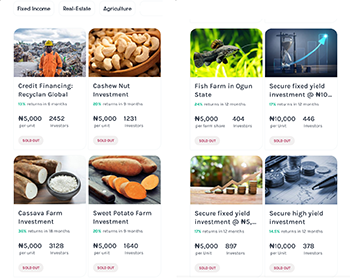 Investment is another service Piggyvest provides for its users. In fact, with at least 5000 Naira, you can invest in different businesses of your choice in agriculture, transportation, real estate, finance, etc. The duration can be at least 4 months up to 18 months depending on the investment.
Furthermore, you can get an interest rate of 30% or more on your Piggyvest investment. This is a good ROI for someone who wants to move from saving to investment.
However, the issue with Piggyvest Invest is that it is rare to see any available investment. All investments on the platform, are sold out. Obviously, there are not enough investment opportunities to cater for most growing users of the platform.
Therefore, if an investment is your priority, check other investment platforms like the Branch app and Chipper Cash.
Further Reading:
---
How to Withdraw from Piggyvest
Whether you want to withdraw from Piggyvest Safelock, Piggybank, Target Flex Naira or Flex Dollar, follow these steps:
Open the app and tap Savings.
Then, tap any of the the savings account
Next, tap the withdraw button
Fill in the amount.
Lastly,pick your fund destination.
Note, for Piggybank, you can only withdraw your fund on the withdrawal date or you change the date to suit you.
Whereas, to withdraw on Flex Dollar, you have to convert your money to Naira which will be sent to your Flex Naira
For Piggyvest Safelock, you don't have to withdraw but your funds will reflect in your Flex Naira account
What is Piggy Point and how to redeem it?
Piggy point is the point you get for saving at least 2,000 Naira from your debit card to your Piggybank or Target once every 10hours. It is to encourage savings habits. A point is 10 Naira therefore, 10 points equal 100 Naira. Below is the number of Piggy points you can get when you save on Piggyvest.
| Amount | Number of Piggy point |
| --- | --- |
| N2000 – N4999 | 1 point |
| N5000 – N9999 | 2 points |
| N10000 – N49999 | 10 points |
| N50000 – N99999 | 25 points |
| N100000 and above | 55 points |
How to Redeem your Piggy Points
To claim your piggy points, follow these steps:
Firstly, open the Piggyvest app and tap Account
Then, tap the Piggy Point and tap Convert Points
Enter the number of points to convert and your password
Tap Convert Points to Cash
Lastly, the cash will reflect in Flex Naira
---
FAQS on Piggyvest Review
Can I break my PiggyBank account?
Yes. you can break your Piggybank account by adjusting the withdrawal date to the date you wish to withdraw. You won't be charged as long as you haven't used all numbers of withdrawals per year.
Who owns Piggyvest?
Piggyvest is owned and founded by Joshua Chibueze and Odunayo Eweniyi
Can Piggyvest borrow me money?
No, Piggyvest does not borow people money. It is not a loan app but a savings platform.
Can Piggyvest safelock be broken?
Piggyvest safelock cannot be broken. To get your funds, you have to wait till the maturity date
Can i use Piggyvest without bvn?
No, you cannot effectively use Piggyvest without BVN
Is piggyvest a microfinance bank?
Because Piggyvest shares licenses with 2 microfinance banks, it can be called a microfinance bank. Also, Piggyvest is a registered cooperative company
---
Piggyvest Customer Care
Website: https://www.piggyvest.com
Email: contact@piggyvest.com
Phone number: +234 700 933 933 933
---
Conclusion on Piggyvest Review
Piggyvest is an excellent and trusted savings app by millions of people. The ease, high interests, bonus point, and security are reasons why Piggyvest is one of the best savings and investment apps in Nigeria.
However, when it comes to investment, Piggyvest falls short. All you see most times is 'Sold out'.
It is then safe to say, they focus more on the savings aspect while the investment section receives little attention.
Some of the best Piggyvest alternatives are Branch app, Reaprite and PennyTree.
Therefore, try it and let me know your experience.
Lastly, leave a comment or question below and I will respond ASAP.