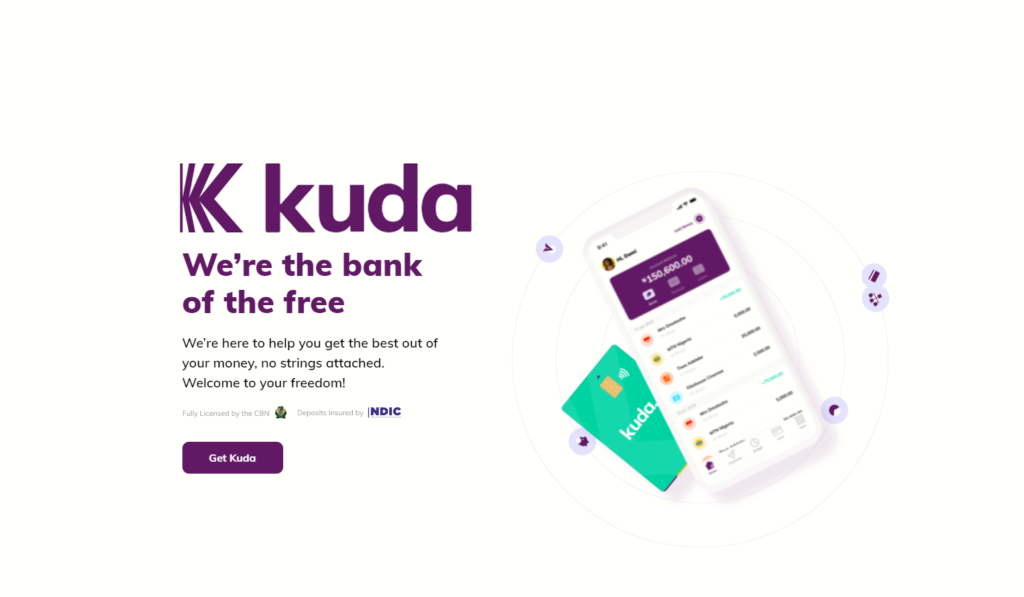 Kuda Bank Referral Code 2023: Get 1000 Naira Sign up Bonus
Are you looking for how to get the kuda referral sign-up bonus? This post covers everything you need on the Kuda bank referral code bonus program.
On the Kuda app, when you sign up through this referral link or enter this referral promo code REoK8rDO during sign up, you get a 1000 Naira bonus after you verify your account and buy at least 500 Naira airtime.
Therefore, this post explains how to get this bonus on the kuda bank app and some related topics.
So, let's dive deeper.
Latest update: Kuda has reduced the referral bonus to ₦200 till further notice
---
What is Kuda Bank
Kuda is a microfinance digital bank that offers personal and business banking solutions to individuals in Nigeria at a reduced cost or free.
Such services include savings, bank transfers, loans/overdrafts, debit cards, bill payments and so on.
Founded in November 2015, Kuda bank is set to transform banking in Nigeria. Most of its services are free such as debit cards. No overcharging like commercial banks and higher interest rates on your savings. This is why Kuda is called the bank of the free.
Interestingly, being a digital bank, Kuda operates in every state of Nigeria with its headquarters in Lagos and London.
Kuda bank is a digital bank, licenced by CBN. So, to enjoy Kuda services, you have to download the app on Google or Apple store. Afterwards, sign up for an account and verify it.
You can read my full review on the Kuda bank app here
Kuda Bank Products and Services
Some of the Kuda bank products and services customers can enjoy are:
Personal account
Business account
Overdrafts/Loans
25 Free Bank Transfers monthly
Airtime and Bills Payment
---
How to get Kuda Bank App Referral Sign-up Bonus
Below is how to get your Kuda bank referral sign-up bonus of 200 Naira:
Download Kuda bank App
Create an Account
Enter Referral Code: REoK8rDO
Verify your Account
Buy ₦500 Airtime
Receive the Bonus in your Account
So, let me explain these steps a bit.
1. Download Kuda bank App
Click this link or go to Google Playstore or App Store. Then, search for Kuda and install.
2. Create an Account
Open the app, tap Start and fill in your details. Email address, Password
3. Enter Referral Code: REoK8rDO
Then, tap Have a referral code and enter REoK8rDO if the code is not there.
4. Verify your Account
After you finish your account set-up, verify your account with BVN, ID, Selfie passport etc.
5. Buy ₦500 Airtime
Afterwards, deposit at least 500 Naira to your account. Then, buy airtime of 500.
6. Receive the Bonus in your Account
After buying the airtime, kuda bank will credit your account with ₦200 after 24 hours or less.
---
Kuda Bank App Referral Bonus Terms and Conditions
On the Kuda app, these requirements need to be fulfilled when creating your account in order to receive the sign-up bonus.
Click this Kuda link to sign up. Or enter the referral code REoK8rDO during the sign-up.
Verify your account with your BVN and valid ID
Buy at least 500 Naira airtime on the app
Note: it is important you follow it step-by-step to get your sign-up bonus. For instance, do not buy the airtime before you verify your account.
---
Kuda Referral Code Program
The Kuda referral program is available for both new and existing customers.
As a new customer, if you follow the steps on how to get a referral bonus on the kuda app stated above such as entering the code REoK8rDO, you will receive the 1000 Naira bonus instantly.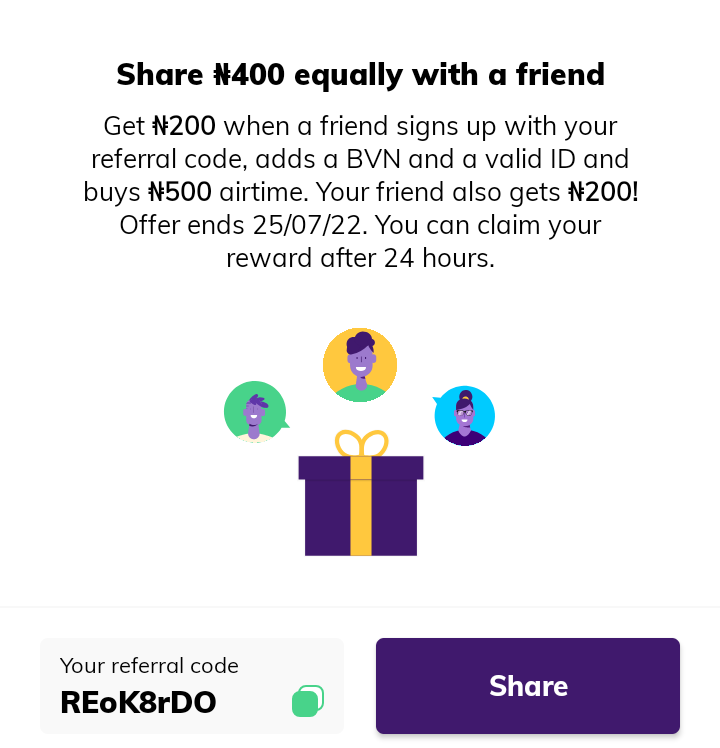 Kuda Refer and Earn
Furthermore, the Kuda Refer and Earn program gives existing users the opportunity to invite their friends and earn a referral bonus.
So as an existing customer, you can refer your friends to sign up on the kuda app. When they fulfil the above requirements, both you and your friends will get the bonus.
---
How to get your Kuda Bank App Referral Code
To get your kuda bank app referral code like this REoK8rDO, open the Kuda app, tap More and tap Referrals. Then tap copy symbol or Share.
---
How to withdraw your Kuda app Referral Bonus
Do you wish to withdraw your Kuda referral bonus to your other bank account? Follow these steps on how to withdraw it:
Open the Kuda app and tap Payments
Then, tap Send Money.
Fill in the details. Amounts, Bank name and account number.
Afterwards, tap Next to confirm the transaction.
You should receive your money in a moment
Of course, it is not a must you withdraw your referral bonus. You can use it to pay bills or buy airtime and data on the kuda app.
---
Kuda Bank App Referral Code Alternatives
These Kuda bank app referral code alternatives also give you a bonus when you create an account with them
---
FAQs
How much is the Kuda Referral code bonus?
Kuda bank pays a 1000 Naira referral bonus when you sign up and enter the code REoK8rDO.
Can I withdraw my Kuda referral bonus?
Yes, you can withdraw your kuda referral bonus. To withdraw, open the Kuda bank app and tap the Payments tab. Next, tap Send Money and fill in the details.
---
Conclusion
Finally, you have seen how to sign up and get the Kuda app referral bonus including the requirements.
Kuda bank is one of the best digital banks in Nigeria which reduces overhead charges attributed to physical banks and still rewards customers with a bonus and high interest rates.
Therefore, try it and let me know your experience.
Do you have questions or comments? Please drop it in the comment section below.
Some of the posts you may find helpful