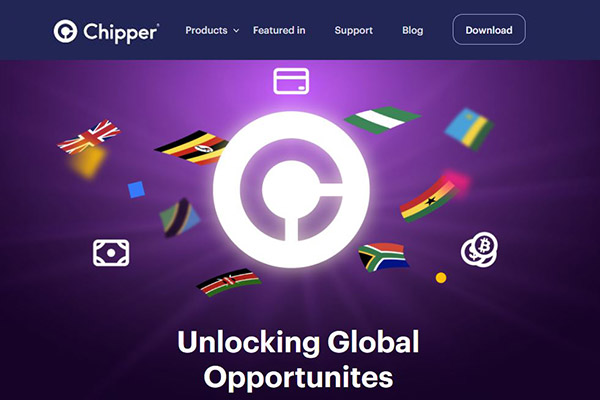 Chipper Cash Review 2023: Is Money Transfer and Investment App Legit?
Chipper Cash Review
Summary
Chipper cash app is a legit and safe platform for cross-border transfers. A trusted app for sending and receiving money, Bitcoin, foreign stocks, bill payment, and virtual card by millions in Africa. Also, withdrawal is quick and free whenever you need your money.
Overall, Chipper Cash is a fast and easy platform for investments in foreign stocks and Bitcoin, cross-border transfers and bill payments.
If you are in need to know all about Chipper cash and its services, this post review on Chipper helps you understand better.
Chipper cash app is a legit and safe platform for cross-border transfers. A trusted app for sending and receiving money, crypto and foreign stock investment, bill payment, and virtual card. Also, withdrawal is quick and free whenever you need your money.
Therefore, this post review the Chipper cash app, including its products and services, sign-up bonus and related topics.
Let's start.
---
About Chipper Cash
Chipper Cash is a fintech app for sending and receiving money, investing in foreign stocks, paying bills and other financial services.
Sending and receiving money within one's country, though easy is not always free. Also, for cross-border transfers, it becomes difficult including high fees and exchange rates.
Chipper cash solves these issues by making it easy to move money freely and with competitive exchange rates across the border.
Chipper Cash App, founded in 2018 by Ham Serunjogi and Maijid Moujaled, is a top choice for transferring money locally and abroad for free in 8 African countries plus USA and UK.
In addition, buying foreign stocks such as Amazon, Tesla, Apple, Microsoft and other high-performing stocks is possible and easy on the app.
Furthermore, it offers discounts when you buy airtime or data. Also, pay bills such as Cable TV, electricity and Internet on the app.
Lastly, there is Chipper Cash for businesses. With the API and Chipper Checkout, a business can receive payments on their websites, apps or social media seamlessly.
Chipper Cash app products and services
Free money transfer both local and abroad
Virtual Visa Card
Airtime purchase
Bill payment
Investment in Stocks and Bitcoin
Business payment solution: API and Checkouts
---
How Does Chipper Cash Work?
Chipper Cash works as a social payment and investment app platform. To start enjoying these features, create and verify your account.
As a social payment platform, Chipper cash works by offering free transfers between users both within the country and outside. Also, you enjoy competitive exchange rates which means Chipper cash is one of the best ways of sending money abroad.
The investment aspect of Chipper allows users to invest in foreign stocks and crypto. Presently, there are over 20 foreign stocks on Chipper cash that you can buy and invest in such as Apple, Tesla, and Meta.
Another investment opportunity on Chipper is Bitcoin investment. With Chipper, you can buy and sell Bitcoin 24/7. However, it is only available in South Africa and Uganda for now.
---
Is Chipper Cash Legit and Safe?
Chipper Cash is a legit and licensed fintech company that offers cross-border financial services. The company has raised over $300 million in seed funds, attracting investors like Jeff Bezos.
Still, on being legit, Chipper company has featured in Forbes and BBC and is a partner with AS Roma on African football development.
Furthermore, Chipper cash is a safe platform. Your data, money and transaction are secured and encrypted to protect you against unauthorized access.
---
Chipper Cash Download and Registration
To download and register an account on Chipper cash, follow these steps:
Follow this link to the Chipper website to sign up.
Enter your phone number and click download.
Then, download the Chipper Cash app.
Next, create your account.
Lastly, verify your account with a relevant ID. E.g. BVN.
---
How to Verify Chipper Cash Account
To get verify your Chipper Cash App account, add your bank BVN and take a selfie on the app to authenticate you are the actual person. Chipper will verify your account within minutes.
---
How to Get Chipper Cash Referral Bonus
To get your referral code bonus on the Chipper cash app after registration, follow these steps:
1. Register on Chipper Cash with your Phone Number
Firstly, you must sign up on the Chipper cash with your phone number. If you use the email address option, you won't get the referral bonus.
2. Tap on the Earn tab
After signing up on Chipper Cash, tap the Earn tab at the bottom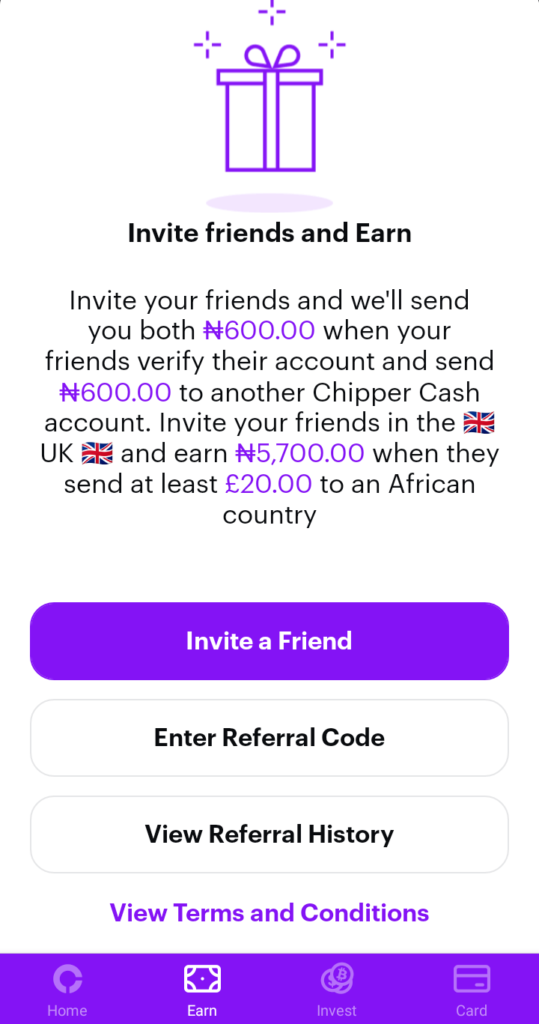 3. Tap Enter Referral Code and enter YZ7WQ in the box.
On the next page, tap Enter Referral Code from the option. Then, enter YZ7WQ in the box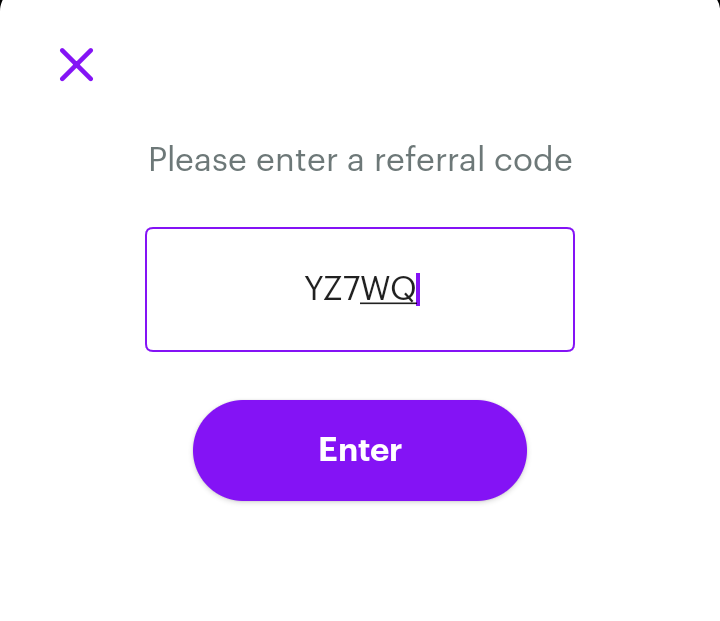 4. Send Money to a Chipper User
The next step is to send money to a Chipper user either in your country or abroad(UK or USA).
Depending on your country, the minimum amount you must send is NGN 600, GHS 5, TZS 2000, UGX 5000, R30, USD 25 or GBP 5.
If you do this, Chipper cash will credit your wallet with the referral bonus within 24 hours.
To understand better, read about Chipper Cash Referral Bonus and Terms and Conditions here
---
Chipper Cash Investment
Chipper cash makes it possible to buy foreign stocks easily. Buying foreign stocks like Apple, Tesla, Microsoft and Google in your country can take a long process but with Chipper Cash, it becomes very easy. Below are the available Stocks on Chipper Cash that you can buy and invest in.
| | | |
| --- | --- | --- |
| Apple AAPL | Amazon AMZN | Tesla TSLA |
| Microsoft MSFT | Shopify SHOP | Walt Disney DIS |
| Meta Platforms META | NVIDIA NVDA | Berkshire Hathaway BRK.B |
| Alphabet Inc GOOGL | Visa Inc. V | Johnson & Johnson JNJ |
| Home Depot HD | JP Morgan JPM | United Health Group UNH |
| MasterCard MA | Verizon VZ | Adobe System ADBE |
| Salesforce CRM | | S&P 500 Vanguard VOO |
List of stocks names and symbols on Chipper cash
---
Send and Request Money on Chipper
Chipper cash is a payment app useful for sending and receiving money for free. However, it is important to classify what free transfer means.
Chipper cash app operates a peer-to-peer money transfer. That is, to transfer money to someone, the person must have a chipper account.
This model is how Chipper is able to operate across different countries without restriction.
Each Chipper cash account holder has a ChipperTag. A ChipperTag (e.g. ikunleash) is like an account number, unique to you. Although you can change it if you like.
Therefore, to send money to someone, you need the person's ChipperTag or phone number which will show the tag when you tap Send button on the app.
Likewise, you can request money from someone with ChipperTag or a phone number. Just tap Request and enter it
The interesting thing is withdrawing money from your chipper account is free. This is called Cash Out.
So with Chipper cash, you send money for free, request money for free and withdraw the money for free.
---
Chipper Cash Supported Countries
Chipper Cash App so far works in 8 African countries including USA and UK. Below are the supported countries
Nigeria
Uganda
South Africa
Ghana
Kenya
Tanzania
Rwanda
USA
UK
Chipper cash plans to add more African countries in the nearest future.
---
How to Add and Withdraw money on Chipper Cash
To add money on Chipper App, tap on Add Cash. Then, enter your card details.
To withdraw on Chipper App is quite easy. To withdraw/get your money, go to your profile and tap Cash Out.
Alternatively, tap on Send tab, choose your bank name and fill in the details. Your name should appear to confirm the account number.
---
News About Chipper Cash
Jeff Bezos has invested in the company twice.
So far, Chipper Cash has raised 8.4 million seed fund; 13.8 million series A fund; 30 million series B; and 100 million series C.
It has featured in Forbes and BBC
Chipper Cash partners with AS Roma on African football development.
---
Chipper Customer care
Do you have complaints? tap Help in the upper left corner of the App. Most complaints/questions can be solved by checking the Help section.
However, if not solved, tap the in-app chat at the bottom of the Help Center or use the following channel
Email address: support@chippercash.com
Facebook: https://www.facebook.com/Chippercashapp
Twitter: https://twitter.com/chippercashapp
---
FAQS
Is Chipper Cash a bank?
Chipper cash App is not another bank account. However, you get a personalised bank account that you can receive money into at any time.
What is a Chipper Cash App Tag?
In Chipper cash App, you get to choose a unique tag called ChipperTag when you sign-up. This is like a username name that is peculiar to you only. With the chipper tag, you can receive funds.
Can I buy bitcoin with Chipper Cash?
You can buy bitcoin with the Chipper cash app. However, this depends on the country you are in. For now, it is available in South Africa and Uganda but not in Nigeria.
How to make money on Chipper App?
One of the ways to make money with the Chipper Cash App is by investing in bitcoin and stocks. Another option is to refer your friends and family and win a cash bonus.
Lastly, you can charge people for bill payment transactions while you profit from the Chipper Cash zero fee charge.
How does Chipper Cash Make Money/profit?
Chipper Cash makes money and profit from the business solution they provide. Additionally, investment in Chipper cash is another money-making channel through commission charges.
Can I receive money without verification?
No. You cannot receive money without being verified. It is for your benefit as it is to ensure money being transferred get to the right person.
What is Chipper Cash Referral Program and how get my referral code?
Chipper Cash app allows you to refer your friends and family and both of you get a referral bonus. After your registration on the app, tap on the Earn tab and copy your referral link code.
Alternatives: Apps like Chipper Cash
From the review so far, Chipper cash is a fantastic platform. However, if you still want to consider some alternative platforms, here are the best ones.
1. Barter App by Flutterwave vs Chipper Cash Review
The Barter by Flutterwave is an app to send and receive money locally and globally, pay bills and create virtual dollar cards that work anywhere online.
Barter app is definitely the best alternative app to Chipper. It also offers a virtual dollar card while Chipper does not.
However, you cannot invest with the Barter app while Chipper cash offers investments in Stocks and Bitcoin.
Related Post: Barter App Review
2. Branch App vs Chipper Cash Review
The Branch app is a fintech app that offers financial services such as loans, free bank transfers, investments and payments of bills, airtime and data to its millions of users.
The branch app offers free transfers to local bank accounts. On the other hand, the Chipper cash review shows it offers both local and cross-border transfers between Chipper users and not bank accounts.
Investments in the Branch app give 20% ROI per annum. On Chipper investments in Stocks and Bitcoin are subject to market conditions and your choice. So, you can make more or less than 20% on Chipper cash.
---
Final Thoughts on Chipper Cash Review
Chipper cash is a trusted cross-border transfer platform by millions in Africa. Also, the ease, zeros transfer fees, crypto and foreign stocks investment, referral bonus, and security are reasons why Chipper is one of the best payment and investment apps in Africa.
Overall, this is a payments and investments app worth having especially for buying foreign stocks.
Give it a try and let me know your experience.
Some helpful posts: