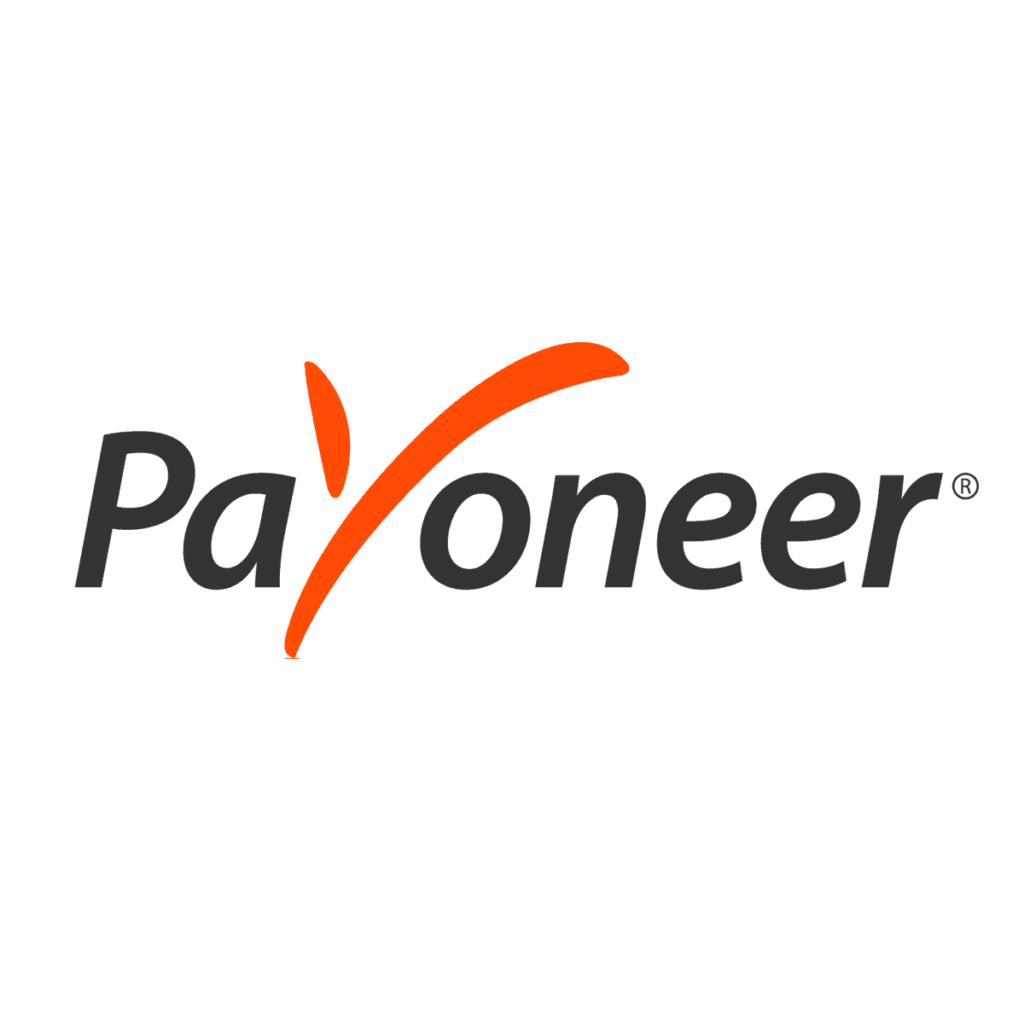 Payoneer Referral Code 2023: Get a $25 sign-up Bonus
This post is about how to get the Payoneer Referral code and bonus.
Are you looking for how to get the Payoneer referral code bonus of $25? This post covers everything you need on the Payoneer Referral bonus and reward program.
When you sign up on the Payoneer website through this referral link, you get a $25 sign up bonus after meeting the terms and conditions.
So, in this post, I discuss how to get the Payoneer referral bonus and answer related questions. Let's start.
---
What is Payoneer
Payoneer is an online payment and money transfer provider for businesses, employees, professionals, freelancers and so on. It offers borderless transactions to individuals who wish to receive funds anywhere in the world and is credited to one's bank account without stress.
Founded in 2005, Payoneer has been a global payment provider for millions of individuals and online businesses worldwide.
Payoneer is a good alternative to Paypal if you are having issues or desire to receive payments to your bank account easily. Sometimes it may be an online marketplace or jobs site that insists you open one such as Appen.
Whatever may be your reason, Payoneer can be the perfect solution to it.
You can read my Payoneer review here
Paypal Products and Features
Below are some of the products and services Payoneer offers:
Send and Receive Payment: Payoneer lets you send and receive payment globally with ease. And with its currency conversion of over 150 currencies, when you receive payment in dollars, for instance, you can transfer it to your bank account or withdraw with an ATM card in local currency. Additionally, you can send payment to anyone across the globe with Payoneer
Payoneer Prepaid Mastercard: The Payoneer Prepaid card makes it possible to withdraw or spend funds with ease from anywhere in the world. This MasterCard is a debit card that you can use to withdraw through ATM and make an online purchase.
Mobile App: Available on Google Playstore and Apple IOS, Payoneer Mobile App lets you track your transactions, withdraw funds and view your Payoneer balances at any time.
---
How to Sign up and get the Payoneer $25 Referral bonus
Payoneer gives a $25 referral bonus when you sign up on its website. Below is how to get the bonus:
Go to the Payoneer website through this link to sign up.
Then, click on the SIGN UP AND EARN $25 button.
On the next page, choose Individual from the option. If it is the option that suits you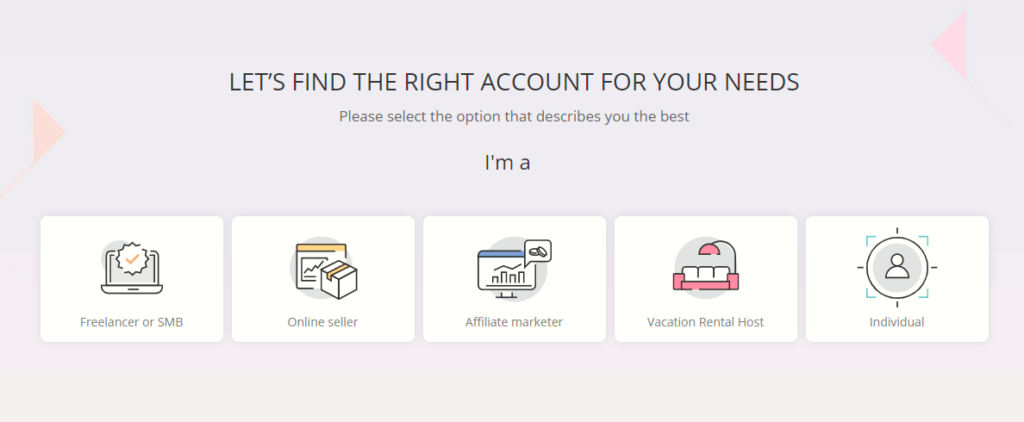 Then, select from the account option.

Next, click the REGISTER button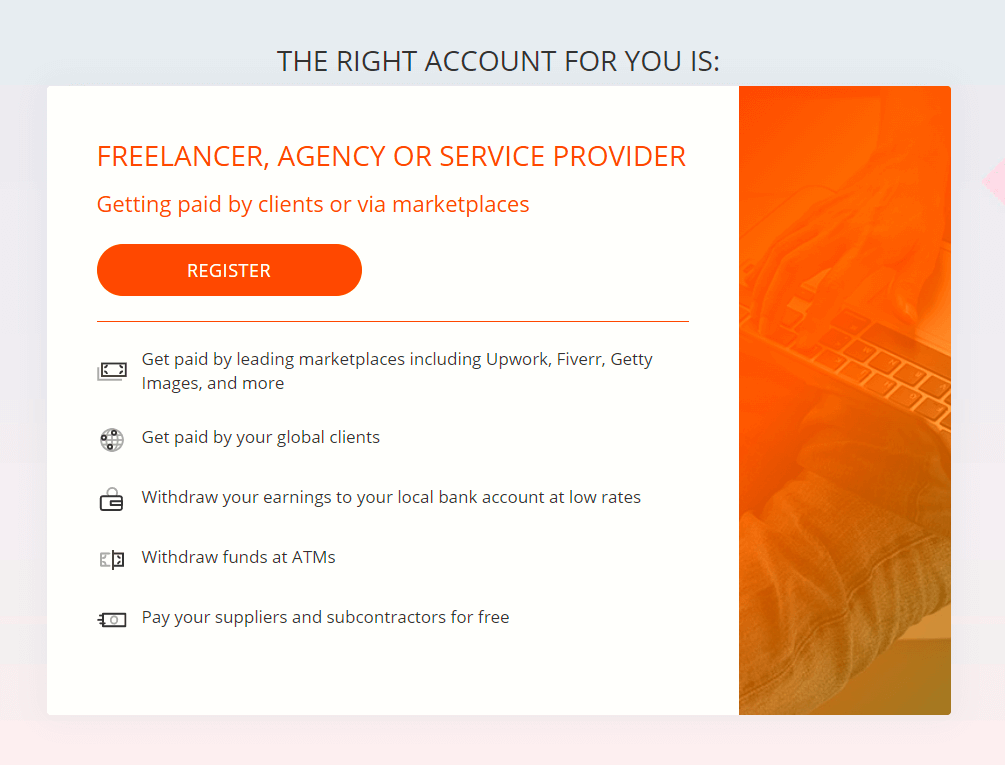 Thereafter, choose Individual or Company and start filling in the form.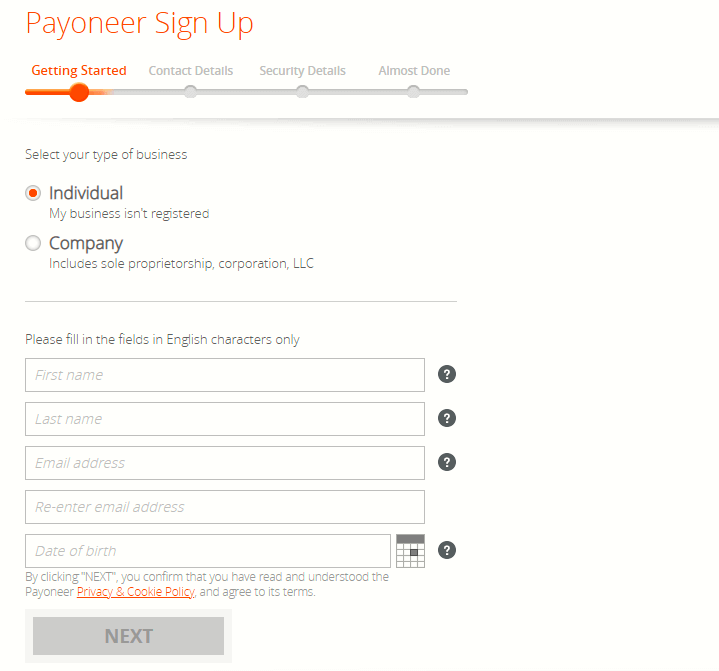 After account sign up, the next step is to start receiving payments to your Payoneer account.
When you receive total payments of up to $1000 into your Payoneer account, you will get the $25 bonus.
---
Payoneer Referral Bonus Terms and Conditions
On the Payoneer, there are terms and conditions one needs to meet in order to get the $25 bonus. These requirements are:
Sign up with the referral link
Must be a new customer of 18 years and above in age
Receive a minimum of $1000 payments in total. Not through eBay, a Payoneer user or fund transfer by you.
The referrer or the referred must not be a Turkish resident
Once you meet all these Payoneer referral conditions, you will receive your bonus instantly.
---
Payoneer Referral Code Bonus Program
The Payoneer referral program is available for both new and existing customers to enjoy.
As a new customer, if you follow the steps on how to get the Payoneer referral bonus stated above, you will receive the bonus instantly.
This sign-up bonus is only for new customers who register and meet the condition stated above.
Payoneer Refer and Earn
The Payoneer refer a friend and earn program gives existing users the opportunity to invite their friends and earn a referral bonus.
So as an existing customer, you can refer your friends to sign up on Payoneer. When they fulfil the above requirements, both you and your friends will get the $25 referral bonus.
---
Payoneer Referral Code Alternatives
These Payoneer referral code alternatives also give you a bonus when you create an account with them
---
FAQs
How much is the Payoneer referral sign up bonus
The Payoneer referral sign up bonus is $25 for new customers who register through the referral link
Can I withdraw my Bundle referral bonus?
Yes, you can withdraw your Payoneer referral bonus to your bank account or spend it through the Payoneer debit card if you apply for one
Can I withdraw less than $50 or $30 bonus from the Payoneer account?
Although you can only withdraw from your Payoneer account if you have at least $50, you can withdraw with the Payoneer virtual card even if it is $30, $25 or less. Another way is to receive payments from your friend of at least $50.
What are the minimum and maximum withdrawal on Payoneer?
On Payoneer, the minimum withdrawal is $50 while the maximum daily withdrawal is $10000
Final Thoughts: Payoneer Referral Code
Payoneer is one of the best ways to receive funds globally, especially for freelancers, bloggers, affiliate marketers etc although not as widely used as PayPal.
Indeed, the Payoneer $25 referral bonus is good encouragement for new customers to sign up and use the account for receiving payments globally.
Therefore, try it and let me know your experience.
Do you have a question? drop in the comments section below.
Some of the posts you may find helpful