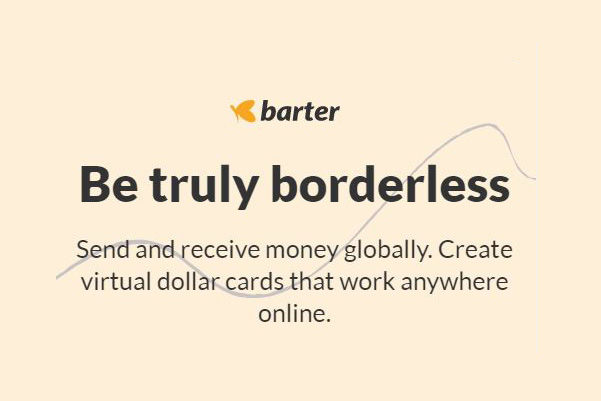 Barter by Flutterwave App Review(Detailed) plus referral bonus
Barter by Flutterwave
Summary
The barter app by Flutterwave is a legit and safe platform for payment locally and globally. With its virtual dollar card, international payment is easy without CBN restrictions. An easy-to-use app for free transfers, bill payment, virtual cards and gift cards
Overall, the Barter app is a trusted platform for managing an individual's finance.
In this post, I will give a detailed explanation of Barter by Flutterwave App such as how it works and to get the best from the App.
Barter app is a legit and safe payment platform owned by Flutterwave. With its virtual dollar card, payment abroad is easy without CBN restrictions. An easy-to-use app for free transfers, bill payment, virtual cards and gift cards. Its exchange rate is higher than banks but you get it instantly.
In addition, you get a referral bonus when you create an account  with unleash as the referral code
With this post, you will have an understanding of what the Barter by Flutterwave app is.
So, let's dive in.
---
What is Barter by Flutterwave App?
The Barter by Flutterwave is an app to send and receive money locally and globally, pay bills and create virtual dollar cards that work anywhere online. Other services include creating gift cards and buying airtime and data.
The Barter App is owned by Flutterwave, a top Nigerian fintech company that provides online payment services for businesses across the globe. Some of their clients are Jumia and Uber. Hence, the app is better positioned to make payment seamless for both individuals and businesses.
No doubt, using the barter app saves you a lot of costs and breaks restrictions that traditional banks have. Zero charges on bank transfers, instant transfers abroad and no debit card restriction like a naira card of Nigerian banks.
Barter App Products and Services
The barter is a fintech app that offers the following products and services:
Send and Receive Money
Virtual Dollar Card
Virtual Naira Card
Gift Card
Pay Bills
Buy Airtime and Data
---
How to download the Barter app and sign up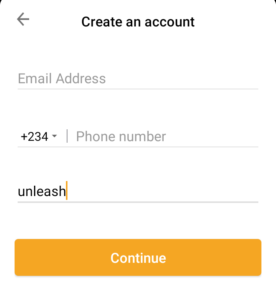 To start using the Barter, you need to download the App. To do this follow these steps:
Go to Google Playstore or Apple Store. Search Barter by Flutterwave and install.
Thereafter, sign up by filling your details with the referral code as unleash
Verify your account with BVN and start enjoying the Barter app.
---
Barter by Flutterwave Referral Bonus Code Program
The Barter referral program is available for both new and existing customers.
As a new customer, if you sign up on the Barter app, enter referral code unleash and send money abroad, you will get a gift from Barter.
Furthermore, the Barter Refer and Earn program gives existing users the opportunity to invite their friends and earn a referral bonus.
So as an existing customer, you can refer your friends to sign up on the Barter app. When they fulfil the above requirements, both you and your friends will get the bonus.
How to get your Barter App Referral Code
To get your unique barter app referral code, open the app and tap More. Then, tap Invite Friends. And tap the copy icon.
---
Barter App Free Transfer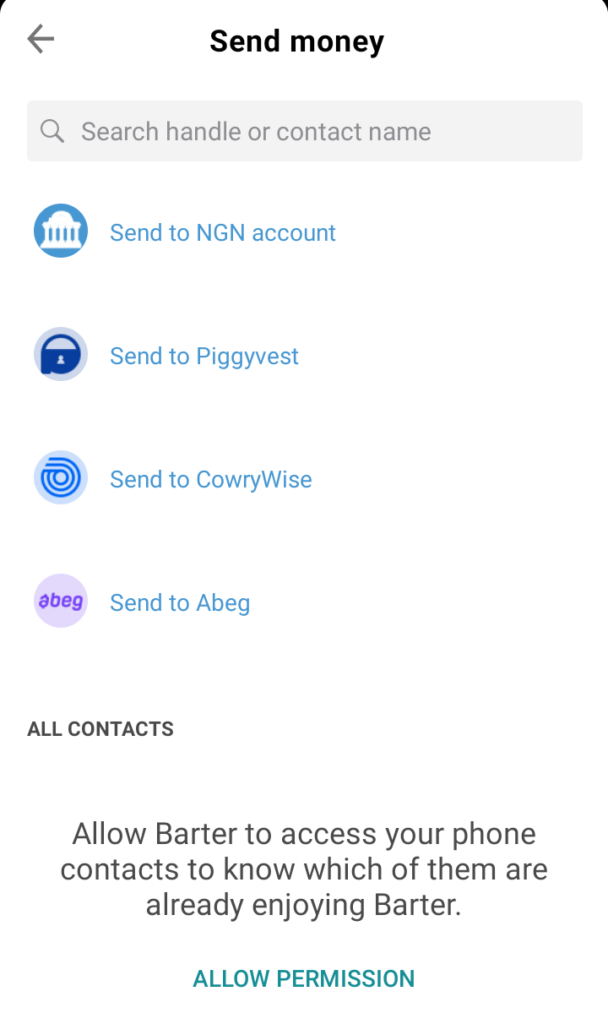 Sending money on the barter App locally and abroad is very easy and free. This is one of the reasons why the Barter app is popular. You can transfer to and receive money from these countries:
Nigeria
Ghana
Kenya
Rwanda
Tanzania
Uganda
Zambia
South Africa
Cameroon
Ivory Coast
USA
UK
Additionally, you can send money to these apps:
Cowrywise
Abeg
Mobile Money
To transfer money on the Barter app,
Tap the Send Money.
Choose to send to bank account or other option
Enter the amount.
Enter the account details and so on.
Lastly, tap Send Money.
---
Barter by Flutterwave Virtual Dollar Card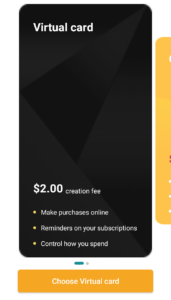 If you have been frustrated by the limit on your local debit card for international transactions, then the Barter virtual dollar card is for you.
The Barter virtual dollar card allows you to make payments globally without the usual restriction. Such as on Amazon, Netflix, eBay and even to pay for WES. Indeed, the virtual dollar card is the best for all these payments online.
To own a Barter virtual dollar card, you have to pay a $2 creation fee.
How to get and fund Barter Virtual Dollar Card
To start using your own virtual dollar card online, follow these steps to get Barter virtual dollar card and fund it:
Open the Barter app and tap Cards
Then, tap New Card on top
Tap Choose Virtual Card
Next, give your Card a name label
Choose Card designs
Enter the amount to fund the card. The $2 fee will be removed from the amount.
Lastly, tap Create Card
Right now, you can start using the card to make payments globally. And if you run out of the amount, go back and tap on the dollar card then, tap Fund and enter any amount.
---
Barter by Flutterwave other Services
Barter app also offers these services for customers to enjoy
1. Request Money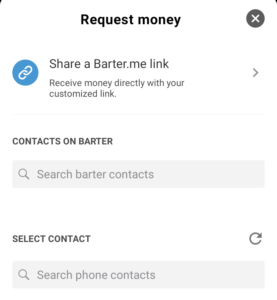 Barter by Flutterwave App made it possible to request money through a link unique to your account. When you share this link with people, they can pay you either through card or transfer.
Not only can you receive money in naira but also in other currencies. This means you can receive money around the world.
Another cool feature is that you can customize the request money to a certain price. For instance, if you sell a product of 10,000, you can set the request money to 10,000 to the people.
2. Buy Airtime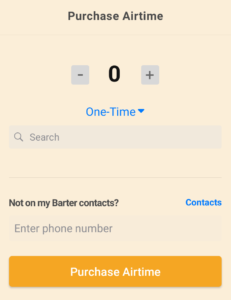 Another thing you can do on the barter app is to buy airtime. To buy, tap Buy Airtime, enter the amount and enter the phone number.
3. Pay Bills
The following are the bills you can pay with the barter app.
Electricity: EKEDC, IBEDC and IKEDC
Data services: MTN, GLO, AIRTEL and 9 MOBILE
TV subscription: DSTV, GOTV and STARTIMES
Internet services: iPNX, SPECTRANET, SMILE and SWIFT 4G
Toll gate: LCC
To pay for any of these on the Barter app, tap Pay Bills, browse through the option, and enter the details.
3. Gift card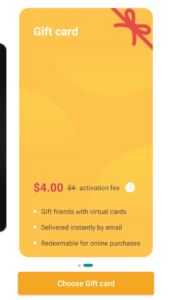 A gift card is a customized card you gift to your friends to make online purchases with it based on the actual amount.
With the Barter app, you can create a gift card of $10, $50, or any amount in dollars. This can be a perfect gift for birthdays, weddings, etc.
Lastly, creating a gift card on the Barter app cost $4 in addition to the amount you want to gift.
---
Barter App Fund Deposit Option
To add money to your barter account, tap the Add Money below your balance. There are two ways to add money to your account namely:
Card or bank account
Bank transfer
1. Card or Bank Account
By choosing this option, you have 3 ways to fund your account namely: Debit card, bank account or USSD code.
Pay with Card: You can fund your account through your debit card and the money will be credited to your barter account instantly. For me, this is the best option.
Pay with Account: This option means you will enter the bank details to fund your account
Pay with USSD: When you pick this, you would select the bank and the USSD code to dial on your phone will be generated.
2. Bank Transfer
When you open a barter account, you also get a bank account number. When you transfer to this account number, it will reflect on your barter account.
Therefore, copy the account details and transfer money to it using your bank app.
---
Fees: How much does the Barter app charge?
| Transaction | Barter App Fees |
| --- | --- |
| Create Dollar virtual card | $2 |
| Create Gift card | $4 |
| Bill Payments | 50 Naira |
Barter by Flutterwave App charges a creation fee for a virtual dollar card which is $2 and a gift card which is $4. Additionally, there is a 50 Naira charge when you pay bills.
However, there is no fee for sending money to any bank account.
---
What is Barter App Transfer Limit?
Barter app transfer limit is 500,000 Naira daily and 15 million Naira monthly. Presently, that is the amount you can transfer on the app.
---
How to withdraw money from the Barter app by Flutterwave
To withdraw money from the Barter app,
Open the Barter app and tap Send Money
Then, tap Send to Bank account
Enter the amount and tap Continue
Fill in the details. Bank name, account number etc.
Lastly, tap Send Money
Indeed, withdrawing money this way on the Barter app is free. Transactions like this are free and unlimited on the platform, just like the Branch app.
---
What are the Benefits of Barter App?
So far, you should have seen reasons to use this app. Some of the benefits of the barter app are:
Get unlimited free bank transfers
Send and receive money globally
Make an online payment with a Virtual dollar card outside the country
Send a gift card to your friends and love ones.
Buy Airtime
Pay Bills
Is Barter app Legit (or scam) and safe?
The barter app is legit and not a scam. It is owned by Flutterwave, a licensed Nigerian fintech company and trusted online payment gateway.
All transactions carried out on the Barter app are safe and secured with the state of the art technology.
Also, your BVN detail is also safe. However, keep your password and transaction PIN safe.
---
FAQs
How can I receive money with the Barter App?
To receive money from someone to your Barter app account can be through the Request Money or bank account option. Share your unique Barter app link which can be found in the Request Money section.
Another option is to receive money through the bank account number provided by Barter. You can find the account details in the More section or tap Add Money, then bank transfer.
Can i use the Barter app in the USA?
The barter app can be used in the USA, UK and other EU countries. Also, those living in these countries can send money to you.
Can I use the Barter App online on Paypal, Amazon, Netflix and WES?
Yes, by creating a virtual dollar card on the Barter App. Fund the card and start using it to pay on sites like Amazon, Netflix, Paypal and WES.
How to verify barter app account
To verify your barterp app account, add your BVN
How can I make money with the Barter App?
A business owner or freelancer can use Barter App to make money by using the Request money to receive money from customers.
Other ways to make money are by inviting your friends to sign-up using your referral code and using the free transfer to your benefit.
---
Final Thoughts: Barter by Flutterwave Review
Barter by Flutterwave is a trusted payment gateway platform by many people. The ease, a virtual dollar card, free transfer, and security are reasons why the Barter app is one of the best payment sites in Africa.
I can't count the number of times it has saved me a lot of cash through its free transfer to any bank account.
Of course, the barter app has a lot of benefits but I only know of two shortcomings.
The first is the high dollar to Naira exchange rate. Compared to the Bank rate, the Barter exchange rate is high. This is normal with all fintech apps.
Secondly, is my experience in contacting customer care over pending money. I did not get any reply to my email and Facebook message but the issue was solved within minutes when I place a call. It was so prompt.
Hence, if you have any issues, call Barter app customer care rather than sending an email.
Do you have any further questions or what is your own experience?
Drop your comments below