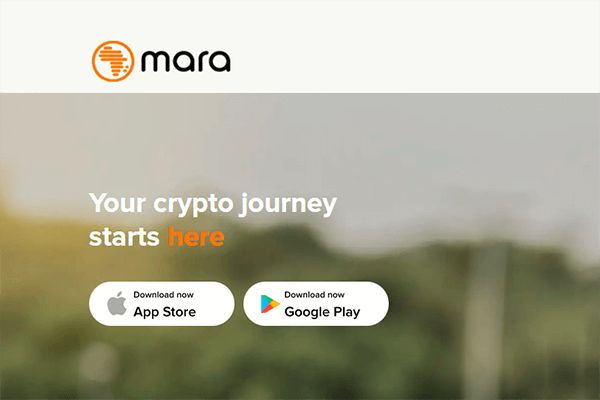 Mara Crypto Wallet Referral Code 2023: How to Get $2 Sign-up Bonus
Are you looking for how to get the Mara sign-up bonus, this post covers what you need on the Mara crypto wallet Referral and affiliate program.
Mara's crypto referral code is DY56C0 to get a $2 sign-up bonus or use this referral link. You get your wallet bonus after you create an account and verify your email address and phone number. Also, qualify to earn more rewards when you join the waitlist.
So, in this post, I walk you through how to create, verify and get your Mara crypto wallet referral bonus. Also, answer related questions.
Let's dig in.
---
What is Mara Crypto Wallet All About?
Mara is a multi-currency crypto wallet app suitable for trading, securing and managing digital assets in Africa. With Mara wallet, you can easily store, buy, sell, send and withdraw your digital assets such as crypto coins and NFTs even if you are a beginner.
Pre-launched in 2022, the Mara crypto exchange platform is for Africans to learn while building digital wealth through blockchain. This is why it focuses on learning cryptocurrency and how to make money from it.
Presently, the Mara wallet app is available to download on Google Playstore and Apple Store. However, you cannot use it yet. The only thing is to join the waitlist and get your $2 signup bonus till the platform is fully launched later this year.
---
How to get the Mara Referral Sign-Up Bonus
Below are the required steps to get your Mara crypto $2 referral sign up bonus:
Download the Mara App and Create an Account. On Google Playstore or Apple store
Enter your Email address and verify it
Enter your required personal details
Input Referral code DY56C0. It is Number zero (0)
Verify your phone number
Receive your $2 sign-up bonus in your wallet account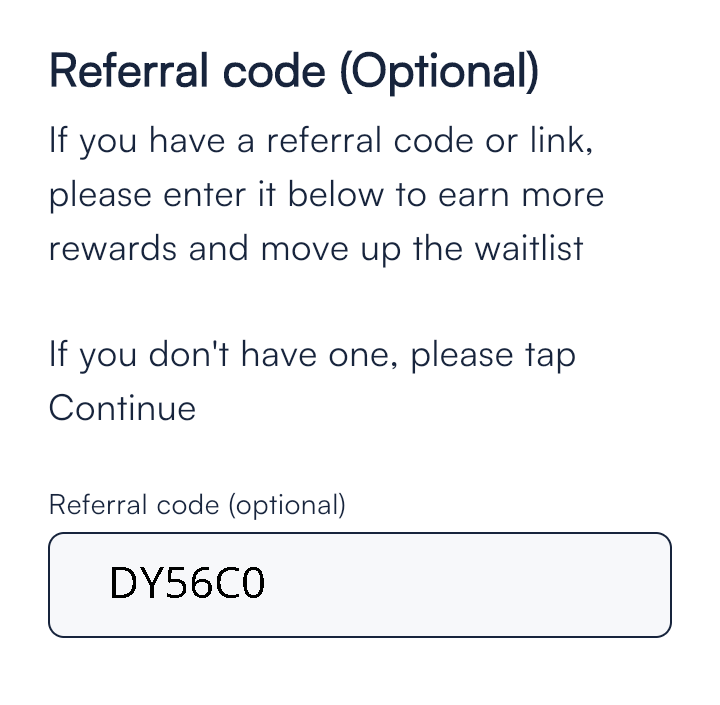 Note that, the sign-up bonus is locked up in your wallet account till Mara starts operation fully.
---
Mara Crypto Referral Bonus Terms and Conditions
The requirement to get a Mara crypto wallet referral sign-up bonus are:
Download Mara App or sign up with this link
Enter the referral code DY56C0 during registration.
Verify your Email Address
Verify your Phone Number
Receive your $2 bonus instantly.
---
Mara Crypto Referral Code Program
The Mara crypto wallet referral program is available for new and existing customers.
As a new customer, if you follow the steps on how to get a referral bonus on the Mara crypto app stated above, you will receive a $2 sign-up bonus
This sign-up bonus is only for new customers who register and meet the condition stated above.
Mara Refer and Earn
The Mara crypto Refer and Earn gives existing users the opportunity to invite their friends and earn a referral bonus.
So as an existing customer, you can refer your friends to sign up on Mara with your referral code or link. You and your friends will get a bonus when they fulfil the above requirements.
---
How to Get Your Mara Referral Code
Everyone who signs up on Mara crypto wallet automatically gets a unique referral code. To copy your referral code and share it with your friends, tap the Earn or Refer a friend button. Then, tap to copy the referral code or share it.
---
Mara Champions
Mara champion is a program designed to earn more money by promoting the Mara crypto platform both physical and online. As a Mara champion, you are to sign up new users to the platform and assist in the area of deposits and withdrawals and other tasks.
Anyone can be a Mara champion as long as they are passionate and can sign up 100 users minimum per month. Whether you own a business or an individual such as a student, blogger, social media influencer or marketer, you are qualified to join and get commissions and other benefits.
Below are the benefits of joining the Mara champion program:
$1 commission for every new user you sign up
When your sign-ups bring in new users, you also earn a $0.20 commission.
Receive a commission on all deposits and withdrawals you process on Mara App
Get a percentage on transaction fees paid by all your sign-ups
And other benefits going forward.
---
Is Mara Crypto Legit and Safe?
Mara is a legit crypto wallet backed by Coinbase which is one of the leading cryptocurrency platforms in the world and over 10 investor companies are in support of this project. Also, Mara has raised $23 million to seed funds to grow the company.
In addition, Mara crypto wallet is safe as an industry-standard security measure is put in place to secure your transactions on the platform.
Also, to log in to your Mara wallet account, you have to verify it is you through a link sent to your email address. This show is a form of 2FA to safeguard your wallet account.
---
Mara Crypto Referral Code Alternatives
These Mara crypto app referral code alternatives also give you a bonus when you create an account with them:
Xend Finance
Related Post:
---
FAQs
How much is the Mara Crypto referral sign-up bonus
Mara crypto wallet gives a referral bonus of $2 when you sign up and verify your account.
Can I withdraw my Mara Crypto bonus?
For now, you cannot withdraw your Mara crypto referral bonus until later when Mara is fully in operation.
Why am I getting an Unexpected Network Error on Mara Wallet App?
Sometimes you can get an unexpected network error while trying to log in or use the Mara crypto wallet app. To solve this, exit the Mara app and open it again. This will solve the issue
---
Final Thoughts
Overall, Mara is a legit and safe crypto company that promises individuals across Africa the ability to build wealth through blockchain technology.
Though still in its early start, it is definitely a crypto platform to watch out for. And why not join the waitlist and get a $2 sign-up bonus?
Therefore, try it and let me know your experience.
Lastly, let me know your opinion by dropping comments below.