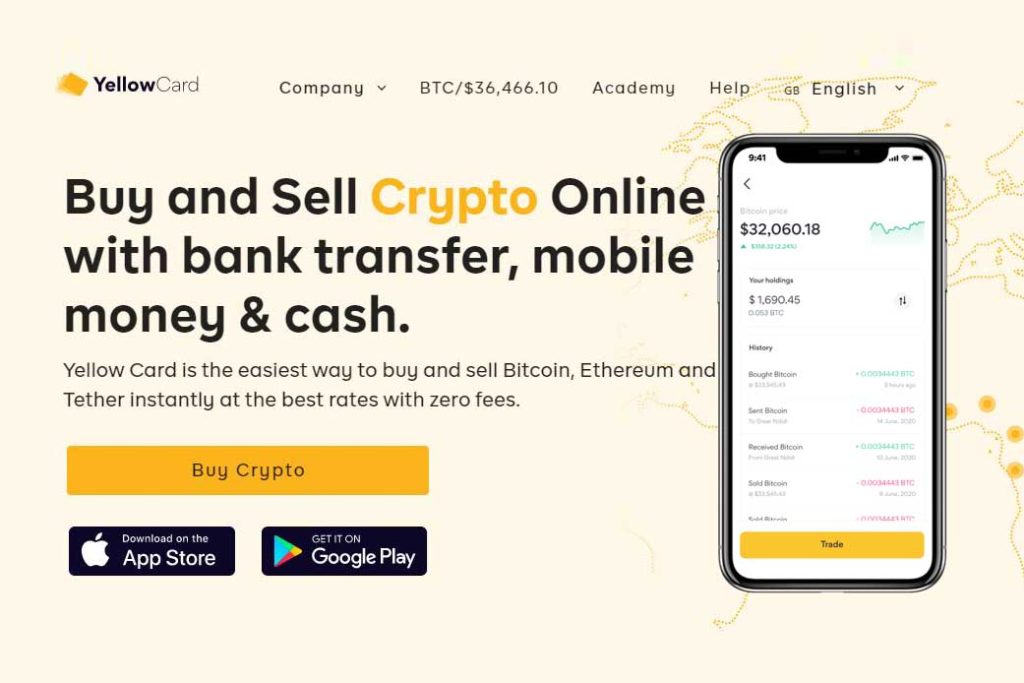 Yellow Card Referral Promo Code 2023: How to Get Sign up Bonus
Are you looking for how to get a sign-up bonus on Yellow Card app? This post covers everything you need on the Yellow Card Referral bonus and promotional code.
When you sign up on Yellow Card app through this link, you get a 20% commission fee referral bonus when you trade cryptocurrency on the platform.
So, in this post, I walk you through the process of creating and verifying your Yellow Card account and claiming your referral bonus. Also, answer questions relating to the Yellow Card referral.
So, let's dive deeper…
---
What is Yellow Card?
Founded in 2016, Yellow Card is a centralized cryptocurrency exchange platform for buying, selling and managing crypto coins in Africa and beyond with the aim of 'enabling financial inclusion for all.
Indeed, Yellow card (web and app version) offers low fees, best rates and referral bonus on its crypto platform.
Read the full review of the Yellow Card here.
Products and Services
In summary, Yellow card offers these products and services:
Buy and Sell cryptocurrencies.
Send and Receive cryptocurrencies.
Deposit and Withdrawal.
Wallet.
Crypto Over The Counter (OTC).
Yellow card Academy.
---
How to Sign up on Yellow Card and get Referral Promo Bonus
Follow these steps to sign up and get your promotional or referral bonus.
Firstly, Click this link to sign up on the Yellow Card Website. The bonus will automatically be applied.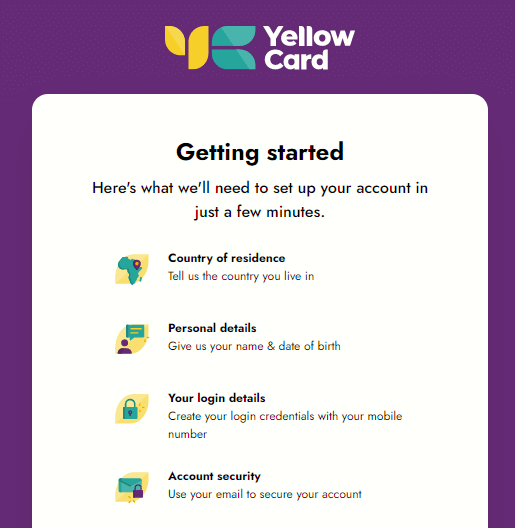 Next, Choose your Country of residence.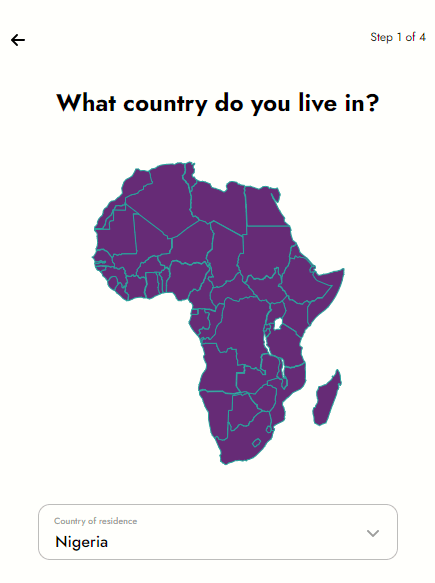 Then, enter your personal details. Full name, nickname and Date of Birth.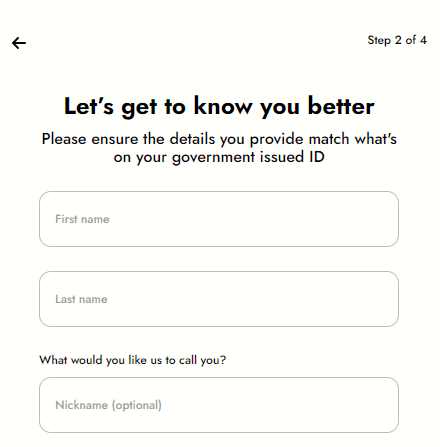 Add your login details. Phone number and strong password.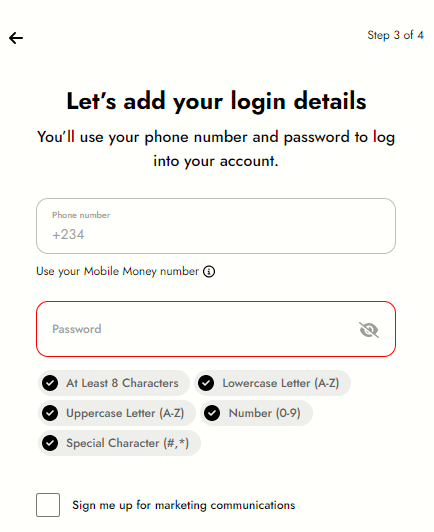 Lastly, enter your email address.
---
How to Verify your Account on Yellow Card App
On the Yellow Card app, it is important to verify and upgrade your account if you want to trade crypto with a large amount daily.
Below is how to verify and upgrade your account on Yellow Card to Tier 3.
Open Yellow Card app or web platform.
Then, tap Account > Verify Identity.
Tap Verify Email. You will receive an email, click the link to verify your email.
Next, tap Identity, tap Tier 2.
Provide Residential address details and upload proof of residency.
Then. tap Tier 3,
Lastly, enter a valid Government-issued ID. National ID, International Passport, or Voter's Card.
---
Yellow card Referral Program
The Yellow card referral program is available for every user on the Yellow card to partake in and get a bonus.
So, when you refer people through your unique link, you get a 20% commission fee every time they buy or sell cryptocurrencies on the Yellow card platform. This bonus is credited to your wallet balance instantly.
Of course, there is no limit to how many individuals you can refer through the referral link. This is an easy way of earning passive money while trading crypto on the Yellow Card app.
---
How to get your Referral Promo Code on Yellow Card
In order to get your referral promo code on Yellow Card, follow these steps:
Login to the Yellow app or the web platform. If you are a new user, click here to sign up.

Next, tap on

Profile

.

Then, tap on Refer and Earn.
Tap, the copy sign or tap Share to share across the social sites.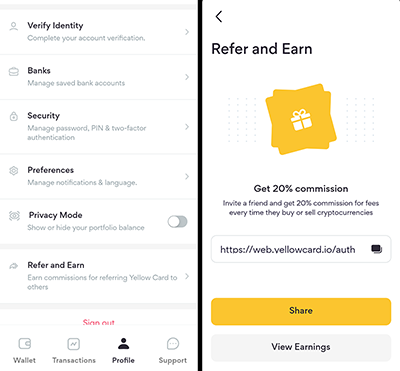 So, start sharing your referral link and get paid when your referrals sign up and trade cryptocurrencies.
---
How to withdraw your Yellow Card Referral Bonus
If you would like to withdraw your Yellow Card referral promo bonus, follow these steps:
Open the Yellow app or log in to the web platform.
Then, go to your profile and add your bank account.
Thereafter, tap on Withdraw.
Next, select the payment method.
Then, enter the amount and tap continue.
If it is Peer to peer bank transfer, you will tap Find a Match in the next section.
Lastly, you will receive your money in your bank account.
Another alternative to withdrawing your yellow card referral bonus is to use it to trade if the amount is little.
---
Yellow Card Alternatives
These Paxful referral code alternatives also give you a bonus when you create an account with them:
---
FAQs on Yellow Bonus
How much bonus does Yellow Card pay for referrals promo
Yellow Card pays you a 20% commission bonus fee on crypto trading for referrals that register through your link. This is the amount you earn when you refer someone to Yellow Card and you can bring as many people as you like
Can I withdraw my referral bonus on Yellow Card?
You can withdraw your referral bonus on Yellow Card. To withdraw, tap your wallet and tap the withdraw button.
---
Final Thoughts
So, you can have seen how to get a referral or promotion bonus on the Yellow card. The bonus is a 20 % commission fee and not a fixed amount for everyone who joins Yellow Card crypto platform.
Although the app offers limited crypto coins, which is its downside, however, I love the fact that Yellow card has one of the best rates and low fees among crypto broker platforms.
Also, it is beginner-friendly, a good option for those who are just starting to trade and invest in cryptocurrency.
Therefore, try it and let me know your experience.
Let me know your opinion by dropping comments below.
Some of the posts you may find helpful