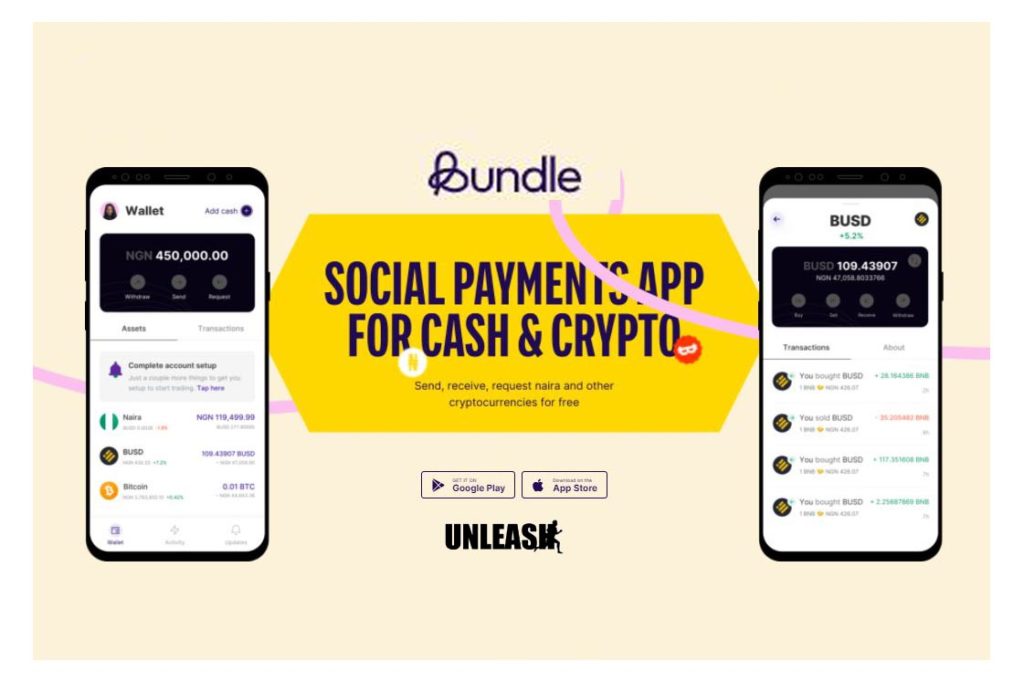 Bundle Africa Referral Code Program 2023: Get Sign-up Bonus
Are you looking for how to get the Bundle Africa referral code bonus? This post covers everything you need on the Bundle Africa app Referral program.
With the Bundle Africa referral code ikunleash, you a 500 Naira sign-up bonus (or its equivalent in your country's currency) after you trade cryptocurrency with at least $10 within 15 days on the app.
So, in this post, I walk you through the process of creating and verifying your Bundle Africa account and claiming your referral bonus. Also, answer questions relating to the Bundle referral.
---
What is Bundle Africa all about?
Bundle Africa is a P2P(peer to peer) or social payments app for cash and cryptocurrencies. With Bundle App, users can send, receive, deposit, withdraw and store cash and crypto.
Launched in April 2020 by Yele Badamosi, an ex-director at Binance, the Bundle app is now one of the popular crypto trading platforms in Africa.
Bundle Africa app is a cryptocurrency broker and not a crypto exchange or an investment platform.
As a crypto broker, Bundle acts an intermediary between you and a crypto exchange making cryptocurrency trading easy especially if you are a beginner.
The Bundle Africa app is quite intuitive and also gives a referral bonus after you met the condition within 15 days.
You can read my full review of the Bundle Africa app here
---
How to get Bundle Africa Referral Bonus
Below is how to get your Bundle Africa referral bonus:
1. Download Bundle Africa App and Sign-up
Firstly, download the Bundle Africa app here and create an account.
Fill out the form such as phone number, email, strong password and your unique Bundle Africa ID
2. Go to Refer and Earn Section
Thereafter, open the Bundle Africa app and tap on the Profile icon below. You will see Refer and Earn on the next page.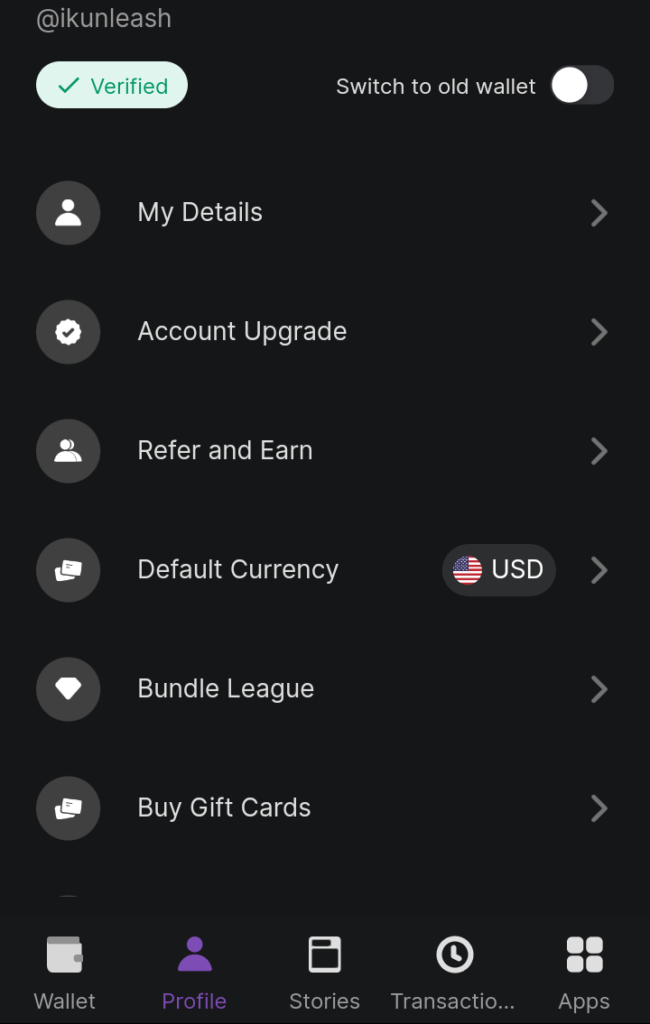 3. Tap Claim Signup Bonus
Next, tap Referral Details and then tap Claim Signup Bonus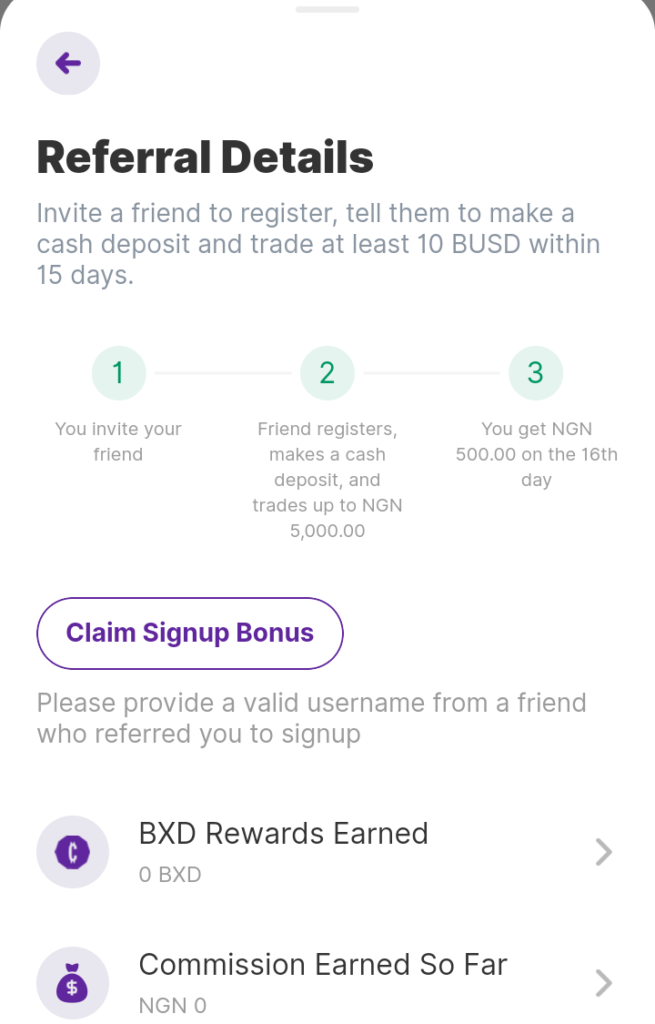 4. Enter Referral Code: ikunleash
Enter ikunleash as the Referral username. It will show a checked sign if you entered it correctly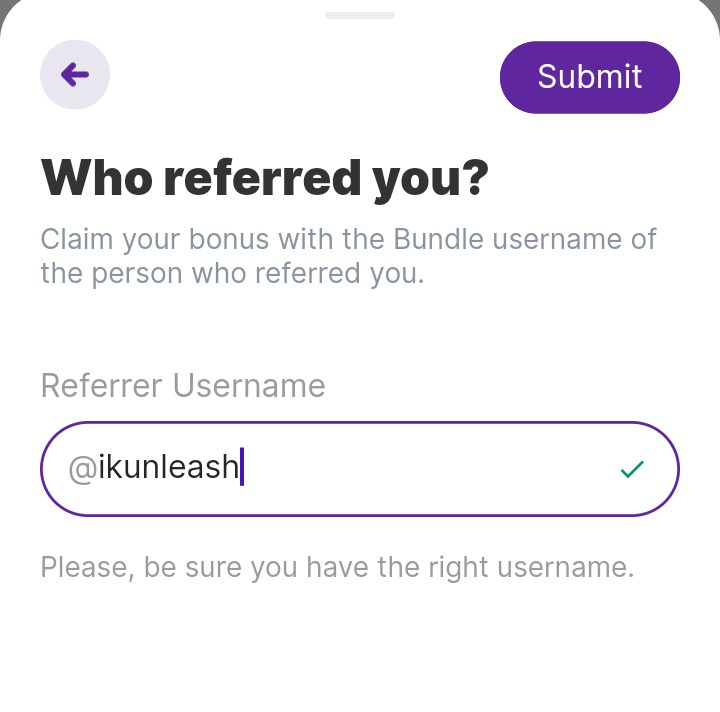 5. Add Cash of at least $10 to Your Account
Add cash of at least 10USD(Approx. 6000 in Naira) to your Bundle account through Cashlink.
You can deposit more than that. And note there is a small fee attached to every deposit.
6. Trade with $10 or more within 15 Days
Lastly, buy crypto coins of at least $10 on the Bundle app within 15 days of opening your account. You can buy any crypto coin(s) you want.
This means that if you trade crypto after 15 days of your Bundle Africa registration, you will not get your sign-up bonus.
Hence, If you did all these, you will receive your bonus to your Bundle wallet on the 16th day.
---
Bundle Africa Referral Bonus Terms and Conditions
On the Bundle Africa app, these terms and conditions need to be fulfilled within 15 days of creating your account in order to receive the sign-up bonus.
Verify and upgrade your Bundle account to Level 2
Tap Claim Sign up Bonus and enter ikunleash as the referral username.
Add Cash of $10 USD or more to your Bundle wallet account
Trade crypto with $10 USD or more
---
How to Download Bundle Africa App and Register
Below are the Bundle Africa registration steps to get a sign-up bonus:
Download the bundle Africa app through this link.
Input your phone number.
Enter the six-digit SMS code you receive and tap Confirm.
Enter a new strong password and tap Save password.
Input your email address.
Lastly, enter your preferred name and a unique Bundle username
---
How to Verify and Upgrade your Bundle Account
To remove the deposit and withdrawal limit on the Bundle app, you need to verify and upgrade your Bundle Africa account to level 2.
Below is the Bundle Africa app verification process and upgrading of your account to level 2 :
Open the Bundle app and tap Profile
Tap Account Upgrade
Tap Level 1 to verify your email address. You will receive a verification email from Bundle, click the link to verify.
Open the app and input your full name and date of birth.
Tap Level 2, select BVN and enter your BVN.
Congratulation! You now have unlimited access to Bundle Africa App
---
Bundle Africa Products and Features
Bundle Africa is a cash and crypto app. However, its products and services are mainly on cryptocurrency because Bundle is a crypto broker app.
1. Trade and Invest in Cryptocurrency
The Bundle app has over 80+ coins for individuals to buy and sell easily with good rates. And the platform is constantly adding more cryptos to give its users more trading options.
Additionally, you can prefer to buy and hold on to your crypto coins for a very long time, if you think it will give you a huge profit. This is crypto investing and it is possible on the Bundle app.
Some of the crypto coins listed on the Bundle app are:
Bitcoin
Ethereum
Avalanche
Polkadot
Terra
Solana
Decentraland
Polygon
Dogecoin
Shiba Inu
Uniswap
Stellar
BNB
BUSD
Tron
And many more…
2. Save and Earn Interest with the Bundle app Vault
The Bundle Africa Vault lets you save BUSD and earn interest of at least 7% APY. The vault is just the same way you save your money in the bank and get ROI.
BUSD is a stablecoin that reflects the Dollar currency. Hence, saving in BUSD is like saving dollars which means you won't witness price volatility like other crypto coins.
This is another way to save in a more stable currency, unlike Naira.
3. Bundle Token BXD
BXD is Bundle native token just like BNB is for Binance. Bundle BXD is like every crypto coin or token that you can buy and sell.
Additionally, the BXD token is like company shares, giving you the power in the decision-making of the Bundle app.
Presently, BXD is not available for trading on any crypto platform, even on Bundle. However, Bundle Africa has been giving some Bundle users after account sign up and verification or as a giveaway.
Hopefully, it will be available for trading very soon.
4. Send and Receive Cash
The Bundle app is also an app to send and receive cash. You can also send money to someone who is not on the app but the person has to register to access the money.
Because of the third-party charges associated with the Bundle app, it is not ideal for sending and receiving money unless the purpose is to trade with the money.
If you wish to send and receive with ease, choose apps like the Branch app, Chipper cash app and Barter app.
---
Bundle Africa Referral Code Program
The Bundle Africa referral program is available for both new and existing customers to enjoy.
As a new customer, if you follow the steps on how to get a referral bonus on the Bundle app stated above, you will receive the bonus on the 16th day
This sign-up bonus is only for new customers who register and meet the condition stated above.
Refer and Earn
The Bundle Refer and Earn gives existing users the opportunity to invite their friends and earn a referral bonus.
So as an existing customer, you can refer your friends to sign up on Bundle Africa. When they fulfil the above requirements, both you and your friends will get the bonus plus you may get 1 BXD coin.
To copy your Bundle Africa unique link on the app, go to Profile > Refer & Earn. Then copy the link
---
How to fund your Bundle App Wallet Account with Cashlink
Although there are other methods to fund your Bundle app wallet, it is the Cashlink feature that is currently available.
Below is how to fund your Bundle wallet with Cashlink:
Tap Add Cash on the top right corner of the Bundle app
Next, select Fund with Cashlink.
Then, enter the amount to deposit.
Choose any payment option such as bank transfer, Barter app, Chipper cash, Opay etc. Make sure the account name tally with your Bundle verified name. You cannot use another person's account to make a deposit.
Thereafter, select your preferred P2P trader from the list and transfer the money to the person's account.
After you have paid, go back and tap I have paid and agree with the terms.
Finally, you should receive the funds in a few minutes.
---
How to Withdraw your Referral Bonus from Bundle Africa App
Do you wish to withdraw your referral money from the Bundle Africa app? Follow these steps to withdraw:
Firstly, Open Bundle App
On the wallet dashboard, Tap Withdraw
Next, tap Withdraw with Cashlink
Enter the amount to withdraw
Then, enter your PIN
Choose from the previous payment option or add a new one
Thereafter, select your preferred P2P trader from the list
The partner will credit your account with the amount excluding the withdrawal fee
After receiving the money, tap the Received Button
And lastly, enter the code sent to your phone to confirm the transaction
---
Is Bundle Africa Legit and Safe?
Bundle Africa is legit and safe. For instance, this crypto company is a product of Binance labs that invests in various teams building blockchain projects. So, it is not a business that sprang up from nowhere.
In addition, Bundle Africa is a safe and secure platform for cryptocurrency trading and investment. There are adequate security measures put in place to protect unwarranted access to your account and trading such as Device lock and Transaction PIN.
Read further on this topic from my Bundle Africa review post
---
Bundle Africa Referral Code Alternatives
These Bundle Africa app referral code alternatives also give you a bonus when you create an account with them
Related Post:
---
FAQs
How much is the Bundle Africa referral sign up bonus
Bundle Africa referral bonus is 500 Naira or its equivalent in your country's currency. Additionally, you may receive the Bundle Africa coin BXD.
Can I withdraw my Bundle referral bonus?
You can withdraw your Bundle Africa referral bonus if you want. However, because it is a little amount and withdrawal charges, it is better, together with your funds in the wallet, to trade with it.
Final Thoughts
Overall, Bundle Africa makes it easy to register and trade on its platform. In fact, it was because I couldn't log in and get verified on Binance for days is why I opted for the Bundle app.
Within some minutes, I registered, verified, upgraded and started trading on Bundle Africa and got my referral bonus later. Therefore, I can say Bundle Africa is beginner-friendly.
However, if you want more advanced features, dive deep into cryptocurrency and get up to a better bonus and commission, then also sign up on Binance. Check my Binance referral bonus post here.
I use both platforms and a couple of others to trade.
Therefore, try it and let me know your experience.
Lastly, let me know your opinion by dropping comments below.