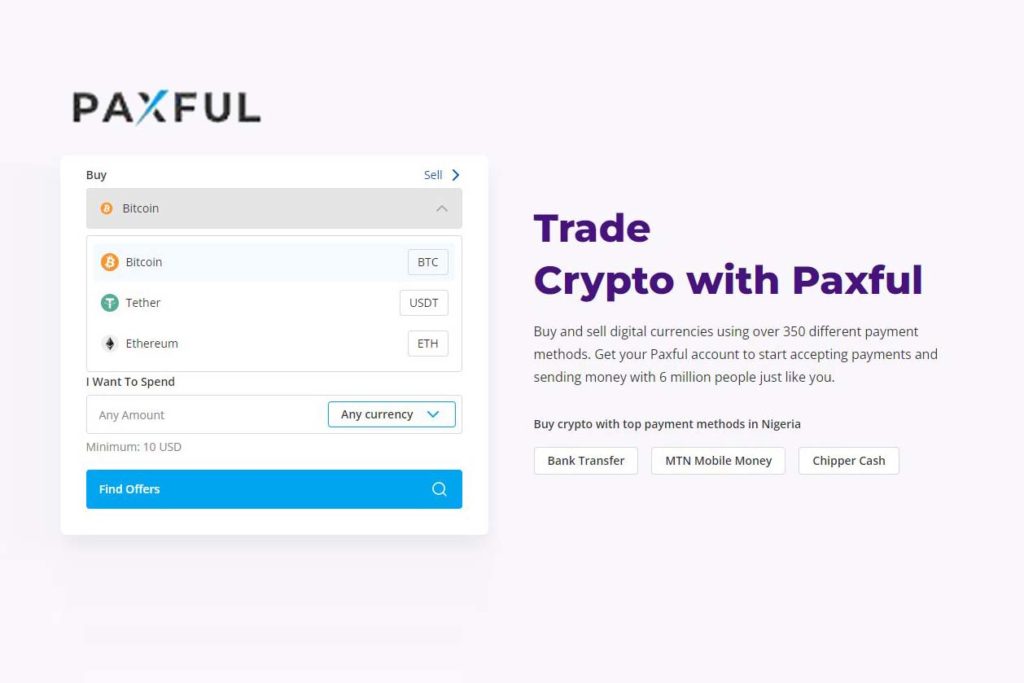 Paxful Referral Code Bonus 2023: $5 Paxful Affiliate program
Are you looking for how to get the Paxful referral code bonus? This post covers everything you need on the Paxful Referral and Affiliate program.
Paxful referral bonus gives a 50% escrow fee and up to $5 when you sign up, trade and join the referral program. Also, you enjoy multiple referral bonuses in bitcoin while trading.
Therefore, this post walks you through the process of creating an account on Paxful and getting your referral bonus. Also, answer questions relating to the affiliate program.
Let's start.
---
About Paxful
Paxful is a global peer-to-peer platform for trading cryptocurrency where each seller and buyer set the price rather than a fixed price on any crypto exchange.
Founded in 2015, Paxful provides a platform for buyers and sellers to transact in cryptocurrency, specifically, Bitcoin, Ethereum and Tether.
An important benefit of Paxful is the availability of 350+ payment methods. There will always be a payment method that suits you.
Unlike exchange platforms like Binance and Coinbase, Paxful is where you trade crypto coins with someone rather than the unknown.
Therefore, the crypto price of seller A can be different from seller B. Likewise, the price Buyer A wishes to buy s crypto may not be the same as Buyer B
Read the full review of the Paxful here.
Paxful Products and Services
Paxful offers the following products and services:
Buy and Sell Bitcoin, Ethereum and Tether.
Send and Receive Bitcoin, Ethereum and Tether.
Paxful Wallet.
Paxful Vendor.
Virtual Bitcoin Kiosk.
Paxful Pay.
---
How to sign up on Paxful for Referral code Bonus
To sign up on Paxful and get your referral code, simply follow these steps:
Follow this sign up link to the Paxful website
Then, fill in your details.
Next, verify your account. Your phone number, Email address and ID.
Start trading cryptocurrency on the Paxful website
To get your referral code link, go to Affiliate Dashboard at the menu
Share your referral code link with your friends.
When they sign up and trade on Paxful, you get up to $5 worth of Bitcoin
---
Paxful Referral Code Bonus: Affiliate Program
The Paxful affiliate program is designed for every user on Paxful to get a referral bonus when they refer their friends to sign up and trade in Bitcoin.
So, when your invite buys Bitcoin on Paxful, you will receive a 50% escrow fee. Additionally, you also get a 10% escrow fee when the people invited by your invite buy Bitcoin on Paxful. This is a multi-tiered referral bonus!
Do you want a better referral bonus? Then apply for the Paxful peer program.
Paxful Peer Program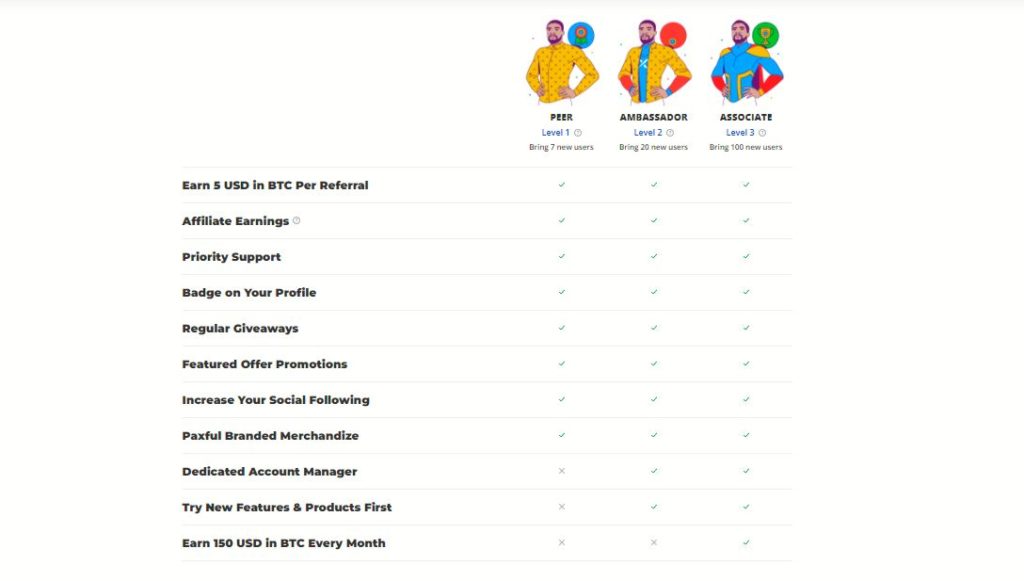 The Paxful Peer program is the next level affiliate referral earning for those who have the prospect to refer more people to Paxful.
The Peer program has 3 levels. So, you start from Level 1 and work your way to level 3.
Peer: This is Level 1 where you bring 7 new users.
Ambassador: Level 2 is called Ambassador. Here, you have to bring 20 new users.
Associate: Lastly, this is Level 3 and you bring 100 new users.
Overall, the peer program gives several benefits among are:
Earn $5 in BTC for every referral.
Affiliate earnings.
Regular Giveaways.
Earn 150 in BTC every Month
A badge on your profile etc.
RELATED POST
---
How to get your Paxful Referral Code Link
To get your unique Paxful referral code link, follow simple 3 steps:
Firstly, log in to your Paxful account.
Go to the Affiliate Dashboard at the menu.
Lastly, copy the link or download the QR code.
Start sharing your Paxful referral link!
---
How to Redeem and Withdraw your Paxful Referral Bonus
To redeem and withdraw your Paxful referral bonus, follow these steps
Login to your Paxful account
Go to our Affiliate Dashboard and withdraw your earnings to Paxful wallet.
Thereafter, click Sell and select a trader with a trusted badge from the list.
Make sure you select a preferred payment method and click Sell button on the trader profile
Finish up the process and you should receive your money in a few minutes.
Note, that your referral bonus must be at least 10 USD before you can withdraw it to your Paxful wallet.
---
FAQs on Paxful Bonus
How to get free crypto or Bitcoin on Paxful?
To get free crypto or Bitcoin on Paxful, sign up and share your referral link with your friends. When they sign up and trade, Paxful will pay you with Bitcoin.
How much is the Paxful referral bonus?
Depending on your affiliate level on Paxful, you can either get a referral bonus of 50% escrow fee of your referrals or Paxful pays you $5 bitcoin if you are on the Peer program
---
Final Thoughts
You start getting the Paxful referral bonus when your invite's account is verified and start buying Bitcoin. No jokes.
And when you move to the peer affiliate program, you start to earn $5 USD in BTC per referral when the invite's account is verified and completed at least 1 crypto trade.
Therefore, try it and let me know your experience.
Let me know your opinion by dropping comments below.