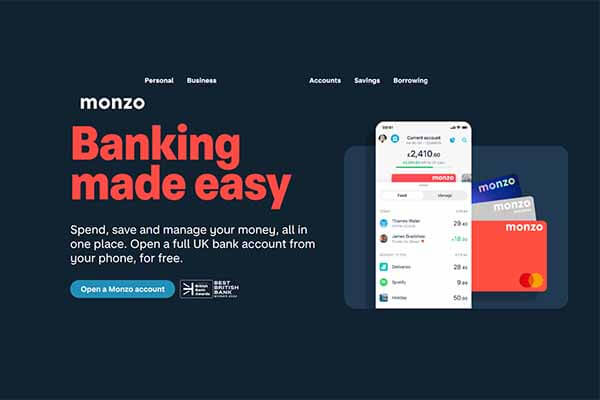 Monzo Refer A Friend £10 Bonus 2022: Get £5 Sign up + £5 Referral
Looking for how to get the Monzo referral link code bonus? This post covers everything you need on this online bank referral program in the UK.
With this Monzo referral link code, you get a £5 sign-up bonus after creating your account and using your debit card to make a payment of any amount within 30 days. Then, refer a friend to do the same and both of you get £5 each making £10 for you.
So, in this post, I walk you through how to get your referral bonus and also answer related questions.
Let's start.
---
What is Monzo Bank All About?
Monzo is an online bank offering services such as current and business accounts, savings plans, and overdrafts to its customers seamlessly.
Founded in 2015, Monzo is a top UK-based bank that also operates in the USA with over 6 million customers banking through its mobile apps on Android and IOS devices.
To open a Monzo account is free, however, there are paid account services which include:
Monzo Plus: 5 per month
Monzo Premium: 15 per month
---
How to get the Monzo Bank Referral Sign-Up Bonus
Below is how to get your Monzo bank £5 referral Bonus:
Download the Monzo App with this referral link.
Create a current or business account
Order and receive your debit card within 10 days
Activate the debit card
Fund your Monzo account.
Use the Debit card to make a payment of any amount
Lastly, Monzo credits your account with £5 bonus
---
How to get Monzo £5 Refer A Friend Bonus
To get £5 each time you refer a friend or family, follow the required steps to copy your unique referral link and share:
Open your Monzo app
Tap on the Payments tab
Scroll down to Refer your friends, get £5 each
Tap Share my link
Tap Share your invite to copy the referral link.
Lastly, start to share and receive £5 bonus.
The good news is there is no limit to how much of this refer-a-friend bonus you can get from Monzo.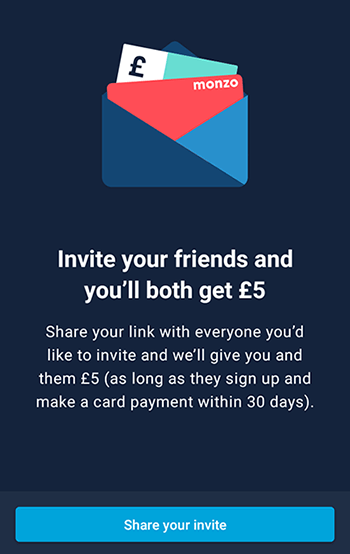 ---
Monzo Bank Referral Terms and Conditions
The requirements to get a Monzo referral £5 sign-up bonus are:
Download the Monzo app through this referral link.
Make a payment with your Monzo debit card within 30 days.
Must be a Uk resident
After fulfilling these criteria, Monzo will credit your account with the sign-up bonus.
---
Monzo Bank Referral Code Program (Refer A Friend)
The Monzo referral program is available to both new and existing customers.
As a new customer, if you follow the steps on how to get the referral bonus on the Monzo app stated above, you will receive a £5 sign-up bonus.
This sign-up bonus is only for new customers who register and meet the condition stated above.
Monzo Refer A Friend
The Monzo bank Refer and Earn gives existing users the opportunity to invite their friends and earn a referral bonus.
So as an existing customer, you can refer your friends to sign up on Monzo through your referral link. When they fulfil the above requirements, both you and your friends will get the bonus.
---
Is Monzo Bank Legit and Safe?
Monzo is a legit online bank licensed by the Financial Conduct Authority and the Prudential Regulation Authority.
In addition, Monzo bank is safe. Your money is insured by FSCS. Also, the Monzo app is safe as industry-standard security is put in place to secure your transactions on the platform.
---
FAQs
How much is the Monzo Bank referral sign-up bonus
Monzo bank gives a referral bonus of £5 when you sign up and make a purchase with the debit within 30 days of opening your account.
Can I withdraw my Monzo referral bonus?
Yes, you can withdraw your Monzo referral bonus, spend it or put it into savings.
---
Read: How to get Lemonade finance referral bonus
Final Thoughts
Overall, Monzo is one of the best digital banks in the UK offering top-notch banking services online.
One of the things I like about Monzo is the free debit card. Revolute, for instance, will charge you to get one.
Therefore, try it and let me know your experience.
Lastly, let me know your opinion by dropping comments below.