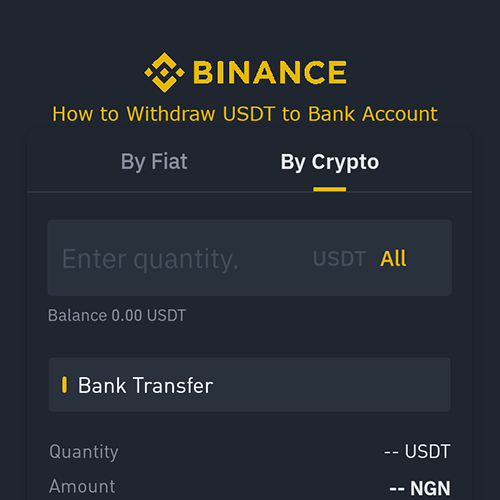 How to Withdraw USDT from Binance to Bank Account in Nigeria
Need to withdraw USDT or any crypto coin from your Binance account to your bank account quickly but do not know how? This post will explain the process
To withdraw USDT from your Binance to a Bank account in Nigeria, use P2P trading. This involves selling your desired amount of USDT to a buyer who would credit your bank account with the money.
Therefore, find out in this post the step-by-step process and other interesting topics
---
How to Withdraw USDT from Binance to Bank Account
You can withdraw any crypto coins such as USDT, BUSD, Ethereum or Bitcoin from your Binance funding wallet and receive it as money into your bank account in Nigeria.
Follow these steps to withdraw USDT from your Binance to a Nigerian bank account:
Open your Binance account and go to Wallet.

Transfer USDT to the funding wallet

Next, go P2P Trading and add a Payment Method

Choose USDT, then Sell and use the filter to enter the Amount.

Select your desired trader from the USDT Sell list

Enter the amount and tap Sell

Lastly, wait for the buyer to transfer the money and tap Payment Received.

Is any of the steps not clear to you? continue reading as I explain further.
---
How long does it take to Withdraw USDT from Binance to Bank Account
It takes less than 15 mins to receive your money in your bank account when you withdraw USDT. In fact, there is a timer counting down for the buyer to transfer the money quickly and what can cause the delay is a bank network issue. Therefore expect your money fast.
According to Binance, you must confirm the money is in your bank account before tapping the payment button. Do not bow to any pressure to confirm if you have not received it. This is to safeguard you to avoid being scammed.
---
How to Transfer USDT to Funding Account on Binance
If you want to withdraw your money to a bank account, the first thing is to transfer USDT to your funding wallet such as from the Spot Wallet.
To transfer USDT to Funding on Binance, follow these steps:
Go to Wallet and select Funding.
Select Transfer.
On the Transfer page, switch To to Funding.
Tap From and choose wallet source: Spot, Margin or Futures.
Tap the crypto icon and choose USDT.
Enter the amount or tap Max to transfer all.
Lastly, confirm the transfer.
---
How to Add Payment Method on Binance
To add your bank account details as the payment method on Binance, follow these steps:
Go to P2P Trading.
Tap the options icon and choose Payment Methods.
Choose your preferred bank from the list
Enter your bank details and confirm it
---
Recommended Nigerian Banks on Binance
Here are the Nigerian banks recommended by Binance to withdraw money to your account: Access Bank, Ecobank, First Bank of Nigeria, FCMB, GTBank, Keystone Bank, Stanbic Bank, Sterling Bank, Zenith Bank, Keystone Bank, Standard Chartered Bank and Union Bank of Nigeria.
These banks are available as payment method options on P2P trading.
---
Binance Withdrawal Bank Fee
Binance charges zero fees for withdrawals to a bank account through P2P trading. However, the exchange rate on P2P trading changes every time based on demand and supply. So, the price you sell USDT in exchange for money now will lesser or higher the next time.
---
Conclusion
In summary, it is quite easy to withdraw USDT crypto from your Binance to any Nigerian account through P2P trading. In the same way, you can fund your account using Binance P2P trading.
I hope you find this information helpful.
Therefore, try it and let me know your experience by leaving a message in the comment section below.