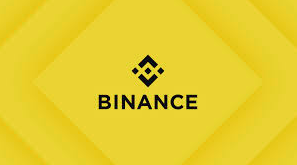 Binance Review 2023: Trade Crypto, NFT & Lowest Fees Safe?
Binance Review
Summary
Binance is a legit and secure cryptocurrency platform, number one in trading and lowest fees. As a crypto exchange, Binance is safe to use with over 500+ crypto coins available to trade, save and invest. Also, withdrawal is fast with multiple payment methods.
Overall, Binance is a trusted and the largest centralized exchange platform in the world for cryptocurrency trading and investing, NFTs and other Blockchain products and services
Looking for a Binance review before you open an account on this platform, then this post is for you.
Binance is a legit, safe and secure cryptocurrency platform, number one in trading and lowest fees. As a crypto exchange, Binance is safe to use with over 500+ crypto coins available to trade, save and invest. Also, withdrawal is fast when you need your money.
Cryptocurrency is becoming more popular, and one of the best crypto exchanges platform to trade and invest in cryptocurrency is Binance.
Indeed, Binance has a lot of benefits and also a few drawbacks. So is it the right exchange for you?
Therefore, this review on Binance covers the following:
Let's start…
---
What is Binance
Binance is the largest centralized exchange platform in the world for cryptocurrency trading and investing and Coinbase is the closest competitor in this regard. This platform has over 500+ coins to trade with and also has many investment options such as staking, pool mining and so on.
Indeed, this company, whose founder is Changpeng Zhao, encapsulates almost everything about blockchain technology by offering various products and services apart from cryptocurrency trading such as NFT, Wallet, Credit Card etc.
Hence, Binance is more than just a cryptocurrency exchange platform.
---
Binance Product and services
A review of Binance shows it offers many products and services. Some of them are:
Cryptocurrency Exchange.
Binance NFT.
Trust Wallet.
Binance Pay

Crypto Over The Counter Trading (OTC)

Binance Academy.
Launchpad.
Research.
---
Binance Sign up and Log-in process
There are two ways to sign up on Binance in order to open an account. These are:
Through Binance App.
On Binance Website.
How to Sign up through Binance App
Follow these steps in order to sign up on Binance App:
Firstly, download the Binance app on Google or IOS.
Enter your details.
Input in MFKQPCVJ as the Referral ID to get a bonus on trading fees
After that, enter the code sent to your email address and phone for verification.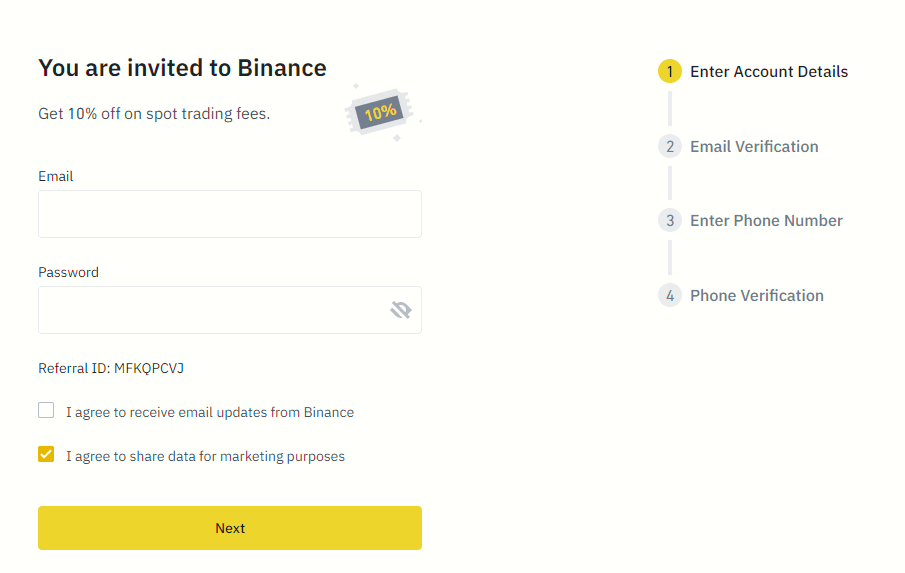 How to Sign up through Binance Website
The Binance sign up process on its website is similar to the mobile app:
Follow this link to the Binance website.
Enter your details.
Input MFKQPCVJ as the Referral ID if not there to get a bonus on trading fees.
After that, enter the code sent to your email address and phone for verification.
How to Verify your Account on Binance
Next, you will need to verify your account to start crypto trading, investing and unlocking more features on the Binance platform. The process is as follows:
Select and take picture of any of your Government issue ID: The options are National ID Card, Passport, Driver's license.
Take a selfie picture.
Lastly, do facial recognition by following the prompt. You will be asked to do things like tilting your phone, opening your mouth etc.
After doing all these, your verification may still be unsuccessful. This is normal.
So don't give up!
Instead, keep repeating the process but give it some minutes intervals because it may be successful though you see unsuccessful.
Some tips to get successful verification on Binance are:
Ensure you take a clear picture of your ID.
Place and snap the ID on a white background such as on white plain paper.
Take your selfie picture in a well-lit environment.
How to login to Binance
In order to log in on Binance either through the app or website, you will need to do the following:
Email address/Phone Number
Password
Verification code sent to your email address or Phone number
This verification process is to improve your account security in order to prevent any unwanted person from gaining access.
In addition, anytime you attempt to log in through another device, after entering your login details, you will have to enter both email/phone verification codes before you access the account.
---
Binance Cryptocurrency Trading Review
The usual thing to do on any crypto exchange is to buy and sell cryptocurrency. Hence, the Binance platform has features to trade crypto easily and successfully.
Principally, there are 3 ways to trade crypto on Binance. They are:
Spot Trading: Spot trading involves buying and selling crypto immediately. This exchange is instant at the current market price.
Margin Trading: Margin trading is similar to Spot trading except for one thing – You trade in crypto with borrowed funds called leverage. This leverage can be in 10x, 50x or more. That is, you can buy $500 ETH when you have a collateral fund of $50, giving leverage to earn more profit.
Futures Trading: In Futures, you buy and sell crypto at a future date. The obvious benefit is that it gives you the ability to make a profit whether the crypto price falls or rises. For instance, if you expect the price of crypto to rise, you buy long, if it will fall, you sell short.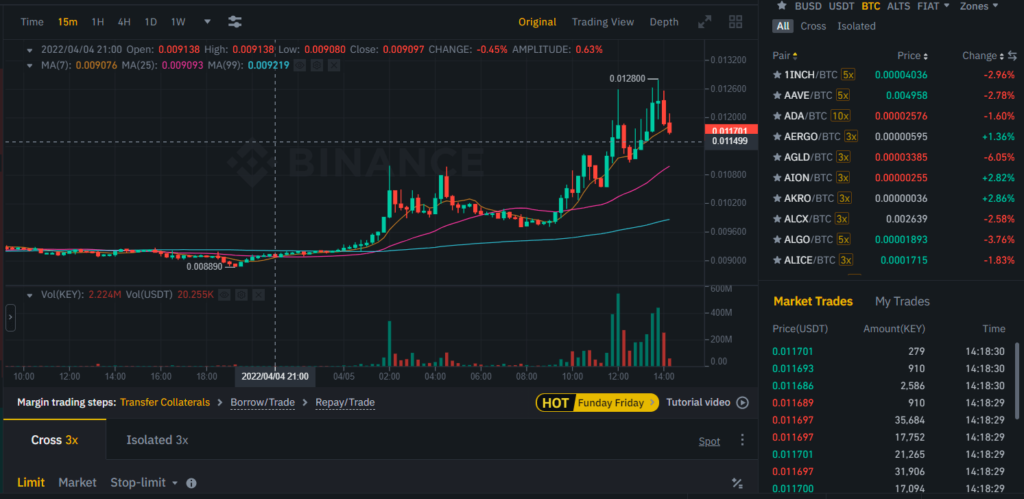 How to Buy and sell Cryptocurrency on Binance
In order to buy a crypto coin, all need to do is follow these steps
Firstly, register and verify your account with Binance if you are a first-time user
Then, fund your account
Thereafter, move the fund from Funding Wallet to Spot Wallet
On the Market tab, browse to choose the crypto coins to buy
Tap Buy and enter the amount or total units of coins
Lastly, tap the Buy button
On the hand, follow these steps to sell crypto on Binance
From your Binance Spot Wallet, tap the coins to sell
Then, tap the market pair you want
Thereafter, enter the amount or unit to sell or tap 100% to sell all units
Lastly, tap the Buy button
Note: The coins you have in your Wallet will determine the market pair to buy. For instance, if you have USDT then you have to buy crypto coins in USDT market.
Some other features that will aid your cryptocurrency trading on the Binance platform are Limit, Stop limit order and OCO. These features allow you to set the price you wish to buy and sell crypto coins. With these, you guard against unintended loss.
Related Post
---
Binance Earn
Binance Earn unlocks many ways of saving or investing in cryptocurrency and earning interest. This involves putting idle crypto to work or investing in cryptocurrency long term, generating a steady income for you. Below are some of them.
Staking
Another name for Stacking is fixed deposits which involves locking your funds to earn interest for a specific time ranging from 21 – 120 days.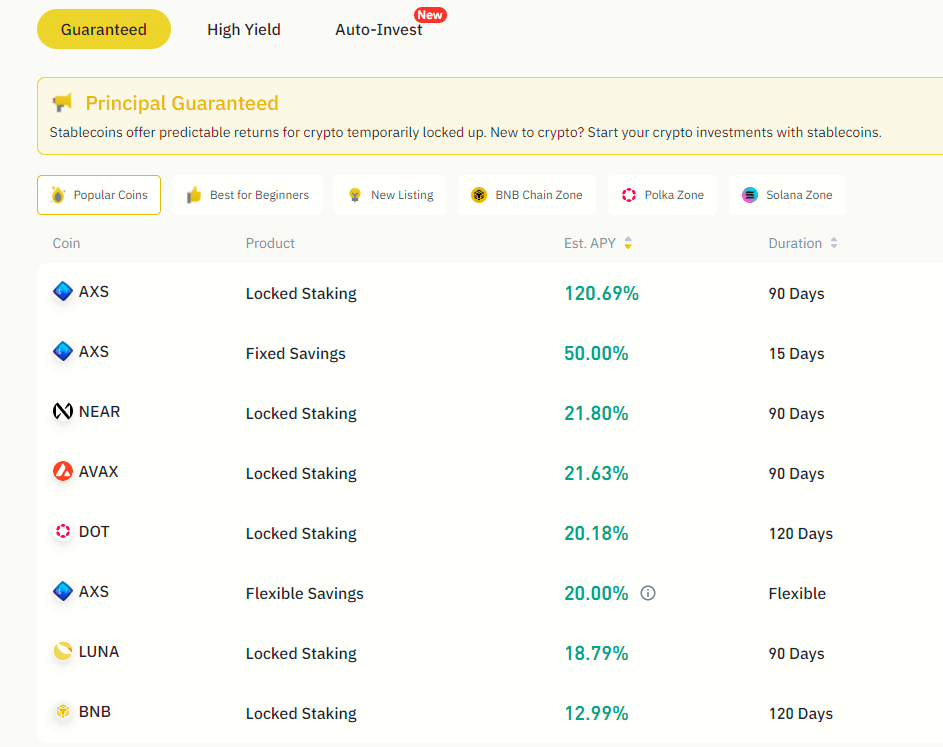 There are 2 types of staking on Binance namely, normal staking and Defi Staking. Whichever one you choose, stacking is a safe and better way to invest your idle funds.
Savings
On Binance, you can save your crypto coins and earn interest in return. There are many coins available for saving with different interests rate.
The three savings options to choose from are:
Flexible
Locked
Auto Invest
One of the savings you should definitely consider is the BNB Vault. BNB Vault gives interest and launchpad rewards when you save BNB coins.
Launchpool
Launchpool or Launchpad is a way to buy new tokens that are launched on Binance. The benefit is that you buy at the initial price before the tokens are open for trading which normally increases sharply. By this, you make a lot of profits.
Some of the past tokens on the Launchpad are Voxies (VOXEL), Alpine F1 (ALPINE), and STEPN (GMT).
Pool Mining
Binance pool mining is an avenue to earn money through mining easily without setting up mining equipment yourself. With this, you can mine Bitcoin, Bitcoin Cash, Ethereum, Ethereum Classic and Litecoin and make a steady income.
---
Binance NFT Review
NFT is a unique digital asset (such as art, photos, music etc.) that can be created, traded and stored on Blockchain technology.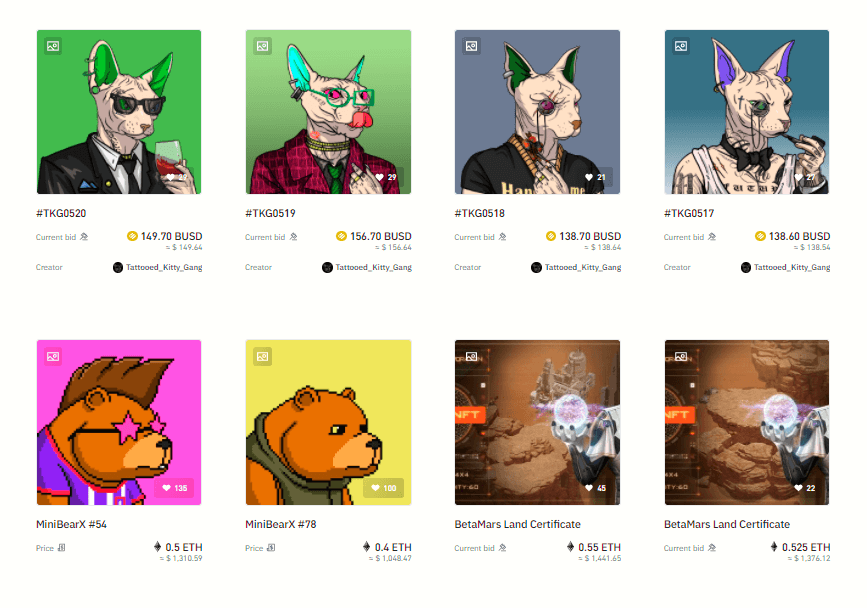 Hence, just like crypto trading, buying and selling of NFTs are through the NFT marketplace. Some of the best NFT marketplaces are Opensea and Binance NFT.
Binance NFT marketplace offers a wide range of NFTs with a low transaction fee, unlike others. So, if you intend to dive into the world of NFT trading, check out the Binance NFT platform.
Some notable sales on Binance NFT are BearX, The Solarium and Bored Ape Club.
Related Post
---
Binance Trust Wallet
A crypto wallet is where one can store and exchange crypto coins and NFTs.
Whenever you open an account with a crypto exchange, you get a new wallet(s) to house your coins but for security reasons and for those who wish to hold their crypto coins for a long term, using a more secured wallet is advisable.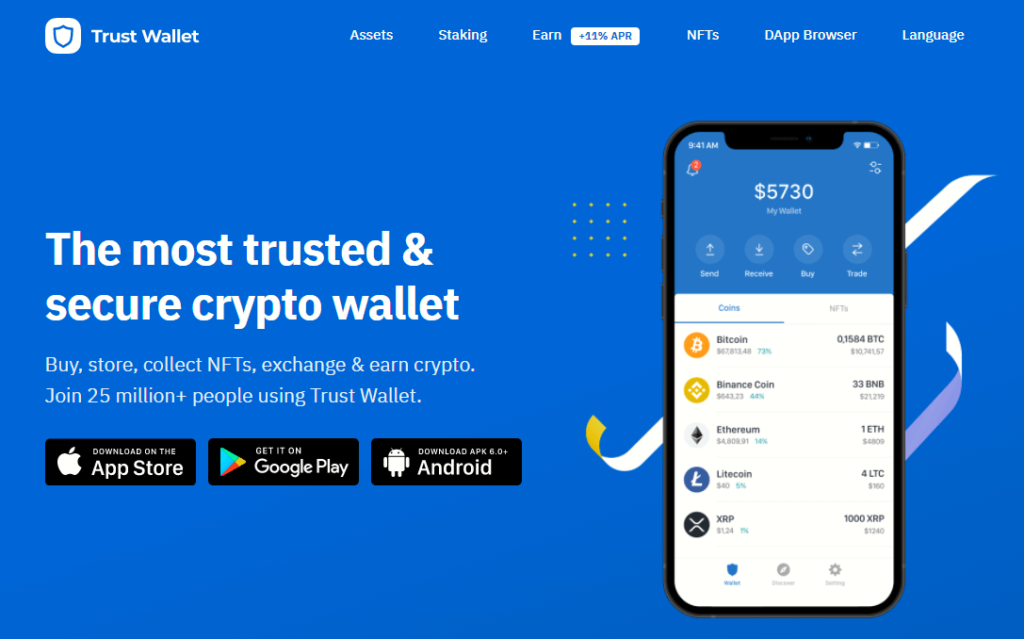 One of such popular wallets is the Trust Wallet by Binance.
With Trust Wallet you can:
Buy crypto on the wallet and store it
Easily exchange crypto coins
Link the wallet to different NFTs marketplace
Store NFTs
Earn interest on your coins and so on
The Trust crypto wallet is available for both Android and IOS devices.
---
Binance Mobile App
Binance app allows you to trade in cryptocurrency on the go. Interestingly, this app is available both on Android and IOS devices.
How to Download Binance App for Android
To download the Binance app on Android,
Open and download it on Google Playstore
For new users, create an account and enter MFKQPCVJ as the Referral ID to get a bonus on trading fees.
For existing users, enter your login details.
How to Download Binance App for IOS App Store
To download the Binance app on the IOS App store,
Open and download it on the App Store
For new users, create an account and enter MFKQPCVJ as the Referral ID to get a bonus on trading fees.
For existing users, enter your login details
---
Binance Fees Review
No doubt, the fee is one of the criteria for choosing the right crypto exchange. In this regard, Binance fees can be divided into:
| | |
| --- | --- |
| Trading fees | 0.1% |
| Deposit fees | Free for P2P Trading |
| Withdrawal Fees | Varies |
Trading fee
Binance charges 0.1% trading fee for both Maker and Taker and this is the cheapest compared to all exchanges. Not only that, you can get 25% of the trading fees on Spot and Margin and 10% on Futures trading fees with BNB coin.
Furthermore, as your VIP level increases, you get more discounts on trading fees. Below is the breakdown.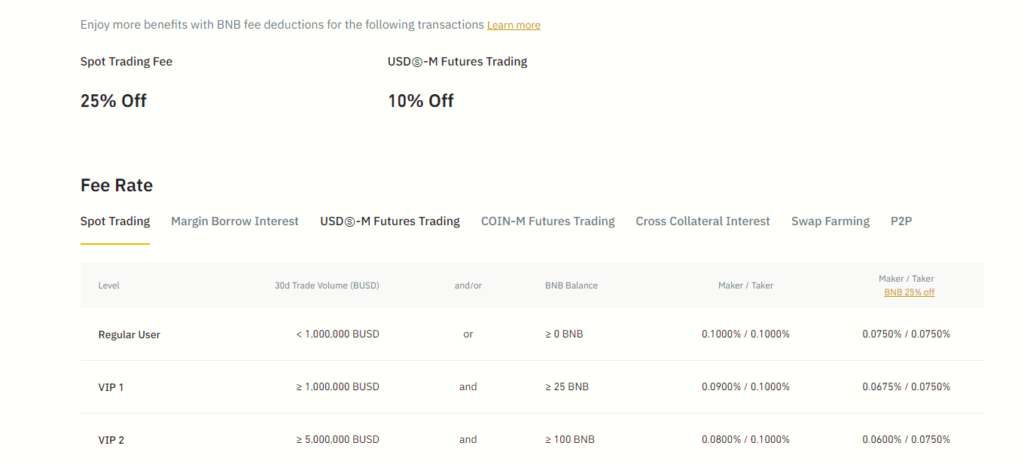 Deposit Fees
Deposit on Binance involves transferring funds to your account and this can come with a fee. The deposit fees are of two types namely, Crypto and Fiat.
You pay zero fees when you deposit any crypto coins to your wallet on Binance.
On the other hand, whether you will pay a fee or not on Fiat currency is dependent on the deposit method you use. For P2P, the deposit fee is free but Debit/Credit card and Bank transfers attract a fee.
Withdrawal Fees
Withdraw on Binance involves transferring funds out of your account and it can attract a fee. The withdrawal can be through crypto or Fiat currency.
Withdrawing Fiat currency through P2P trading is free but other methods attract a fee
Also, cryptocurrency withdrawal attracts a fee and the amount depends on which crypto coins you want to withdraw. The full breakdown is here.
---
Binance Payment Method
You may ask, "How can I deposit funds to my Binance account" Generally, you can make a deposit and payment on Binance through the following methods:
P2P Trading
Bank Transfer
Debit/Credit Card
Crypto Deposit/Withdrawal
Note that your country of residence will determine which and how many of these options will be available. For instance, it is P2P trading that works in Nigeria due to the CBN ban.
---
Binance Review: Pros and Cons
The review of Binance shows enormous benefits of this crypto exchange however, there are also some drawbacks you need to be aware of. Below are the Pros and Cons of Binance.
Pros
Multiple coins to trade with. 500+ coins
Low trading fees
Sign-up bonus and constant promotion for users
Adequate account security measure
Free learning with Binance Academy
Cons
Difficult Verification Process compared to other crypto exchanges.
Slow customer care support.
It can take time for a beginner to fully understand the Binance platform
---
Is Binance Safe and Legit?
Yes, Binance is one of the safest crypto exchanges which means that your fund is safe. Additionally, when you log in to your account from a different browser, it sends an alert and verification code to your email/phone. Furthermore, it is advisable to activate 2FA as an extra security measure.
Binance company is legit and not a scam. However, be aware that as a crypto exchange, Binance is not liable if you lose money through crypto trading and investing. So trade responsibly and do your own research.
---
Binance Alternatives Review
What is better than Binance is a matter of choice as there are many notable exchanges and each of them has its strengths, such as Coinbase, Etoro and so on.
Below is the review of Binance alternatives.
Binance vs Etoro
Etoro is not strictly a crypto exchange platform but also deals with stocks and commodities. Hence, it is ideal for someone who wants to trade all these with just one app. Etoro does not offer all the coins you can see on Binance but you still get good rates.
Binance vs Bundle Africa
Bundle Africa is another best alternative, in fact, it came out of Binance Lab. Although it is not as big as Binance, its simplicity, beginner-friendly and good customer care make it a good option for residents in Africa.
Check out: Bundle Africa App Review
Binance vs Yellow Card
Yellow Card is a simple platform to trade in Bitcoin, Ethereum and USDT. That is all. It is intuitive and a secured platform offering good rates on Bitcoin price.
Although Binance offers more features than Yellow Card, Yellow Card is very beginner-friendly and the verification process is easy. Someone who just wants to trade only these 3 crypto coins can give it a try.
Check out: Yellow Card Review
Binance vs Paxful
Paxful is not a typical exchange platform like Binance where you buy and sell to the unknown. Rather, on Paxful you buy or sell to someone. It is a peer-to-peer marketplace that invites different people to trade Bitcoin and other crypto coins at their own rates.
Binance also has a P2P trading feature which is useful for account funding and withdrawal.
Another core strength of Paxful is its payment methods. Paxful offers 350+ payment methods on its platform.
Check out: Paxful review
---
FAQs
How Can I withdraw money from Binance?               
To withdraw money from your Binance account,
Can I invest in Binance?
Yes, there are many ways to invest in Binance such as through Staking, Liquidity Farming, and Pool Mining
Is staking on Binance safe?
Staking is safe on Binance. However, be aware of crypto volatility which means Binance is not liable for your loss if it happens.
How to make money from a Binance?
You can make money on Binance through crypto trading or by investing your coins in staking, yield farming, Binance Earn, and Pool. In short, there are guaranteed ways to make money on Binance apart from normal crypto trading.
---
Final Thoughts on Binance Review
Binance is a trusted cryptocurrency exchange by millions around the world. The ease, high number of crypto coins, lowest trading fees, referral bonus, and security are reasons why Binance is the leading crypto platform in the world.
Presently, Binance is the largest cryptocurrency exchange in the world in terms of trading volume with over 500 coins and the lowest fees.
Are you a beginner in cryptocurrency? you can stick with Binance Lite on the app for a while. And after some learning, switch to Binance Pro which has many features that can confuse a beginner.
Hence, if you are considering signing up on Binance, I hope this review will let you make the decision.
So, will you go for Binance or what are your experiences with this crypto platform?
Let me know your opinion by dropping comments below.