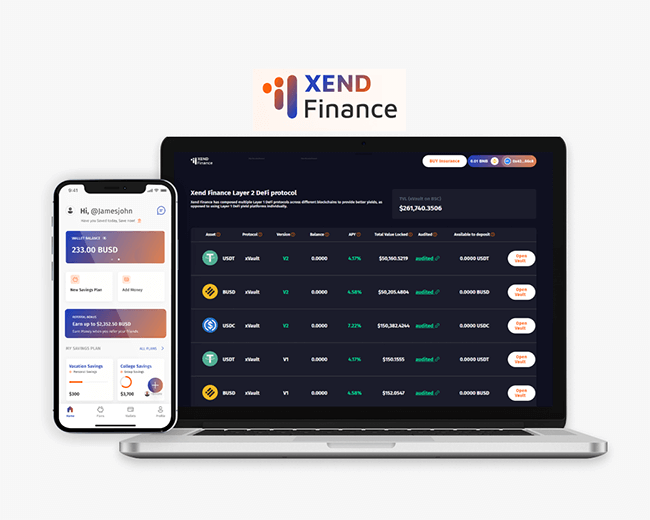 How to Invest in Cryptocurrency on Xend Finance
Are you looking for how and where to invest in cryptocurrency? Xend Finance is one such platform to save and invest crypto at a competitive interest rate.
Savings and staking are two ways of investing in cryptocurrency on Xend Finance. The savings plan – flexible or fixed – is a quick way to save and earn money steadily. While staking Xend token earns a high-interest rate. Therefore, deciding between savings or staking should be based on your risk appetite.
Find out in this post how to use Xend Finance to invest in cryptocurrency and related topics.
---
What is Xend Finance Cryptocurrency
Xend Finance is a crypto bank platform where individuals or a group of people can save, invest and earn up to 15% APY interest on stablecoins savings and also, get higher interest on other crypto coins. Hence, Xend Finance is a decentralized finance (Defi) cryptocurrency site.
According to its Whitepaper, the company seeks to capture the credit union market by offering decentralizing savings, lending, borrowing and investment options thereby giving users multi-level interest in return.
Xend Finance was launched in 2020 and co-founded by Ugochukwu Aronu and Emmanuel Okoro. And this Defi platform is backed by Binance and Google Launchpad.
Interestingly, Xend Finance has a cryptocurrency called XEND token. Xend token is a form of currency and assest that generate interest and ownership of the company. And just like Bitcoin, Ethereum and other crypto coins, you can buy and sell Xend tokens.
To get Xend token, you can buy it or get it for free by saving and investing crypto on Xend finance platform.
---
Is Xend Finance Legit
Before you invest in any venture, it is important to know if it is legitimate.
Xend Finance is a legitimate company. For instance, it is backed by Binance and Google Launchpad. Companies like Haskey Capital also invested in this project. And of course, it is licensed in different countries.
In addition, Xend Finance is safe. Your deposits are insured by tidal finance. Also, the Xend Finance app is safe as industry-standard security is put in place to secure your transactions on the platform. For example, you must download and enable Google Authenticator to further strengthen your account
---
How to Sign Up on Xend Finance
Signing up on Xend finance platform involves downloading the Xend Finance app, creating an account and verifying it. Interestingly, this Xend finance referral code ikunleash gives you 1 BUSD when you sign up.
Here is how to sign on Xend Finance:
Download the Xend Finance App on Google PlayStore or App Store.
Create an Account and enter your email address.
Create a strong password.
Verify your email address through a link sent to you.
Enter the Referral username ikunleash.

Deposit into your account
Note that to get your referral bonus of 1 BUSD, you must save a minimum of $5. To understand better, read on Xend Referral Bonus.
---
How to Add Funds on Xend Finance
There are 2 ways to add funds on Xend Finance: By depositing money through P2P or sending crypto coins to the Xend Finance wallet address.
Follow these steps to add funds on Xend Finance:
Tap on Add Fund.

Select Deposit via XendBridge P2P.

Alternatively, select Deposit Via Crypto.
If XendBridge P2P, select the crypto coin, enter the amount and Buy.

If through Crypto, copy your wallet address and send the crypto to it.
Note that your Xend Finance wallet address supports BUSD, XEND, USDT and USDC. As such, these are the kind of crypto coins the wallet can receive.
---
How to Invest in Cryptocurrency on Xend Finance
After funding your Xend Finance account, the next step is to save or invest it. You can invest in cryptocurrency on Xend Finance platform through the savings plan and staking.
How to Save Cryptocurrency on Xend Finance
Tap on Save.

Choose a Savings plan – Flexible Savings or Fixed Savings.

Next, select the crypto wallet – BUSD or USDT.

Enter the amount.
Lastly, confirm the transaction.
Note that you can only save BUSD and USDT coins on Xend Finance platform. In contrast, you stake Xend token.
How to Stake Xend Token on Xend Finance
Staking is a way of investing in cryptocurrency and earning huge returns on investment. On Xend Finance, for instance, you can get up to 100% interest on staking.
Here is how to stake Xend Finance token:
First, tap Swap to convert your crypto coins to Xend token.

Tap Stake.
Select Mandela, Mansa or Ojukwu.
Enter the staking amount.
Lastly, confirm the transaction.
Due to the volatility of cryptocurrency, the interest rate on staking is usually high.
The negative side is if the price of the crypto coin drops, it affects your investment though you earn huge interest.
Therefore, exercise caution when staking cryptocurrency.
---
How to Make Money on Xend Finance?
You can make money on Xend Finance by saving and investing in cryptocurrency. By saving in a BUSD stablecoin on the platform, you earn up to 10% interest depending on the savings plan – Flexi or Fixed savings.
Another way to earn money is by referring your friends to sign up on the Xend Finance platform. So you make money every time someone registers and fulfils the conditions.
---
How to Withdraw Money from Xend Finance
You can easily withdraw your money on Xend Finance. This money which is in form of crypto coins must be in your portfolio balance to withdraw it to your bank account or another crypto wallet.
Follow these steps to withdraw money from Xend Finance:
Launch the Xend Finance app.
Tap on Withdraw on the main app.

Alternatively, tap Wallet, then Withdraw.
Select P2P via XendBridge or to Wallet.

Through P2P, select the crypto coin, enter the amount and Sell.

Through Wallet, select the crypto coin, enter the amount and Recipient Wallet Address.
Lastly, confirm the transaction.
The following are the cryptocurrencies you can withdraw on Xend finance: BUSD, XEND, USDT and USDC.
The Xendbridge P2P option is a way of converting crypto coins and sending the money to your bank account directly. It converts the crypto amount to currency (Naira) using the site's current exchange rate and you receive the money in your bank account in minutes.
On the other hand, choosing the wallet option means you are withdrawing the crypto coins to another wallet address. Make sure your wallet address can receive such crypto coins. For instance, if you want to withdraw the Xend token, be sure the recipient's wallet can receive it. If not, your crypto coins will be lost.
---
Xend Finance Price Prediction
Currently, Xend Finance token price is around $0.025 and is predicted to reach $0.037 to $0.041 in 2023 end. This analysis is based on historical prices and market development.
However, exercise caution when investing in Xend token or any crypto coins. Because the bearish market condition that began in late 2021 is still on in 2023.
---
Is Xend Finance Listed on Binance?
Xend Finance is not listed on Binance yet or other major crypto exchanges. Therefore, you cannot easily trade Xend token like popular crypto coins and token.
However, this does not mean you can not buy and sell Xend token. To buy the Xend token, use a crypto wallet – Trustwallet or Coinbase wallet. And of course, you can easily sell your Xend token through these crypto wallets.
---
Is Xend Finance a Good Investment?
Saving and investing cryptocurrency on Xend Finance is a good investment, especially for stablecoins. Although stablecoin does not generate huge interest like crypto coins and tokens, your investment is secured.
Since Xend finance token is not a stablecoin, one can not say of a fact it is a good investment. Although, it is speculated to be a good investment, exercise caution when investing in cryptocurrency.
---
Conclusion
Xend Finance is a platform ideal to invest in cryptocurrency. If your risk appetite is low, save in stablecoins – BUSD and USDT and still get you a good interest rate.
But if your risk appetite is high, stake Xend token which gives a huge interest rate in return. Note that your investment is subjected to volatility which can work for or against your money.
In short, savings and staking are ways to make money on Xend finance crypto platform and earn a good return on investment.
I hope you find this information helpful.
Therefore, try it and let me know your experience by leaving a message in the comment section below.