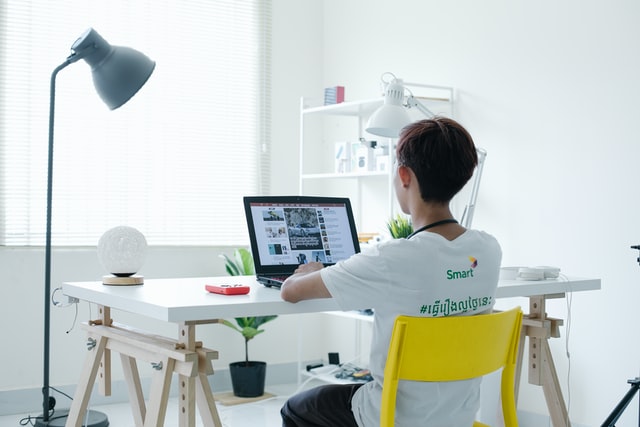 6 Tested Ways to Make Money Online from home in Nigeria
Here are ways to make money online from home. I will share here with you some sure ways to earn money online anywhere in the world whether you are in the USA, UK, Nigeria, Ghana, Zambia, Kenya, or any country. You only need to have the determination to succeed.
Of course, I am not promising you overnight success. Trust me, there is no one anywhere. I've tried many of them and I believe you too have. But by taking the right steps you can start to earn money online gradually and predictably with your skills. No quick money schemes will give you that.
Therefore, let's dive into these…
1. Copywriter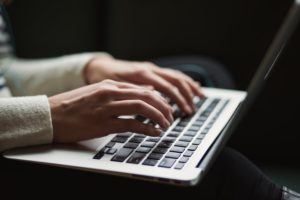 A copywriter is one who writes content persuasively for marketing purposes. They can write contents for websites, blogs, advertising, emails, headlines, and so on. As such, due to the high demand for content online, copywriters are getting jobs around the world without leaving the comfort of their homes. You only need a computer to get started. For instance, androidauthority is recruiting for a freelancer anywhere in the world.
The benefits of being a copywriter is that
No need for formal education. You can learn it online.
A copywriter can work remotely and freelance. Most do.
You can easily earn six figures income.
How to Become a Copywriter
Trust me, you don't have to be a pro to start to make money online from home as a copywriter. Many businesses, blogs will employ you to write for them. You just learn the basics and practice.
For that, these are my recommendation
Enrol in copywriting courses online on such as Udemy or Skillshare. This way, you learn fast and know the right techniques of writing like a pro.
Lastly, start writing copies. That is how to get better.
How to get hired?
Include this skill on your online profile like LinkedIn and apply for jobs.
Create a portfolio of your work online
Open a personal website where all your services and works are shown.
As a beginner, the pay should not be your main concern but to get good at it.
Furthermore, you can start a blog and be making money from it.
2. Graphic Designer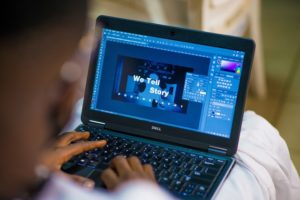 Graphics design entails creating visual art in form of images, graphics, etc. Any business, blogs, and even individuals always need a graphic designer. They design ads, infographics, illustrators, web pages, logos among others. As such, it is one of the high-demand jobs online that can make you $50000+ per year. This is a job that a degree is not a must.
How to be a graphic designer
To start making money online from home doing graphic designs in no time, follow these step
First, Enroll in a course on Udemy. Some of the benefits are understanding the principle of design and having a discussion with your tutor.
Second, learn Adobe Photoshop and Illustrator
Third, Use YouTube and resources online on graphic design basics
More importantly, sign up and practice with Canva
Depending on your potential, in a few weeks' time, your design would have improved.
How to make money online fast as a Graphic Designer
Download Canva and subscribe to the premium plan. Here you get tons of design inspirations to kick start your career. Don't underestimate how Canva can help you in this area. While on the long run, learn how to use adobe creative suite.
Next, open a Fiverr account to sell your skills.
Additionally, start creating different designs and posting them on your social accounts such as WhatsApp, Facebook, IG. Let people see your works.
Also, have an online portfolio or a website where your potential clients can see your works.
3. Video Editor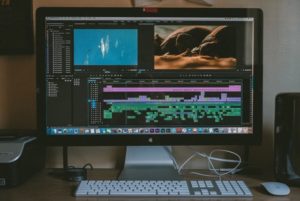 Nowadays, many videos are been produced and consumed. Video has been shown to have a better attention and conversation rate than pictures or text but not everybody can produce it. This is why it is in demand.
As a video editor, you don't have to edit a 2 hours film but short clips such as YouTube intro, 1-10 mins clips, etc is ideal. Short clips like these are what is trending presently.
How to learn Video Editing
To learn fast, enrol in a course to know the basics
Second, Learn Adobe Premiere and After Effect
Next, practice with Canva, Filmorago app. when you are confident, opt for the paid version
Earn money online from home as a Video Editor
Include this skill on your online profile like LinkedIn
Create a portfolio of your work online
Open a personal website where all your services and works are shown.
4. Write an Ebook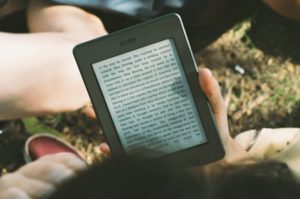 Gone are the days when writing and publishing are very hard. Nowadays, with tons of resources available, you can publish your work easily and start making money right away. Whether fiction or non-fiction, you can write on anything with the right audience and it doesn't have to be voluminous.
How to Write an Ebook
If you are a good writer or copywriter, you can write and publish your work for free within a week. Many writers are earning money online through ebooks.
For a beginner who wants to learn how to write an ebook, go on the career path of copywriting to sharpen your skills.
After that, research on topics you know best to write about.
After writing, employ the service of a proofreader online.
Next is to publish your ebook to Podia or Amazon Kindle Direct Publishing.
Start earning…
5. Social Media Manager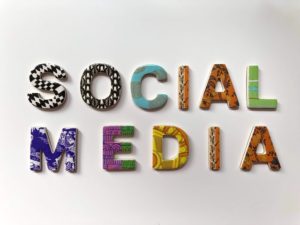 How to manage multiple social accounts is becoming a big issue. Imagine having to deal with many social accounts and analytic tools in order to reap the benefits of social media. This is affecting business owners who need to devote their time to their business and not social media. That is why a social media manager is needed with attractive pay.
The good thing is that you can work remotely and manage different clients. And fortunately, it is a type of job that recruiters will contact you to work for them and not vice versa.
How to become a Social Manager.
This is a job that does not need a degree but practical experience in many areas like design, writing, SEO, etc. As such
Enroll in an online course such as Udemy or Skillshare to understand deeply and the analytic tools to drive traffic.
Look for at least a business social account to manage or you create one or work on your personal account. By this, you are learning on the job which serves as a portfolio for you.
How to get hired as a Social Manger
You can easily get intern jobs if are just starting and can get a proper one if you are confident in a short time. Therefore,
Update your profile on Linkedin and apply for jobs online
Offer your services on Fiverr and other platforms
6. Translation/ Transcription Job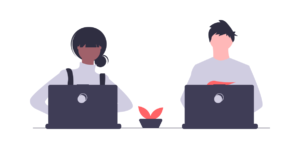 To be a translator means you understand at least 2 languages. Whether it is French, Igbo, Hausa, Yoruba, or Chinese, jobs are readily available for you. Sincerely, don't be bothered about AI because many languages cannot be translated mechanically.
On the other hand, Transcription entails converting audio or speech to texts for reading and comprehension purposes. Therefore, just as videos are in-demand so also is transcription jobs are needed. For instance, YouTube gives preference to videos with transcription which is makes many YouTubers who don't have the time to outsource this job.
In short, these 2 jobs can earn you money online right from home easily
How to get hired
Translators jobs are available on Lionbridge
Get jobs on Upwork, Fiverr
Translators and Transcribe jobs at GoTranscript
Conclusion
There are many ways to make money online in Nigeria right now by just being at home. By acquiring the needed skill and with perseverance, you can earn 6 figures income in a year and it keeps increasing.
You can also check my post on some best ways to earn money fast.
In addition, to get paid, you will need to have an account like Paypal or Payoneer. Hence, read my review on Payoneer to know how it can be your best option.
Which one will you like to learn or how was your learning experience?
Or any questions?
Drop your comments…