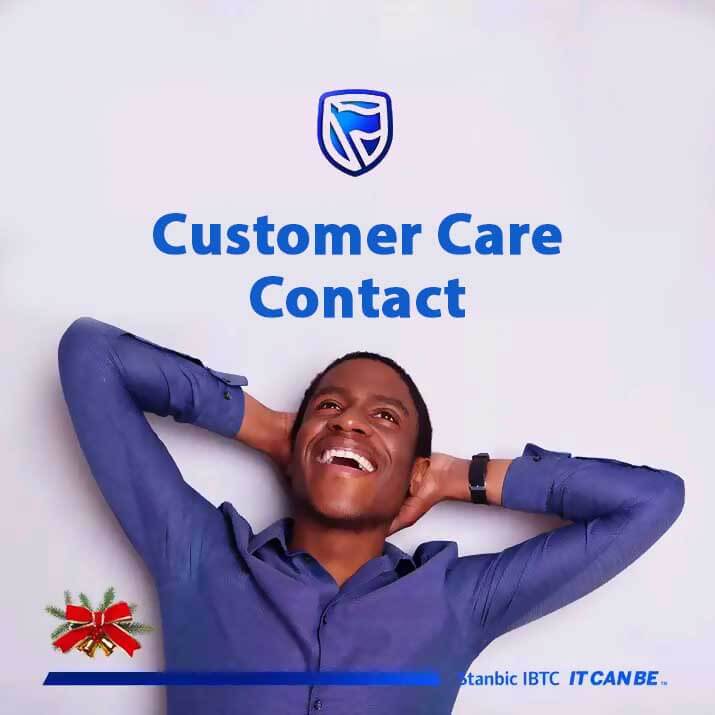 Stanbic IBTC Customer Care Contact Number, Email, Live Chat, WhatsApp
Do you want to contact Stanbic IBTC Bank customer care in Nigeria through phone number, email address and other mediums?
To contact Stanbic IBTC Bank customer care, call the phone number 0700 9099 09909. Other options are social media handles, email, and the website. These are easy channels to resolve your issues.
Therefore, find out in this post more information about these options and related topics.
---
Stanbic Bank Customer Care
Maybe you want to know more about Stanbic Bank services, maybe a complaint, you can contact the Stanbic Bank customer care service for a lot of reasons.
There are many ways to contact Stanbic Bank customer care. For example, through the phone number, email address, Facebook, Twitter, and website. These are discussed in the next sections.
Below are some enquiries and complaints Stanbic Bank customer care can handle:
ATM dispense error
POS/Web dispute
E-channel: USSD banking, mobile app and Internet banking
How to get Stanbic Bank account statement
Transfer money/transaction issues
Loan eligibility
Block ATM Card
Report a failed transaction
How to add/change an email address on Stanbic Bank account
Check Stanbic Bank Account number/balance
Stanbic Bank staff attitude
Read: How to Block Stanbic Bank Account Number
---
How to Contact Stanbic IBTC Customer Care Number
Stanbic IBTC customer care phone number is 0700 9099 09909. This is one of the quickest ways to contact Stanbic Bank since customer care is not yet on WhatsApp. For instance, if you want to report a failed transaction, call this hotline to speak with a customer care representative.
If you calling outside of Nigeria, call +234 700 909 909 909 to contact Stanbic Bank. This is the international format to call Stanbic IBTC. Include the +234 prefix and you would be able to speak to a Stanbic customer care representative from any country in the world.
Note that these numbers are not toll-free. Your mobile network (Airtel, Mtn, Glo & 9 mobile) will charge you a normal call rate.
Also, you can call the Stanbic Bank care number if you want to contact a specific branch in Nigeria. For example, a Stanbic branch in Lagos, Benin, Warri, Ibadan, Abuja, Uyo, Asaba, Yenagoa, Abuja and other locations.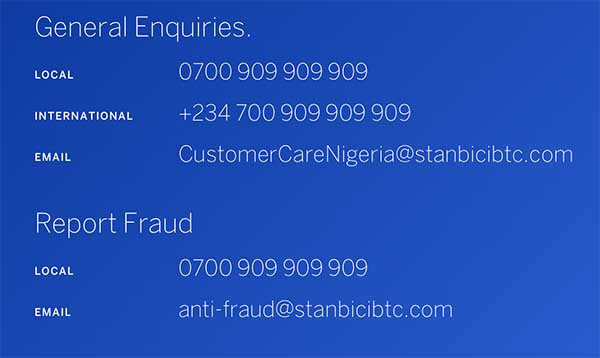 ---
Stanbic Bank Customer Care Email Address
Stanbic Bank customer care email address is CustomerCareNigeria@stanbicibtc.com. If you want to message your enquiries or complaints, use this email. For complaints, you can attach the evidence of your complaints such as documents or images. For instance, if you want to report a failed transaction, attach the receipt to the email.
However, if it is related to fraud, send an email to anti-fraud@stanbicibtc.com. This is the email to report fraud to Stanbic IBTC Bank.
Note: when sending a message to the Stanbic Bank customer service email address, use the email linked to your account number. Not using such email will affect receiving prompt feedback.
---
Stanbic Bank Social Media Page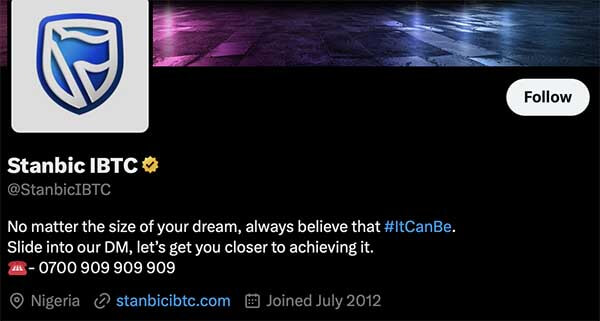 Another way to contact Stanbic Bank customer service is online through the social media Page. Whether you want to make an enquiry or lodge a complaint, a representative will answer your questions. Simply message or chat live online with Stanbic Bank on Facebook or Twitter to have your issues resolved
Below are the Stanbic Bank social media handles and links:
Note: Ensure it is the right Stanbic Bank social media page to avoid being scammed. All Stanbic Bank social media pages have a checkmark to show it is verified.

Although some people chat with Stanbic Bank in the comment section of a post, it is better to send a direct message (DM). This prevents you from exposing yourself to scammers or fraud online.
---
Stanbic Bank Website
Contacting Stanbic Bank customer service on the website is similar to sending an email. Go to the contact section of the Stanbic Bank website and click the LET US KNOW button. Then, select either compliments or complaints. Completely fill out the forms and Stanbic Bank will reply to your message through your email.
---
Physical Customer Care
Stanbic Bank is present in all states in Nigeria including FCT. Every Stanbic Bank branch has a customer care unit to answer your enquiries and complaints. Such as a failed transaction, ATM issues, transfer issues, blocking or unblocking an account, checking your Stanbic Bank account number etc. Therefore, you can visit a Stanbic Bank branch close to you to resolve any issue.
While you can resolve most issues through customer care online, you may need to visit the Stanbic Bank physical branch in some cases. Such as for account updates and getting a new ATM debit card.
---
Conclusion
In summary, there are different ways to contact Stanbic IBTC Bank customer service: Depending on the option you prefer – phone number, WhatsApp, email address, social media and website.
I hope you find this information helpful.
Therefore, try it and let me know your experience by leaving a message in the comment section below.