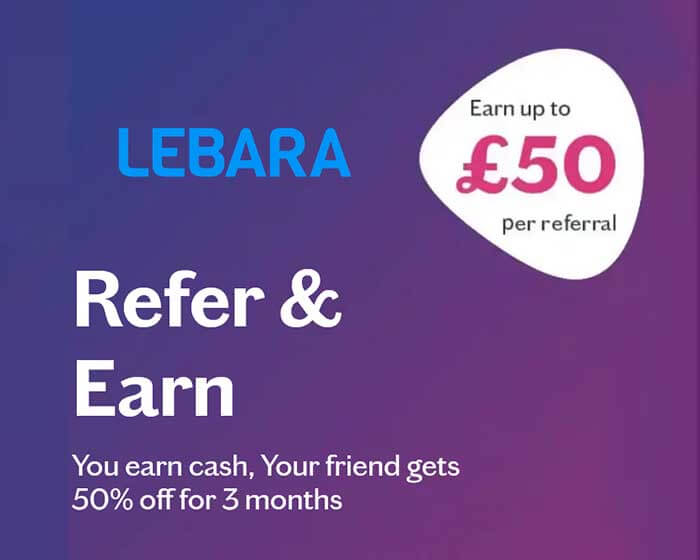 Lebara Refer A Friend £50 Code & Earn 50% Sign-up Bonus
Are you looking for how to get the Lebara referral sign-up bonus or refer a friend and get a £50 reward? This post covers everything you need on this referral program.
This Lebara referral link gives 50% bonus on SIM plan for 3 months for new customers. Also, share your unique Lebara link with friends and get up to £50 bonus rewards when they sign-up.
So, in this post, I walk you through how to get your Lebara referral bonus. Also, answer related questions.
Let's start.
---
What is Lebara All About?
Lebara is a mobile telecommunication company in the United Kingdom. Lebara UK offers competitive rates and flexible plans that cater for the needs of customers. For as low as £5 per month SIM plan with no annual rise, Lebara is one the best telecommunications companies in the UK with affordable SIM and data plans.
Indeed, Lebara network is good. It uses Vodafone network which has a wider coverage in the UK. So, using Lebara SIM on your phone guarantee a good mobile reception and a fast internet speed in the UK.
Read: How to get Virgin Media £50 bonus
---
How to get the Lebara Refer and Earn Sign-Up Bonus
Lebara UK SIM plan is cheap, yet still offers 50% bonus off SIM only plans for new customers for 3 months
Here is how to get Lebara 50% Referral Bonus:
Click this Lebara link to order the SIM
Select your desired SIM plan

Enter your details: Email Address, Name, Password & Address

Click the Checkout button and proceed to make payment.
Lebara will send the SIM to your address in a few days.
Lastly, insert the SIM into your phone and start using it.
Note that Lebara UK SIM is for free. You only pay the SIM plan when you order for it. And it is delivered for free.
---
Lebara Bonus Terms and Conditions
The requirement to get a Lebara referral sign-up bonus are:
Use the Lebara referral link to order the SIM.
Consistently use the SIM for 60 days (2 months) by paying for the plan monthly.
---
Lebara UK Referral Code Program
The Lebara referral program gives 3 months of a 50% bonus to new customers.
As a new customer, if you follow the steps on how to get a referral bonus on the Lebara stated above, you will receive a 50% bonus off SIM plan for 3 months. This sign-up bonus is only for new customers who register through the Lebara referral link and meet the condition stated above.
---
Lebara Refer and Earn £50
The Lebara Refer and Earn give everyone the opportunity to invite friends and earn a referral bonus of up to £50. This bonus amount depends on the plan the new customer chooses. The minimum is £10 and the maximum is £50. Below is the breakdown of the Lebara SIM plans and their bonus rewards.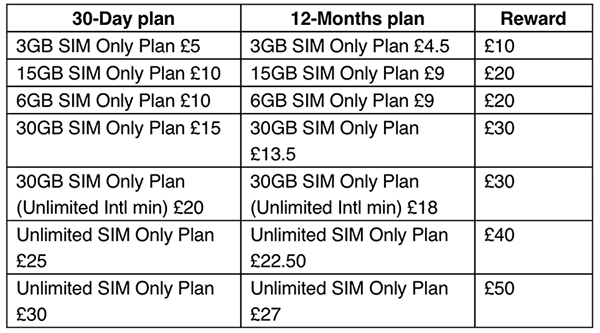 So as a current Lebara customer, you can refer your friends to sign up on Lebara. When they fulfil the above requirements, both you and your friends will get the bonus.
---
How to Refer a Friend on Lebara UK
First, you must get a unique referral link to refer a friend on Lebara UK. When the person sign up through your referral link, you earn up to £50 bonus.
Here is how to copy the link and refer a friend on Lebara UK:
Go to the Lebara website
Click on Refer and Earn
Then, click Earn Now on the next page.
Sign in with your Lebara Account details

Next, a pop-up will show, enter your email address

Lastly, copy your unique Lebara referral link and keep sharing it to earn a bonus
---
How to Withdraw Lebara Referral Bonus
To withdraw your Lebara referral bonus, you will first get an email that the bonus is ready. Thereafter, click the link and sign in to your bonus account. Then, enter your bank details or Paypal account. You should receive your Lebara referral money within a few days.
---
Final Thoughts
Overall, Lebara is one of the best mobile telecommunications in the UK banks. It offers affordable SIM plans with no contract and annual fees. The referral program gives 50% to new customers and up to £50 refer and earn program.
Therefore, try it and let me know your experience.
Lastly, let me know your opinion by dropping comments below.